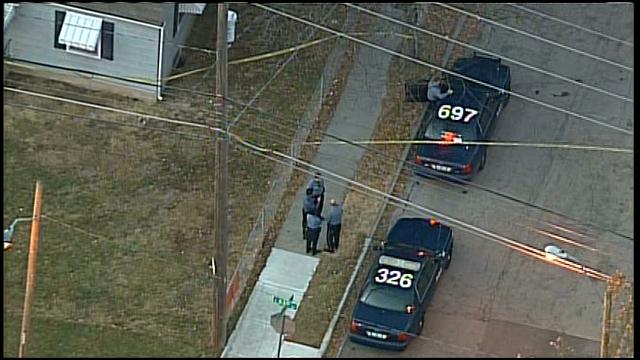 KANSAS CITY, MO (KCTV) -
A homicide person of interest was arrested Thursday after a dramatic standoff outside a Kansas City home.
Chopper 5 flew over the home at 63rd Street and Walrond Avenue Thursday shortly after noon as officers were seen running two children away from the home.
Soon after police said they arrested a person inside. They are a person of interest in Wednesday's homicide that happened just a few blocks away at 62nd Street and South Benton Avenue.
Officers were called to 62nd Street and South Benton Avenue about 4:30 p.m. on reports of a shooting.
When they arrived, they found the victim, later identified as 25-year-old Marcel T. Buchanan, dead in a car in front of a home.

About 6 p.m. Wednesday Capt. Tye Grant said police got information that a suspect might be in a house nearby and that's when they widened the scene and called in a tactical team. But a resident of that home gave them permission to come in and search. Authorities cleared the house without finding who thy were looking for.
Police still have not said what led up to the deadly shooting.

Anyone with information in the case should call the TIPS Hotline at 816-474-8477.
Copyright 2013 KCTV (Meredith Corp.) All rights reserved.