Citibus adds charging stations in preparation for electric buses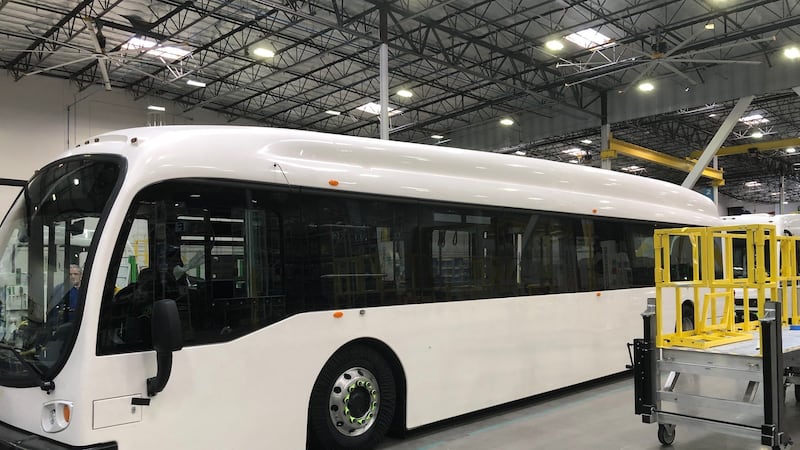 Updated: Mar. 18, 2019 at 5:42 PM CDT
LUBBOCK, TX (KCBD) - Citibus is in the final stages of work to prepare for the addition of electric buses to its fleet. Finishing touches are being made on charging stations at the downtown facility and the new buses are expected to be complete later this month.
"We're stepping out into an unknown area but that's what I'd like to see us do here, branch out of the traditional ways of doing things here," General Manager Chris Mandrell said.
Citibus was awarded $1.75 million from the Federal Transit Administration through the Lower or No Emission Grant to fund the purchase of two Proterra Inc. electric buses, two charging stations and the work to build the infrastructure.
"It was an opportunity to get into a different market of vehicles," Mandrell said. "It's something that, as we move forward, the FTA is going to be a lot more invested in, alternative fuel vehicles."
Mandrell said the two buses will replace two older buses in its fleet. At the peak operation time, 65 buses fill Lubbock streets. Mandrell anticipates the electric buses will lower operational costs.
"Preliminary returns shows us it will save us as far as the operation cost compared to our diesel buses," Mandrell said. "They will have the same lifespan of a diesel bus. Everything will be the exact same. The end user, or the customer, won't know they are on an electric bus unless they are standing beside it and can't hear it. Other than that, it will look like a diesel bus or any of our other buses there. It's going to be a neat thing for the city of Lubbock."
Mandrell anticipates this to be a learning experience as Citibus works the new buses into its operation. According to Mandrell, Lubbock is just the second mid-size transit agency, behind Port Arthur, to operate electric transit vehicles.
"It's going to be seen as a pilot project for us to test the waters to see what our capabilities are," Mandrell said. "I fully expect us to do good things with them and be able to move in the future with doing more electric vehicles."
Mandrell said the FTA is offering additional funding through the Lower or No Emission Grant. Citibus plans to apply for more funding through the same grant for six more buses. As of now, there aren't plans to completely replace the fleet.
"I don't know where that will take us and where that funding will allow us to go, but the more we expand, the more infrastructure we will need for electric buses, maybe on-route chargers and that sort of thing," Mandrell said. "We're always wanting to be on the cutting edge of what is going on and making sure we are being competitive in the market. There are plans to expand at this point, but who knows how big that expansion will be in the future."
After the buses are complete, Citibus will inspect the vehicles before they are expected to be delivered in early May.
The buses are anticipated to travel 200 to 225 miles on a single charge. Mandrell said it depends on braking, which allows for regeneration, and the use of features like the air conditioner or heater.
Citibus also received transportation development credits from the Texas Department of Transportation for this initiative.
"We'll take this opportunity and see where we can go with it and see how we can push the edges of technology," Mandrell said. "We want to see what we can do to be better stewards and good community partners here in the city."
Copyright 2019 KCBD. All rights reserved.