National Weather Services issues report on May 7 tornadoes in Hale, Swisher counties
Updated: May. 15, 2019 at 11:54 AM CDT
LUBBOCK, TX (KCBD) - The National Weather Service in Lubbock has released a report that details three tornadoes and a significant wind event that passed through parts of the South Plains on Tuesday, May 7, in Hale and Swisher counties.
No injuries were reported from the three tornadoes and one Rear Flank Downdraft, but there was significant damage in Swisher County to barns and farm equipment. All of the damage recorded came from the RFD, according to the report.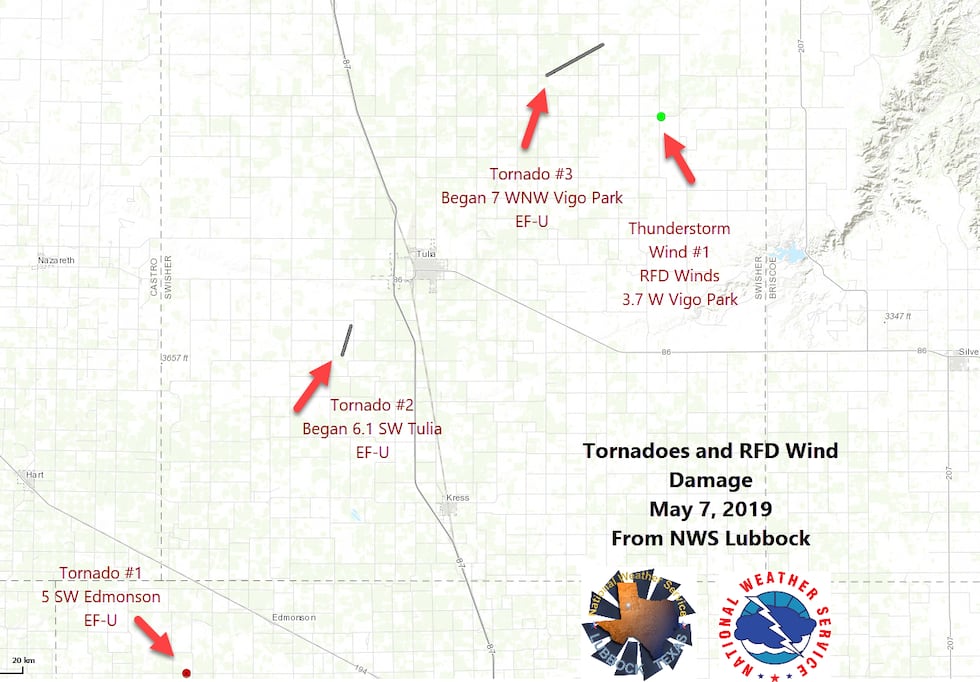 The first tornado was reported around 4:27 p.m. five miles southwest of Edmonson, which is northwest of Plainview, in Hale County. No damage was reported from there.
It was reported to only be about 30-yards wide and had no recorded path length.
The tornado was rated as an EF-U, which means there was not enough damage reported to give it an actual Fujita Scale categorization. More on the EF Scale can be found here.
A second tornado was reported around 5:11 p.m. 6.1 miles southwest of Tulia in Swisher County. This was also rated as an EF-U, though a large, multi-vortex tornado was photographed by weather chasers.
This made a 1.51-mile path and was around 600-yards wide.
The third tornado was reported around 5:56 p.m. seven miles northwest of Vigo Park, which is northeast of Tulia. Rated as an EF-U, the tornado went on a 3.17-mile path and was about 150-yards wide, according to the report.
The fourth significant weather event was categorized as a "strong Rear Flank Downdraft," not a tornado, also in Vigo Park. An RFD is defined as a region of dry air that wrap around the back of a mesocyclone in a supercell thunderstorm, according to NWS.
This had a recorded peak wind of 110 mph, was 1.5-miles long and 650-yards wide, according to the report.
Significant damage was recorded from this: A metal barn was partially collapsed and some metal roof panels were blown off, a 2,500 pound cattle feeder was tipped over, and 19 wood utility poles were broken.
All of the information reported from the NWS is preliminary and upcoming reports could have information that is updated or different.
Copyright 2019 KCBD. All rights reserved.