2 students taken into custody after gun recovered from Monterey High School
Students, staff reported safe while police scan campus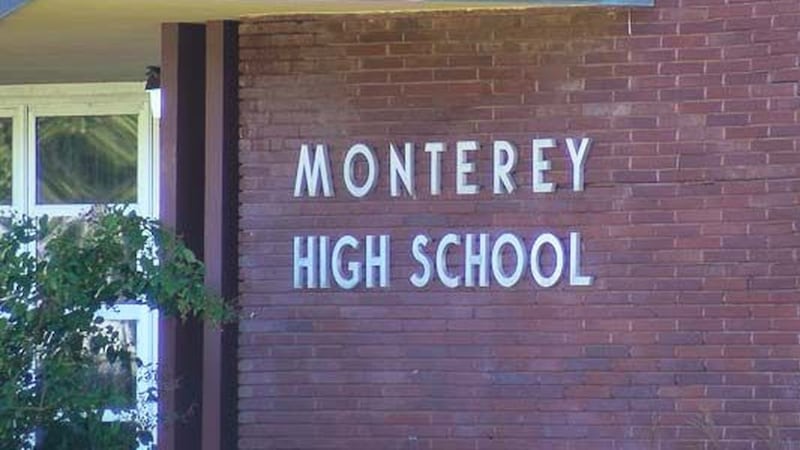 Updated: May. 15, 2019 at 5:21 PM CDT
LUBBOCK, TX (KCBD) - Administration with Monterey High School in Lubbock has released a notice to parents about a gun that was brought to the campus. No threats were made but the school was put on "hold protocol" while law enforcement officials scanned the campus.
Two students have been taken into custody by Lubbock Independent School District's police department. The identities of those students has not been released.
Jack Purkeypile, the school's principal, sent out a notice on Wednesday morning to parents, saying faculty were aware that someone brought a gun to school and the weapon was found.
They say students and staff are safe and there is no need to go to the school to pick up students. Once the campus is cleared of any potential threats another notification will be sent out to parents.
The district has a zero tolerance policy for weapons being on any campus. The school is taking disciplinary action against the students involved.
Here is the full letter from Purkeypile:
We are aware a gun was brought onto the campus today, and the weapon has been secured. Out of an abundance of caution, the hold protocol has been enacted while law enforcement ensures the campus is secure. Students and staff are safe and instruction is continuing normally. Please do not come to campus to pick up your student because this will delay the clearance process. An additional notification will be sent when the campus is clear. Having a weapon on campus is a direct violation of Lubbock ISD policy. There were no threats made; however, we have zero tolerance for any type of weapon on school grounds. Disciplinary action will be taken against the student(s) involved. We are committed to student safety and keeping you informed. Thank you for your continued support of our school.
LISD issued this statement at 5 p.m. Wednesday:
The administration at Monterey High School became aware of a student on campus in possession of a weapon around 10 a.m. this morning. The student was promptly detained and the weapon was confiscated and secured. As a precautionary measure, the campus hold protocol was briefly enacted as Lubbock ISD police officers completed their investigation. The hold status instructs teachers and students to remain in classrooms and continue instruction normally. Another student who was linked to the weapon was also detained.
No threats were made; however, possession of a weapon on campus is a direct violation of district policy. Lubbock ISD has a zero tolerance policy for any type of weapon on school grounds and appropriate disciplinary action has been taken against the students involved.
Families received notification of these actions via text and email. We encourage parents and guardians to speak with their students about the severity of this situation and emphasize that if students see something, to say something to a teacher, staff member, or an administrator.
Copyright 2019 KCBD. All rights reserved.