Arrington describes Democrat impeachment inquiry as 'irresponsible,' 'careless'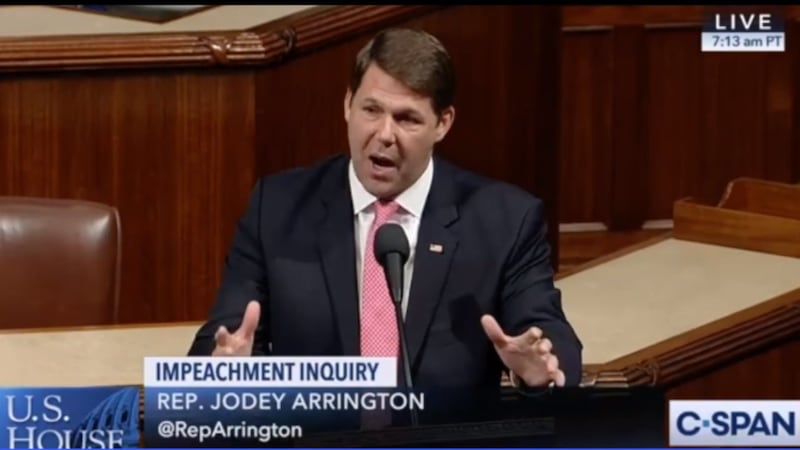 Updated: Sep. 25, 2019 at 11:53 AM CDT
WASHINGTON, D.C. (KCBD) - Republican Congressman Jodey Arrington took the House floor to display his dissatisfaction with the Democratic-led impeachment probe against U.S. President Donald Trump.
The probe to impeach Trump was announced by Speaker of the House Nancy Pelosi on Tuesday afternoon after the president acknowledged a conversation between him and Ukrainian President Volodymyr Zelenskiy. This is only the fourth time in U.S. history a president has been put through impeachment proceedings.
Trump is said to have urged Zelenskiy to investigate Hunter Biden, the son of former Vice President and current Democratic presidential candidate, Joe Biden. The investigation was because of Joe Biden's alleged role in getting Hunter Biden a paid position on the board of a Ukrainian company, according to The Washington Post.
During Arrington's speech on the House floor in Washington D.C., he said this move by Pelosi and other Democrats is playing into further division within the country.
"It's incredibly irresponsible, and premature, and careless for this body led by our Speaker and the Democratic Party to rush to this conclusion and allege that our President has committed 'high crimes,'" Arrington said. "I don't believe this is under the auspices of pursuit of justice and truth, I think it's placating a certain group in the Democratic Party."
Since Pelosi's announcement Tuesday, Trump has released the phone call transcript in which he congratulates Zelenskiy on his recent presidential campaign win in July. In the transcript Trump does bring up Hunter Biden's situation once.
But there were also allegations of Trump holding $400 million in military aid to Ukraine as leverage for information. However, Trump has denied that claim.
"This is more of the bloodlust for impeaching our President, not because of 'high crimes,' but because they hate him – they hate his personality, they hate his policies, but that's no justification," Arrington said. "We're better than that, as a country, and we should be more responsible about how we faithfully carry out our Constitutional duties."
Watch Arrington's speech here:
RELATED STORY: Trump-Ukraine call transcript released amid impeachment probe
Copyright 2019 KCBD. All rights reserved.