VIDEO: DPS trooper released from hospital, other driver in treatment after multi-car pileup
Updated: Dec. 28, 2019 at 5:49 PM CST
LUBBOCK COUNTY, Texas (KCBD) - The Texas Department of Public Safety has provided updates on the conditions of the state trooper and the driver of a white pickup after a semi-truck crashed into a pileup in foggy conditions on Friday, injuring the trooper who tried to escape the careening semi, and crushing the pickup with the driver still inside.
DPS says the trooper was released from the hospital Friday evening with a sprained ankle, some bruising to his ribs and back, and a cut on the back of his head. The driver of the pickup was held at the hospital being monitored for internal injuries. He was trapped in the vehicle, but he survived the crash in stable condition with few substantial injuries.
KCBD had a crew filming as a semi crashed into the pileup on Highway 84. The semi turned over as it hit the pickup and the trailer swung around, hitting the trooper.
DPS tells us they initially responded to a two-vehicle crash on US 84, one mile east of Slaton, around 10:45 a.m.
The crash blocked westbound lanes of US 84. While troopers were investigating the crash, a semi traveling eastbound jackknifed and came to final rest in the center median.
Several other vehicles subsequently crashed into the back of the semi trailer.
A third semi was traveling eastbound approaching the scene when a red SUV changed lanes in front of it, causing the driver of the semi to jackknife and roll it over onto its side.Troopers on scene ran from the semi as it slid on the roadway into the barrow ditch.
A DPS Trooper was struck by the trailer as it slid to final rest. Our camera crew was filming live as the semi slid down the roadway and came to rest right in front of them.
Another person involved in the crash was trapped inside his vehicle as the trailer came to rest on top of it. First responders on scene were able to extract the driver.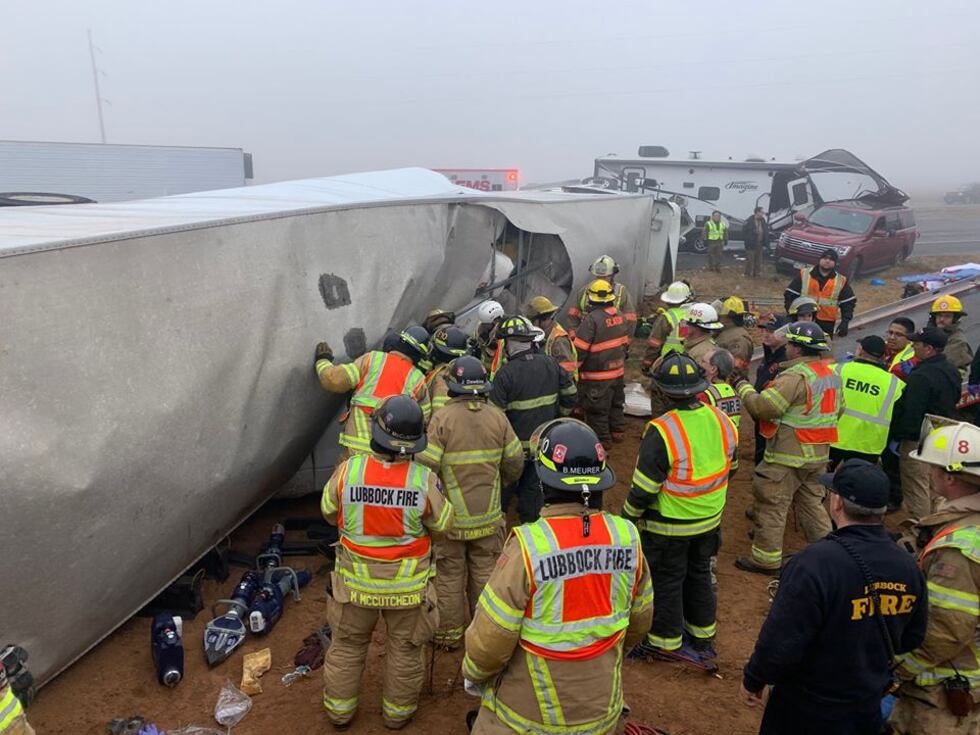 There were a total of five crashes involving four semi tractor-trailers and four smaller vehicles.
Only one citation has been issued so far, a ticket for unsafe speed, given to the semi driver who initially jackknifed. Crash investigators with Texas DPS will review the accident on Monday and decide if any additional citations should be issued.
Seven units from the Lubbock Fire Department were on scene with 19 staff members. LFD sent its division chief, battalion chief, command assistant, three heavy rescue team units, an additional engine and aerial assistance. The driver of the pickup was extracted by a heavy rescue unit.
Copyright 2019 KCBD. All rights reserved.