East Texans gather to celebrate former Chiefs RB
Mr. Bert Coan tells us humbly about what those days were like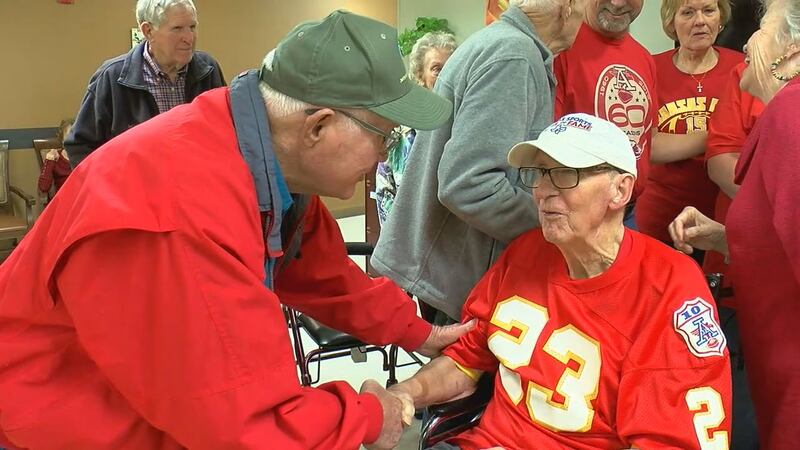 Updated: Jan. 31, 2020 at 11:47 PM CST
GARRISON, Texas (KTRE) - Bert Coan goes about his day loving life. He has his daily routines at the Garrison Nursing Home and Rehabilitation Center. Many people who pay a visit to the center would get a lifetime of stories if they sat with him.
One of the biggest might be his version of the first NFL-AFL Championship games between the Kansas City Chiefs and the Green Bay Packers.
"We were a little off and not as good as they were but in a couple of years we were on par with them," Coan said. "To play in the game means you are playing with the best. The game has changed. I have never seen so many good quarterbacks."
Coan, who was born in Timpson and is in the Texas Sports Hall of Fame, was a running back for the Chiefs when they made it to the Super Bowl in 1970. They were victorious that year with a 23-7 win over the Minnesota Vikings. He's certainly excited to see his team back in the big game.
As he told stories to people at the center his son Bert Coan Jr. sat back, holding his grandson smiling.
"He is reliving all these memories and everything," Coan Jr. said. "He is getting a chance to relive some of them. It means so much to have this outpouring of support and outright respect."
The center wanted to make sure Coan was honored as the Chiefs are back in the big game for the first time in 50 years. The Center had a pep rally to honor Coan. They were assisted by students from Garrison, Timpson, Joaquin and Martinsville.
"I was feeling a little sorry for myself and then all these people showed up," Coan said. "It is special."
Some people even flew in for the event including his high school teammates from Pasadena.
"This is so special to get to come and see Bert," Scottie Crow said. "We go back to junior high together and he is the toughest guy I ever had to tackle. An old friend of ours named Jimmy Snow gave him the nickname 'Gussy,' for what reason I do not know, but we have all called him 'Gussy' since then."
Gregg Estes was born in Kansas City and as a child his dad took him to Chiefs games. Coan was a player he cheered for. A few years ago Estes moved to East Texas and had a strange conversation.
"I was at dinner in Henderson and a guy saw me with my University of Kansas ring on and asked if I knew Bert Coan," Estes said. "I said yes but was not sure why he asked. He then told me he lived in East Texas. My son was able to track him down and I learned about this event. This is so great to meet him and talk to him. I watched all those guys. They were all our heroes and Bert Coan was one of them and here he is, right down the street."
Coan was gifted a bag of Chiefs gear from some fans in Kansas City.
Always the humble man, Coan was thankful but a little shy. He answered no to our question of expecting a big crowd and followed it up with a "I am going to give half of them spanking!"
Coan is of course picking a Chiefs win over the 49ers.
Copyright 2020 KTRE. All rights reserved.