Texas Tech University releases program review after softball coach's resignation, Gregory responds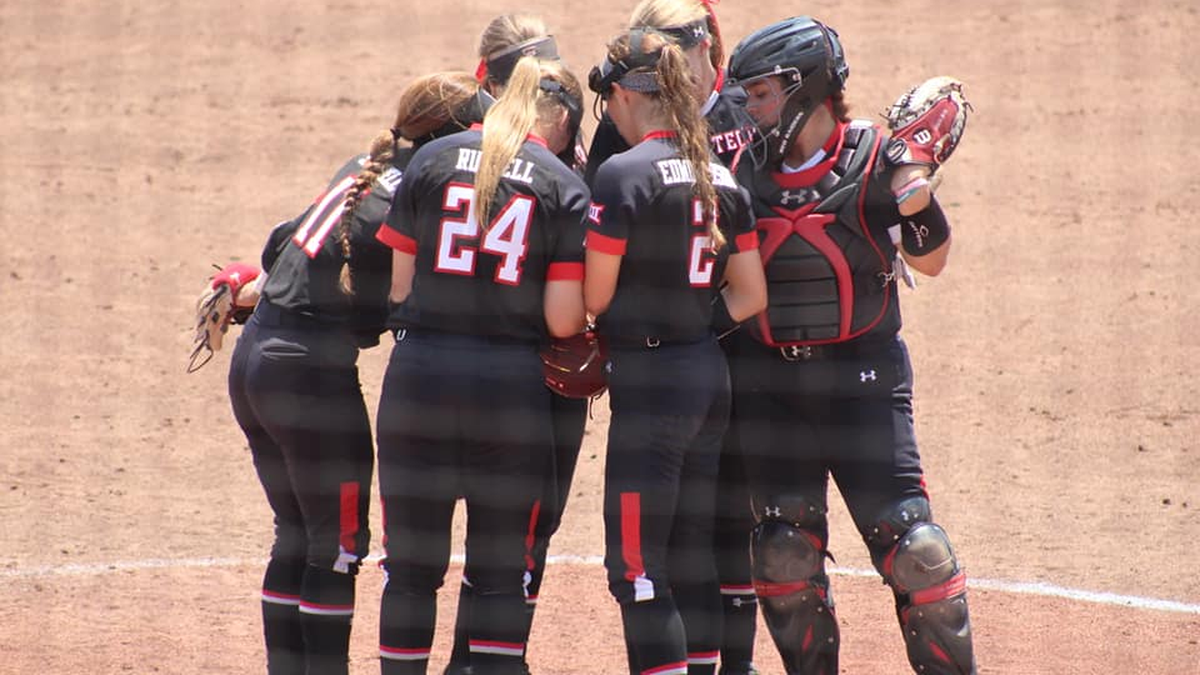 Updated: Sep. 30, 2020 at 8:09 PM CDT
LUBBOCK, Texas (KCBD) - Texas Tech University has released information from conflicted reviews by current and former student athletes and staff under the leadership of coach Adrian Gregory; some describing her as a mentor, while others reported a toxic atmosphere, with incidents of racism and "performance contracts related to weight loss."
The release provided Wednesday, which included a response to the review from Coach Gregory, states that in the spring of 2020, Athletic Director Kirby Hocutt requested an overall review of the Women's Softball program at Texas Tech, following information in student-athlete feedback, Real Recruit year-end surveys, parents of student-athletes, a terminated employee, and "officials in the compliance department within the athletics department."
The review says officials interviewed 29 individuals from August 20 through September 21, including administrators, support personnel, sports medicine personnel, current and former student-athletes, and current and former coaches. Interviewers with Texas Tech reached out to two additional former student-athletes but say they received no response from one and the other expressed her unwillingness to meet through a social media post.
The University says compiling a description of the culture of the softball program was difficult, as they say some of the individuals interviewed "described the culture with positive terms such as caring, having a family atmosphere, accountable, and hard-working," while others reported tension and lack of communication among the coaching staff, adding that a worry for the review team was the head coach had lost a significant number of players from a coaching and trust perspective.
The review states seven individuals said they would recommend the softball program to family or friends, and seven said they would not.
The concerns of those interviewed included two reports of racially insensitive incidents from a student athlete, three alleged incidents of grabbing by coach Gregory, three Christian baptisms within team facilities, and what are described as "performance contracts related to weight loss" for two student athletes.
"Two racially insensitive incidents"
Two "confirmed racially insensitive" incidents took place during the 2018-19 softball season, the review says. One incident involved a White and a Black student athlete as they were waiting to take batting practice. The Black student athlete was told to move ahead in the line so she could go work on a different skill after hitting. The review says the White student-athlete then made a comment to the Black student-athlete telling her, "Get to the back of the line Rosa [Parks]."
Some of those interviewed reported the athlete's initial reaction to the comment was "a bit lighthearted," saying she told the White student athlete "to be careful to whom she made such comments." After the incident, a student-athlete-only meeting was held, and the White student-athlete apologized to the team for making the offending statement, however the review says most of the current student-athletes interviewed and all the Black student-athletes (former and current) interviewed believed "the apology appeared forced and lacked genuineness."
There was never a meeting of the full team and coaching staff to discuss the comment.
The second incident involving racial insensitivity is reported as being related to how the same Black student-athlete wore her hair during a game. The athlete was wearing her hair "down" for the first time during a home game, something Texas Tech says is uncommon for softball student athletes, with concerns of impeded vision and safety. The review says coach Gregory remarked to the other athletes: "Who is going to tell (student-athlete's name) to put her hair up?" A comment the review says the student found upsetting, as she was wearing her hair down as a show of support, "to honor her sister who had a medical condition."
The review says once the situation was explained to the head coach, the student-athlete was permitted to wear her hair down for that game and subsequent games.
Many of the individuals interviewed did not believe there was any racial bias/discrimination intended with this incident and believed that the matter would have been addressed similarly with any other student-athlete on the team, the review says, while others say they did not believe the head coach should have addressed the issue because they did not see it as a safety concern or unprofessional, as the athletes wear helmets that cover most of the hair.
Three reported incidents of grabbing by head coach
Two student athletes and one assistant coach were reportedly involved in incidents of head coach Gregory "physically grabbing" them during the New Mexico State series in the 2018-19 season. The review states the assistant coach provided a photo to the review team which she reported showed a bruise she developed from the incident. One student-athlete stated that she saw the incident but thought the head coach grabbed the assistant coach's arm to get her attention during a game and not in a hurtful manner.
According to the review, no other interviewed person saw the alleged incident and Head Coach Gregory denied grabbing the assistant coach in any way.
One student athlete told the review team she was grabbed on the arm by the head coach, and that she felt "belittled" by the head coach's action, but "she did not believe the actions of the head coach were meant to hurt her, nor did she experience any pain or physical injury." The review says the student acknowledged that she could have reported the incident to administrators but chose not to do so. Coach Gregory noted she did "move" the athlete by the arm so they could speak about performance issues, but contended that the action was not a "grab."
During a game in New Orleans, another student athlete reported being lifted by the shoulders and moved to the point that she almost fell, and a former athlete reported an incident in which the head coach grabbed her by the upper arm in the dugout and pulled her closer to yell at her, but the review states there was no other corroboration to these reports and the head coach denied both incidents.
Baptisms within team facilities
Through the interviews conducted by the review team, they found that three baptisms took place within team facilities, performed by the FCA volunteer Chaplain. The review says all the student-athletes interviewed identified as Christian and most stated prayer was common within the program including pre-game prayers and pre-meal prayers for team meals.
Although not communicated definitively as being voluntary, most agreed that participation in any faith-based activity was indeed voluntary and community church attendance was not a requirement. One person reported to interviewers that the student-athlete spoke highly of the head coach and the impact she has had on her life during her baptism. The review says video was taken of the gathering and has been requested, but not yet received, by the review team.
"Performance Contracts Related to Weight Loss"
Two student athletes in March of 2018 were subjected to performance contracts "specifically aimed at weight loss with a goal of losing one pound per week," the review saying those students were given an extra 30 minutes of conditioning each morning, while wearing a required heart rate monitor in the designated week, with 20 minutes of that time to be spent "at 80% of maximum heart rate or higher while 10 minutes could be 70 to 80% range of maximum heart rate."
The University says the events surrounding this contract are unclear to the review team, but were "quite concerning."
One student-athlete reported she was sent a text by the head coach to meet and at the meeting she was "blindsided and forced" to sign the contract, and failing to do so would lead to her no longer being on the team.
According to the review, coach Gregory and the nutritionist asserted there were multiple attempts to address the student-athlete's weight gain and conditioning, saying they believed the student-athlete was not taking her diet or conditioning seriously, and the performance contract "was subsequently determined to be the next viable option."
The review says coach Gregory acknowledged two student-athletes were subject to this type of contract, and she recalled being in the meeting with one of the athletes when the contract was signed, but stated the genesis of the contract came from the nutritionist and strength and conditioning coach. The review team reported they were unable to confirm if a medical doctor was ever consulted about the appropriateness of the contract. An administrator for the softball program indicated she had no knowledge of the contract and would have opposed it had she been asked about it.
One student athlete under this contract said she underwent surgery because of a shoulder injury which was performed by her personal doctor during the summer after her first year, limiting her ability to work-out to no activity other than riding a bicycle, as described by her rehabilitation instructions. When she returned to the team, she failed her first fitness test involving a bicycle exercise, but passed on a second attempt, before being subject to a running test. The review says she reported being the only athlete required to pass two separate conditioning tests.
Months before signing the performance contract, the review says this athlete reported two other medical issues: a benign tumor and the beginning signs of a stress fracture in her hip. This athlete told the review team that the signing of the contract, as well as her experience with the softball program, has caused her to struggle with anxiety and depression.
Other incidents reported in the review included reports of requirements called "Cinderella Chores," reportedly involving cleaning up after coach Gregory's son in the batting cages; as well as one student athlete who told the review team she believed that her physical and mental health issues were not properly addressed by the program.
You can read a full copy of the review from Texas Tech University here:
Head coach Gregory provided the following response to the review of the softball program:
As a head coach, I am responsible for the culture of my softball team. I have been a part of programs with amazing cultures and a part of programs that struggled. Culture can also turn quickly, which is how I would describe my experience at Texas Tech University.
During this past year, I was aware of the issues that were raised in this program review. I had addressed each issue immediately and I believed each had been resolved or were a work in progress. Last fall, I scheduled monthly "check-in" meetings with each student-athlete to invest in building communication and to demonstrate my commitment to each athlete. I assigned five to six athletes to a small group for bi-weekly staff check-ins to talk about their life in and outside of softball. From all the team dinners at my home to the encouraging notes I have placed in their lockers, I care about and value my players as people.
While I was focused on improving the team's culture and making positive changes, that work was interrupted when our academic year was cut short and spring sports were canceled. This was a difficult time for all spring student-athletes. After a strong homestand where our pitcher threw a perfect game, followed by a great team bonding trip competing in Hawaii, our team was devastated by the abrupt end to our 2020 season.
We spent the remainder of the spring and summer trying to strengthen relationships virtually, but this kind of work is most effective when done in person. Upon our return to campus, we navigated COVID restrictions, a high level of scrutiny on our athletic department, reuniting the team after six months apart and welcoming seven new players.
Even with those challenges, I believed that we were making progress. I, along with the student-athletes, were learning and becoming a more cohesive unit. As this program review unfolded, which included my two-hour interview with the panel, it became apparent to me that a change in leadership was in the team's best interest.
For anyone involved in athletics, walking away runs contrary to our instinct and ethos. For anyone who is a parent, sacrificing for the people you care about the most often overrides what you want to do. Taking many factors into consideration, I made the difficult decision to step down.
Having received this review summary yesterday, I would like to address a few specific points. I stand by the public comments that I made a couple of weeks ago:
• I have never physically grabbed a student-athlete or coach in any way that would cause harm or injury to them. I would never cross that line. As a coach, the safety and trust of my student-athletes are my utmost priorities.
• A student-athlete was asked to put her hair up before a game, as is customary and necessary for optimal performance in the sport of softball. When the student-athlete explained that she did not want to wear her hair up in honor of her sister, I apologized to her and she wore her hair the way she wanted the rest of the season. I followed up with the student-athlete a few days later to check in and I apologized again.
• The second alleged racially inappropriate incident involved a comment during practice, at which I was not present. It was made by a student-athlete in 2018 who is no longer with the program, but who did apologize to the individual to whom she addressed the comment and apologized to her teammates during a players-only meeting. I met with players to follow up on this incident with a clear sense, at the time, that this was an important learning moment for all of us.
Some of our team's recent progress in building a better culture included engaging in important conversations about social injustice and race, sparked by the Black Lives Matter movement and the national dialogue on race. Racism and discrimination in any form have no place on any team that I coach.
Student-athlete health and wellness is the top priority in every place I have coached. At Texas Tech, we had tremendous resources and experts to support the team's health and performance. These staff have educational degrees, state licenses, certificates, and training in these areas. I relied on their advice and direction, always intending to maximize student-athlete health and wellness. One of the lessons I have learned is that the scientific approach to improvement is just one part of any performance plan. Support for student-athlete health and performance must be integrated and comprehensive.
In closing, I cannot emphasize enough that my goal is that every student-athlete on my team feels valued and respected. If one player does not feel empowered by the environment, then I, as the head coach, have more work to do to foster a culture where every person can thrive. Division I college athletics can and should be a challenging experience – it is a high level of competition. However, the goal is to make it an experience that you don't want to end.
This experience has taught me a lot as a coach and a person. I regret not being able to continue to coach these incredible student-athletes. I wish them nothing but the best.
Copyright 2020 KCBD. All rights reserved.