Son of AZ congressional candidate, accused of participation in Capitol riot
Updated: Feb. 4, 2021 at 6:08 PM CST
LUBBOCK, Texas (KCBD) - The son of an Arizona congressional candidate was arrested in Lubbock Thursday morning, accused of trespassing, assault and damaging property during the Capitol Hill riot.
32-year-old Ryan Scott Zink is facing federal charges related to the events at Capitol Hill on Jan. 6, but his father, congressional candidate Jeff Zink, insists that his son was not involved.
Jeff Zink says his son as been falsely accused of physical assault, trespassing, and damage to a federal building.
The U.S. Attorney for the Northern District of Texas says Ryan has been charged by the U.S. Attorney's Office for the District of Columbia with: 18 U.S.C. § 1512(c)(2)-Obstruction of an Official Proceeding and 18 U.S.C. § 1752(a)(1) and (2)-Knowingly Entering or Remaining in any Restricted Building or Grounds without Lawful Authority and engages in any act of physical violence against any person or property in any restricted building or grounds."
Court documents released by the FBI say they identified Ryan Zink from video taken at the Capitol and from Zink's own Facebook account.
The FBI Statement of Facts provides screenshots of Zink in front of the Capitol building filming the breach, and a screenshot from video he took of someone smashing windows at the Capitol building.
Zink's father said they were there documenting events, but his son did not participate.
Jeff Zink told our KCBD reporter, he and his son were peacefully protesting, saying he took his son to D.C. because he wanted his son, who's in the media department at Texas Tech, to "document what was taking place:"
"I have video of somebody who was actually doing damage to the building, the Federal Building, and I handed my card which has my name, my phone number....that I'm running for Congress... to the Capitol Police and said, 'I have video of him actually damaging the building. And if you would like this, please contact me.'"
The FBI says Ryan Zink wrote a Facebook message where he admitted to being inside the Capitol building.
PDF: FBI Statement of Facts regarding Ryan Zink
From the FBI Statement of Facts on the case:
On January 6, 2021, ZINK posted that he was in the U.S. Capitol and that they forcibly broke in. Specifically, ZINK wrote, "Finally lol I was there the media lied about what time it was breached. I have pictures with time stamps to prove it." Additionally, ZINK stated, "Literally inside the capital shots fired on the floor there is a fire and gas and flash bangs have been used multiple serious injuries reported." On the same day, in a private Facebook message, ZINK stated "Broke down the doors pushed Congress out of session I took two flash bangs I'm ok I'll be posting pictures in a little bit when we get back I'm hurt but we accomplished the job."
The FBI says screenshots from these videos establish Zink's presence at the Capitol, but Ryan's father says, "I was with him the entire day."
Jeff Zink says they were outside the entire day and were there to document the events.
Jeff Zink said, "We did witness, first-hand, a black clad protestor destroying one of the windows and then being apprehended by the Capitol Police Department. At that time, I offered to bear witness of this event and ensured the police were provided with my contact information. At no time did I, nor my son Ryan enter the building, trespass or damage any property of the United States. Furthermore, the allegations that my son physically assaulted ANYONE are completely unfounded, without evidence or merit, and politically motivated."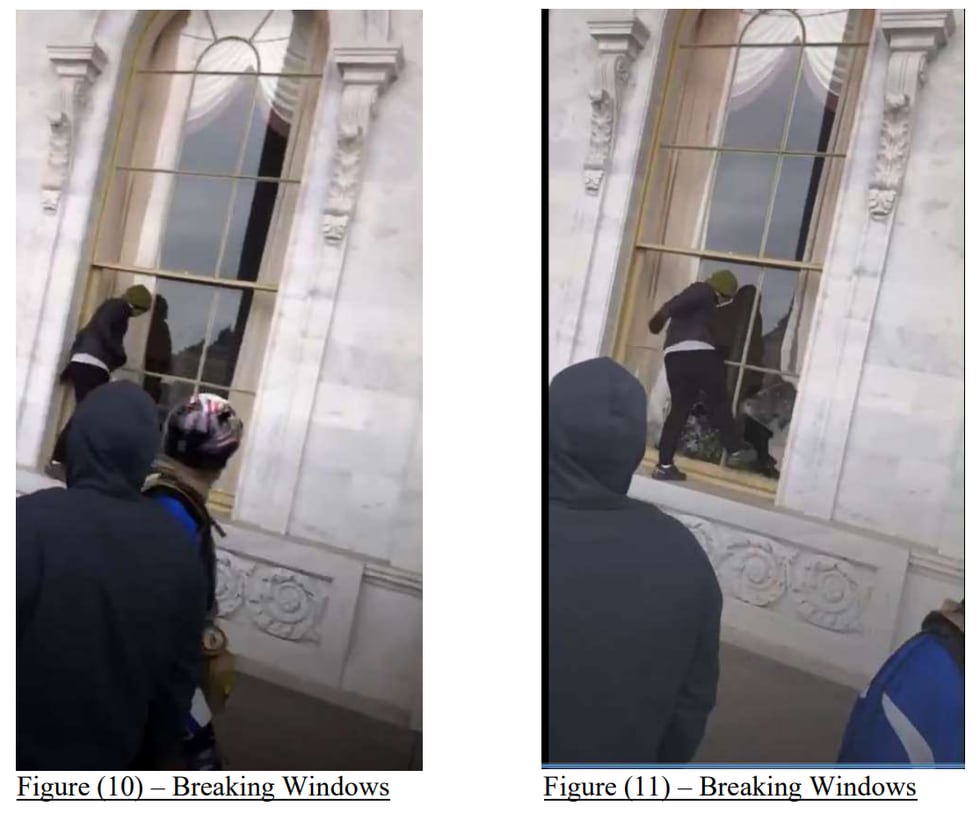 Copyright 2021 KCBD. All rights reserved.