Arctic air moves in overnight
Published: Dec. 21, 2022 at 5:40 PM CST
|
Updated: Dec. 21, 2022 at 11:06 PM CST
LUBBOCK, Texas (KCBD) - A Wind Chill Advisory goes into effect at 6 AM as temperatures fall dramatically behind an arctic cold front. Cold air and strong winds will make for dangerous conditions tomorrow morning.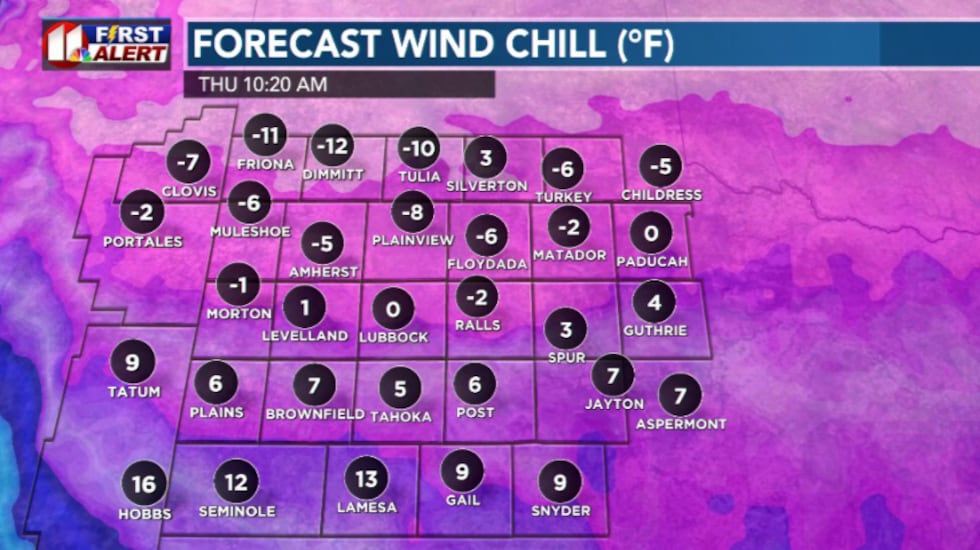 The front is on track to move through the South Plains early tomorrow morning. Temperatures will quickly drop behind this front with lows falling into the single digits to teens. Those temperatures, plus a strong northerly wind around 20-30 mph, will make it feel much colder tomorrow morning. Wind chill values could range from -10 to -20 for the northern portion of the KCBD viewing area. This wind chill can lead to hypothermia in a very short amount of time.
Now is the time to prepare. Consider bringing pets indoors overnight, extra layers on the skin if you have to go outdoors, cover pipes and drip faucets, and check on neighbors/loved ones periodically over the next 24-48 hours.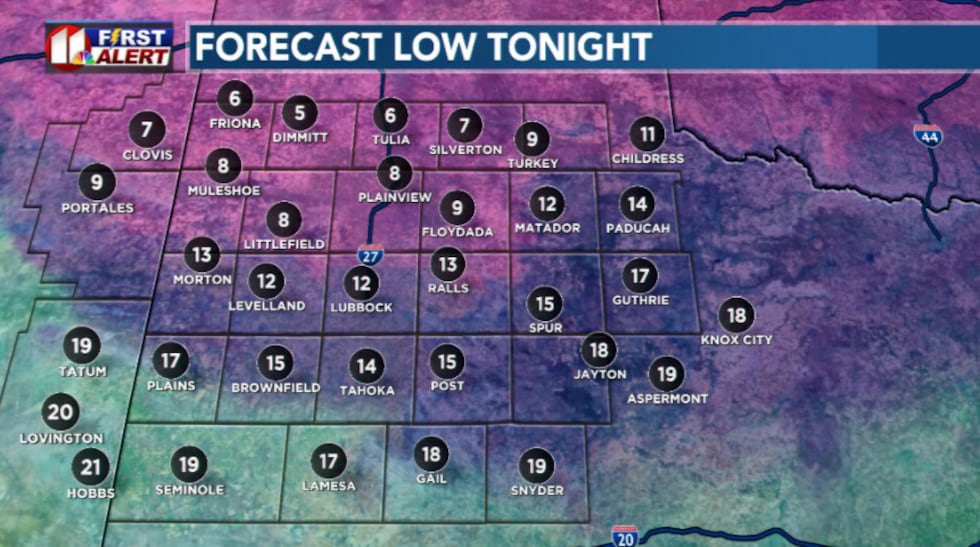 Temperatures will not rebound much tomorrow. Highs will climb into the teens to lower the 20s. Winds remain strong all day from the north around 20-30 mph with some stronger gusts possible. So again, wind chill values will be much lower than actual temperatures.
The coldest air settles in overnight Thursday with lows in the single digits for most of the viewing area. Thankfully, winds will die down so wind chill values will not be quite as bad, but still very, very cold. Temperatures will be similar Friday afternoon as tomorrow with highs in the 20s.
Still very cold for Christmas eve with highs in the upper 20s to lower 30s. Most of the day will be spent below freezing, in fact, we will not be above freezing from tonight until Saturday afternoon. A much nicer afternoon comes as a Christmas gift on Christmas day with seasonable highs in the lower 50s. Sunny and dry on Christmas. Temps climb into the 60s by next week!
Copyright 2022 KCBD. All rights reserved.