Sub-zero wind chill continues overnight, less wind tomorrow
Published: Dec. 22, 2022 at 6:06 PM CST
|
Updated: Dec. 22, 2022 at 10:30 PM CST
LUBBOCK, Texas (KCBD) - The bitter, arctic air continues to settle into the South Plains with lows again in the single digits, and wind chill values in the negatives overnight.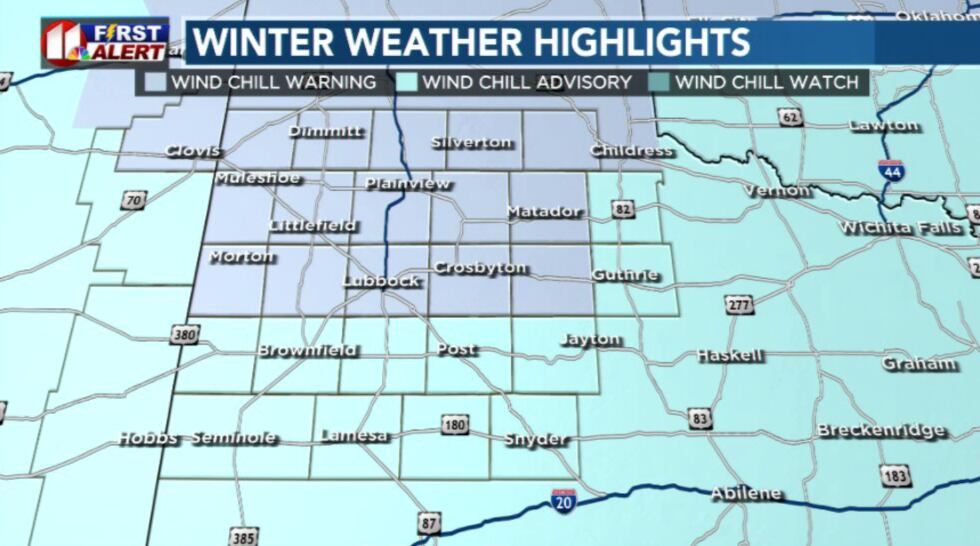 Our Wind Chill Warning for Lubbock county and the northern half of the KCBD viewing area remains in effect until noon on Friday. Wind chill values will remain sub-zero overnight, with some areas seeing wind chill values from 10 to 20 degrees below zero. Winds will die down just a bit this evening and overnight, but still breezy from the north around 15-20 mph. Temperatures will be similar to what we felt early this morning, with lows in the single digits.
Clouds will begin to build in overnight, with less sunshine on tap tomorrow. On a brighter note, winds will be much calmer throughout the day from the northeast at around 10 mph. This will help ease the bitter chill in the air, but temperatures will not be much better. Highs tomorrow are about 5 degrees warmer, in the upper teens to lower 20s. With a slight amount of moisture in the air and mostly cloudy skies, we may see a few flurries tomorrow afternoon, but no accumulation is expected.
Temperatures will be slightly warmer overnight Friday with lows in the lower teens. A return of sunshine and winds switching to the south Saturday morning which will help pull our temperatures out of the teens and 20s. Expecting highs on Saturday to top out in the lower to mid-30s.
Santa brings a much nicer forecast for us on Christmas day with temperatures in the lower 50s, sunny skies, and light winds. We will see even warmer temperatures returning next workweek, with highs in the 60s.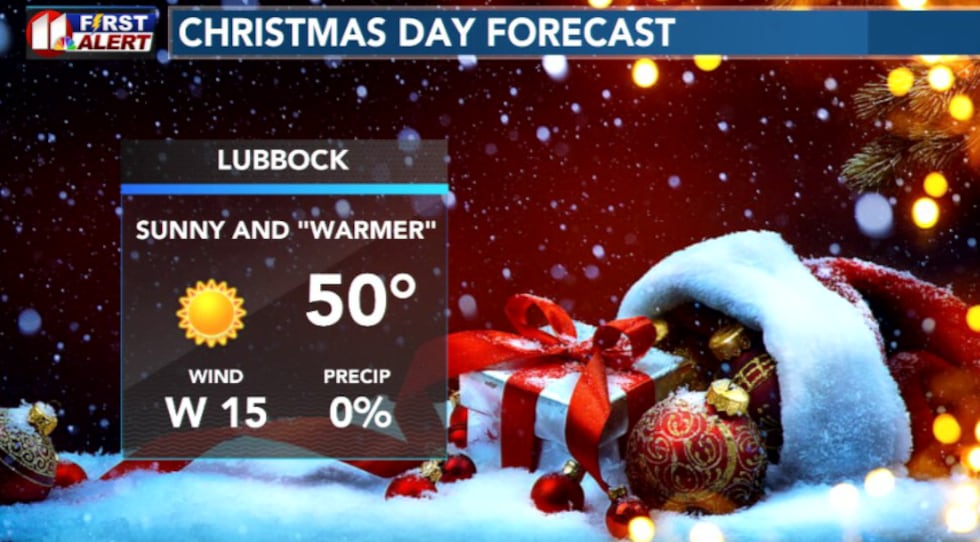 Copyright 2022 KCBD. All rights reserved.