Man accused of driving 107 mph in crash that killed grandfather, grandson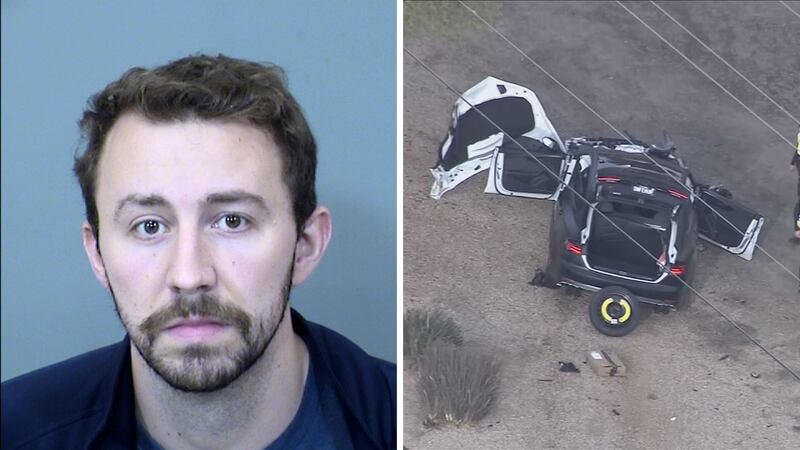 Published: Jan. 7, 2023 at 1:52 PM CST
CHANDLER, Ariz. (KPHO/Gray News) - Police in Arizona say they have arrested a man involved in a high-speed crash that killed two people last month.
Arizona's Family reports police arrested 27-year-old Gage Kauffman on Thursday in connection with a crash that killed a grandfather, and his 4-year-old grandson while injuring two others on Dec. 20, 2022.
Police said Kauffman was driving his vehicle that afternoon at over 100 mph before crashing into another car with a family inside.
Authorities identified the other driver as Vaka Tooa. Abigail Tooa was a passenger, along with Vaka Tooa's 4-year-old grandson, Vaka Tooa Jr.
Police said the impact of the crash ejected Vaka Tooa from the vehicle.
The family was taken to the hospital with serious injuries. However, the boy died the next day, and Vaka Tooa died ten days after the crash, investigators said.
Kauffman and his passenger were also taken to the hospital.
Court documents said Vaka Tooa was not wearing a seat belt, and his grandson wasn't in a car seat at the time of the collision.
Kauffman reportedly told police a different driver was in front of him and swerving aggressively into his lane before the crash. He claimed that the driver was trying to get him to crash into them.
According to court documents, Kauffman then sped up, trying to get away from the driver but authorities said his speed went from 85 mph to 107 mph before crashing into the Tooa family.
According to investigators, there were several times Kauffman could have slowed down or turned around to get away from the driver who was reportedly brake-checking him.
Court documents said Kauffman claimed he wasn't drag racing or speeding with any other cars on the road. According to police, the speed limit where the crash occurred is 45 mph.
Authorities said Kauffman was booked on two counts of reckless manslaughter, two counts of aggravated assault and two counts of endangerment.
Copyright 2023 KPHO via Gray Media Group, Inc. All rights reserved.