Potential for wildfires across South Plains
Published: Apr. 18, 2023 at 6:47 PM CDT
|
Updated: Apr. 18, 2023 at 10:45 PM CDT
LUBBOCK, Texas (KCBD) - Critical fire danger will continue over the South Plains overnight into late Wednesday. The combination of above normal temperatures, low humidity and dry/gusty winds will support wildfire potential.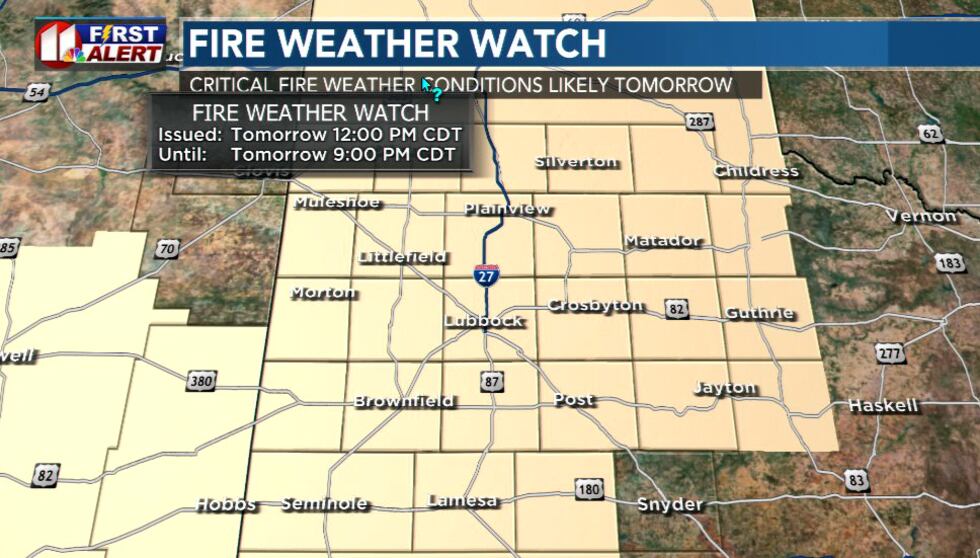 The threat will decrease some overnight, but will be greater for the region on Wednesday before decreasing by Thursday. Due to our continued drought conditions, fire danger is a daily concern over the region.
As for the forecast, morning temps will be in the 50s tomorrow morning and climb to the mid to upper 80s for all the area tomorrow afternoon. Some 90s will be possible over the South Plains. The winds will again be gusty, possibly over 30 to near 40 mph on Wednesday before decreasing on Thursday.
A change in wind direction, to the north, will result in afternoon highs in the 70s on Thursday, followed by highs in the 60s from Friday through the weekend.
The nighttime lows will fall to the low to mid 30s over most communities in the region by Friday and again Saturday morning. You may need to protect young plants from a possible freeze in some areas by Saturday morning.
The next chance of rain will not be until late Sunday into early next week.
Copyright 2023 KCBD. All rights reserved.