Storm chances increasing on Tuesday
Published: Apr. 24, 2023 at 6:37 PM CDT
LUBBOCK, Texas (KCBD) - Cloudy skies and below normal temperatures for the region once again today. However, changes on the way beginning tomorrow and for the remainder of the week.
Shower and storm chances will increase tomorrow afternoon and continue into early Wednesday morning over the South Plains. Some of the storms have the potential to produce severe weather, primarily large hail and high winds with welcome rainfall.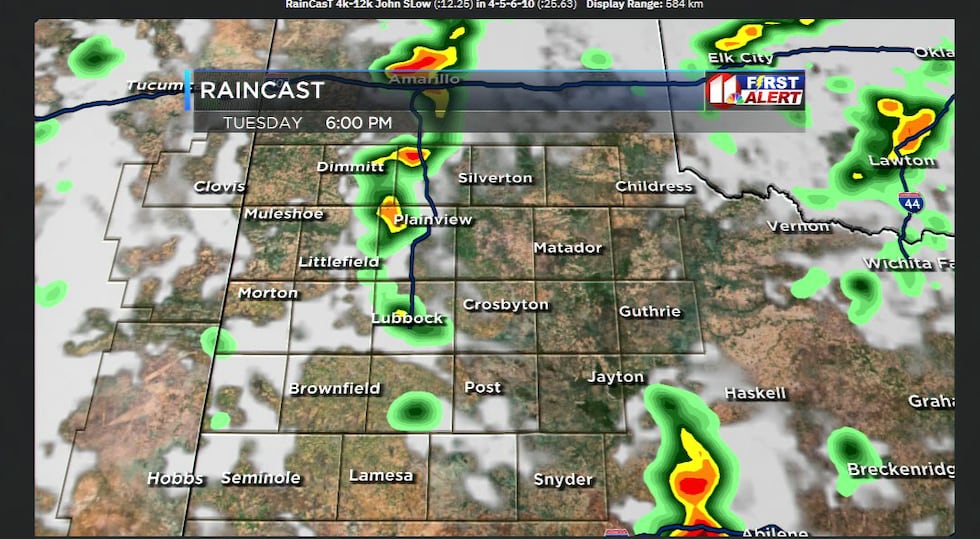 Prior to the arrival of storms Tuesday afternoon, light to moderate showers, and maybe a thunderstorm or two, will be possible tonight through early Tuesday.
Along with the increased rain chances, sunshine will return to the area tomorrow and allow the central and western South Plains to see afternoon temps around 20 degrees warmer.
Tuesday afternoon temperatures will range from the upper 70s in the western communities to the mid to upper 60s along and east of the Caprock.
Wednesday will provide the northern areas with a chance of showers and all of the region will be windier and cooler as highs fall back to the 50s and 60s.
It does look like temperatures will remain slightly below normal for the rest of the week.
Copyright 2023 KCBD. All rights reserved.