Additional storm chance for the South Plains
Published: Apr. 26, 2023 at 7:27 AM CDT
|
Updated: Apr. 26, 2023 at 12:31 PM CDT
LUBBOCK, Texas (KCBD) - Another round of thunderstorms expected this afternoon and evening. These are expected to favor the northern viewing area, with just a slight chance of a storm - and rain - for the Lubbock area.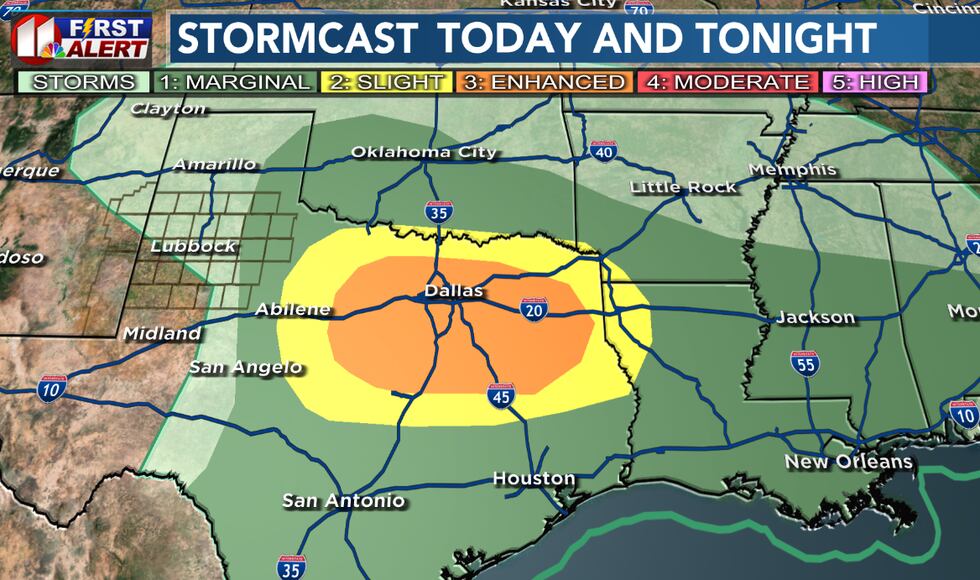 These again will be hit and miss, meaning many areas will remain dry but a few spots may receive brief downpours. The severe risk is lower than yesterday, though a few storms may produce hail up to about an inch and wind gusts up to about 60 mph.
Outside of thunderstorm activity, Wednesday afternoon will be partly cloudy and windy. Winds will range from about 20 to 30 mph with occasional gusts up to 40 mph possible.
Highs will exhibit a broad range, from the low 60s to the upper 70s.
Keep an eye on the weather - better yet, keep an eye on our KCBD Weather app.
Turn on notifications. If a watch or warning is issued for your location the app will alert you. Even if it is not running (if you give it permission). Notifications are under Settings in the app menu (three horizontal bars in the upper left).
See any severe weather watches and warnings (local or anywhere in Texas or the U.S.) plotted on the Interactive Radar. Access the radar with the bottom right icon. Under the radar menu (three vertical dots in the circle, lower right) activate the Tornado/Severe and Flood icons(under Alerts). Activate Storm Tracks (under Overlays).
Copyright 2023 KCBD. All rights reserved.