Not as hot, then spotty storms
Published: May. 1, 2023 at 7:28 AM CDT
|
Updated: May. 1, 2023 at 12:30 PM CDT
LUBBOCK, Texas (KCBD) - Yesterday was Lubbock's hottest day of the year, so far, with a high of 93°. It was just one degree shy of the record for the date. A cold front, however, blew in on a gusty northerly wind late in the day. Today and the next few days won't be as warm. There's also a chance of rain as storms return to our area.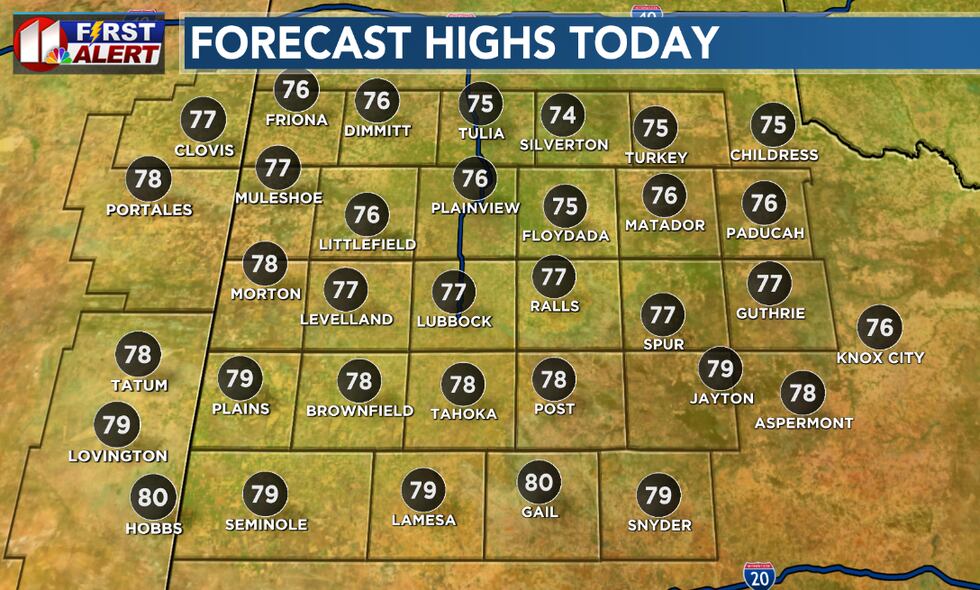 After a chilly start with a low in the mid-40s, highs today will range from the upper 70s to near 80 degrees. Just a few degrees below May 1 averages. Despite increasing cloudiness, this afternoon and evening remain dry. Expect an easterly breeze around 10 to 20 mph.
Mostly cloudy, breezy, and just a bit chilly tonight. Lows will range from the mid-40s in the northwestern viewing area to the mid-50s in the southeast.
Thunderstorms are expected to return to our area late tomorrow and again Wednesday. Activity also is expected to be spotty, or hit and miss.
Steering winds are forecast to be light, which means storms will move somewhat slowly. Where it does rain, it may rain for more than just a few minutes, increasing the potential for significant rainfall. That would be at least a quarter inch.
Again, coverage is anticipated to be spotty, so some spots may miss out on rain.
A few storms may return late Thursday, though they will be most likely over the eastern viewing area.
A VERY DRY APRIL
April was dry. Just 0.11 inch of precipitation. Very dry. But not quite a top ten driest April for Lubbock. Below are the ten driest in Lubbock's record. April 1961 is in eleventh place with 0.10″. April 2023 is in a three-way tie for twelfth place.
LUBBOCK CLIMATOLOGY
Lubbock's temperatures yesterday ranged from a low of 46° to a high of 93°, the warmest of the year so far (recorded at the Lubbock airport). The low this morning was 44° (as of this posting).
For today, May 1, Lubbock's average low is 51° and the average high 80°. The record low is 32° (set in 1967 and tied in 1970) and the record high 101° (set in 2020).
Lubbock's precipitation total for the month of April was 0.11″. That is 1.22″ below the average. The total for the year is 0.86″, which is 2.87″ below the year-to-date average.
Lubbock's snowfall total for the season was 7.2″. That is 0.2″ above the average. Lubbock's most recent reported snowfall was a trace on February 18. Lubbock's snow season is considered to be October 1 through April 30.
Sunrise today was at 6:59 AM CDT, sunset is at 8:30 PM CDT. Sunrise tomorrow is at 6:58 AM CDT.
Copyright 2023 KCBD. All rights reserved.