Tornado Watch issued for Childress, Cottle, King counties
Published: May. 4, 2023 at 8:34 AM CDT
|
Updated: May. 4, 2023 at 12:38 PM CDT
UPDATE: A Tornado WATCH has been issued for Childress, Cottle, and King Counties through 9 p.m. The threat of severe weather is highest across the Southeast TX Panhandle and the Rolling Plains. Through the rest of the afternoon, there is a slight chance of isolated thunderstorms here in Lubbock, but the main threat is expected to remain east/northeast of us.
This watch includes Childress, Paducah and Guthrie.
=====
LUBBOCK, Texas (KCBD) - Light rain showers with an occasional rumble of thunder are possible through early afternoon in the Lubbock area. The threat of strong thunderstorms shifts to the far eastern viewing area late today.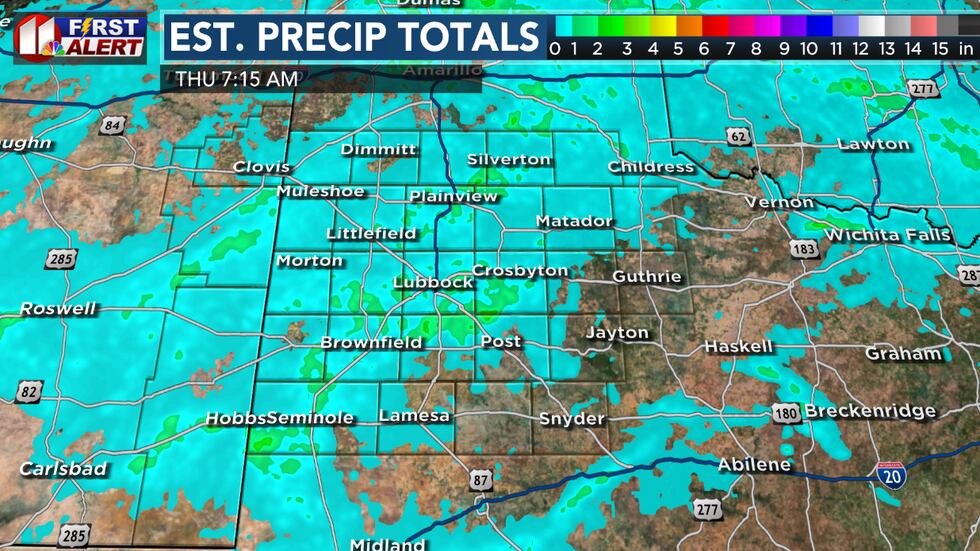 Much of the Lubbock County area and northern viewing area received additional rain last night. The Lubbock Airport is now at 0.58″ for the month, which is 0.39″ above the average for the first three days of May.
I've included rain totals for the past two days below.
Scattered light rain showers and a few thundershowers are likely this morning. Amounts generally will range from a trace to perhaps a few hundredths of an inch. However, where thunder accompanies these showers amounts greater than a tenth of inch are possible.
Stronger storms are possible late today over the eastern viewing area, generally east of the Caprock.
As the showers shift east, the overcast will give way to increasing sunshine this afternoon. Winds will increase, becoming somewhat windy. Gusts around 35 mph are expected. Temperatures will peak slightly above average for early May.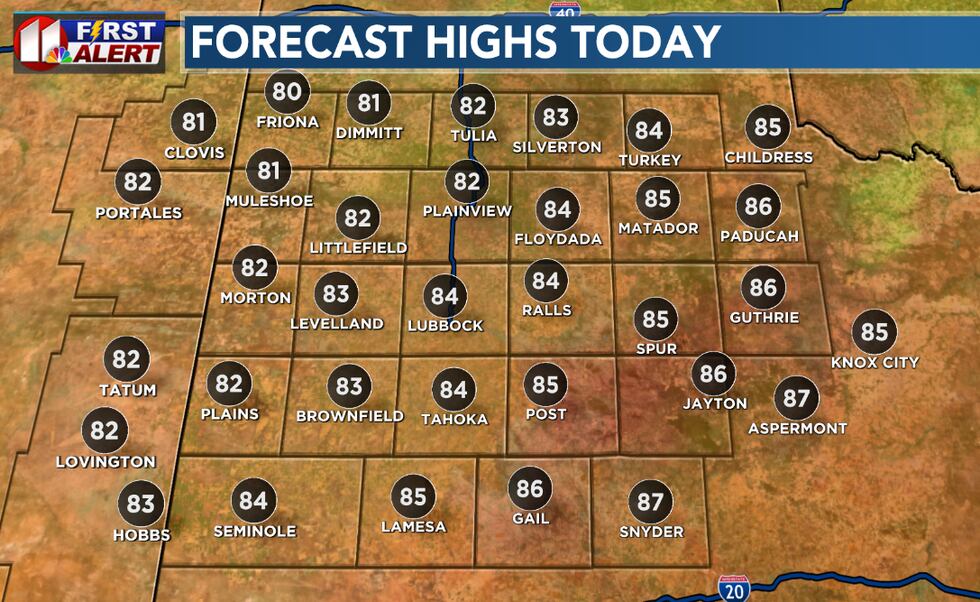 Two-Day Rain Totals
Rain-event totals (in inches) from in and around the KCBD viewing area for the 48 hours ending at 8:00 AM Thursday:
1.78 New Home
1.44 Lubbock LCU
1.44 Lubbock E
1.25 Lubbock 98th and Upland
1.11 Smyer
1.08 New Deal
1.03 Seagraves
1.02 Lubbock SE
1.00 Plainview
0.96 Lubbock NW
0.93 Reese Center
0.89 Olton
0.88 Silverton
0.85 Abernathy
0.80 Lubbock Broadway and Ave X
0.79 Brownfield
0.74 Slaton
0.71 Lubbock All Saints
0.67 Levelland
0.64 Aiken
0.64 Shallowater
0.54 Estelline
0.53 Seminole
0.50 South Plains
0.47 Wolfforth
0.46 Ralls
0.45 Lake Alan Henry
0.45 Sundown
0.44 Tulia
0.44 Turkey
0.42 Spur
0.39 Caprock Cnyns
0.38 White River Lake
0.37 Childress
0.36 Vigo Park
0.35 Denver City
0.34 Muleshoe
0.30 Anton
0.28 Happy
0.27 Amherst
0.25 McAdoo
0.23 Northfield
0.22 Earth
0.21 Floydada
0.21 Morton
0.18 Hobbs
0.15 Friona
0.13 Hart
0.11 Roaring Springs
0.07 Welch
0.04 Dimmitt
0.04 Paducah
0.03 Graham
0.03 Tahoka
0.03 Tatum
0.02 Hackberry
0.02 Post
Source: National Weather Service Lubbock, the TTU West Texas Mesonet, and KCBD and FOX34 viewers
Copyright 2023 KCBD. All rights reserved.