Severe Thunderstorms continue east of Lubbock
Published: May. 7, 2023 at 3:27 PM CDT
|
Updated: May. 7, 2023 at 3:30 PM CDT
=====
LUBBOCK, Texas (KCBD) - The Storm Prediction Center has issued a Severe Thunderstorm Watch for the Rolling Plains into areas east of the KCBD viewing area, including Texoma and the Big Country. The watch includes King, Garza, Kent, Borden and Scurry counties, shown in green below.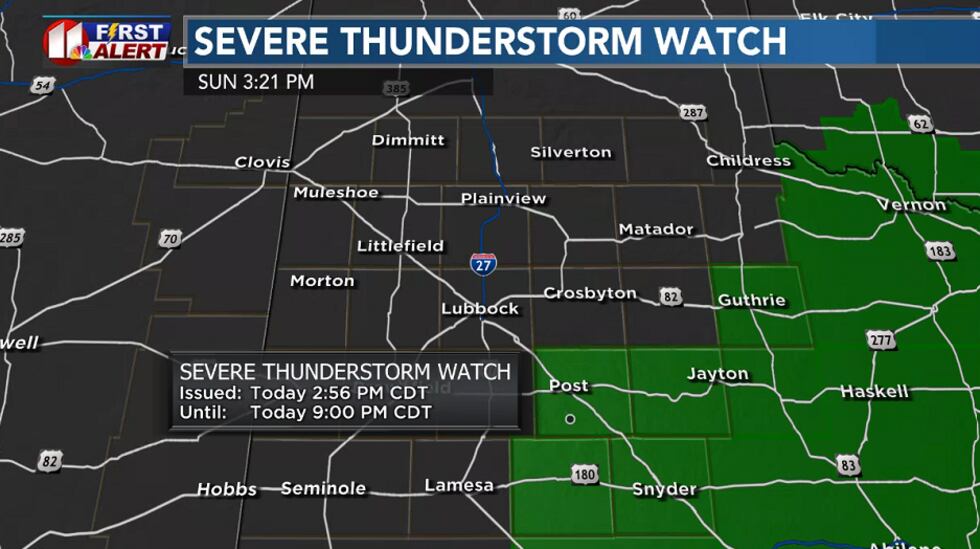 While it will remain sunny, hot and dry in Lubbock, east of a dry line thunderstorms are expected to rapidly develop. This is areas off the Caprock, where the temperature has climbed into the 90s and the air is more humid. Not everyone in the watch area will see a thunderstorm, but the potential is there late this afternoon.
The primary threat from thunderstorms will be large hail, though strong wind and torrential downpours are also possible. The most intense storms could produce hail up to the size of baseballs.
Storms will move off to the northeast late this afternoon into the evening. After that, the forecast is quiet Monday before the chance for storms in the area will return beginning Tuesday.
We'll have updates as needed on KCBD NewsChannel 11. And to track the storms and get customized alerts, be sure you have the free KCBD FirstAlert Weather app.
Copyright 2023 KCBD. All rights reserved.