More heat before rain returns
Published: May. 8, 2023 at 7:13 AM CDT
|
Updated: May. 8, 2023 at 12:33 PM CDT
LUBBOCK, Texas (KCBD) - Yesterday was the hottest of the year so far, with Lubbock hitting 95°. Today will be similar, then temperatures will begin to trend down while storm and rain chances trend up.
After yesterday's heat, a humid air mass swept east to west across the area. This moist blanket helped keep overnight temperatures mild. While temperatures near the state line dipped into the 50s - mild for the time of year - elsewhere temperatures bottomed out in the 60s.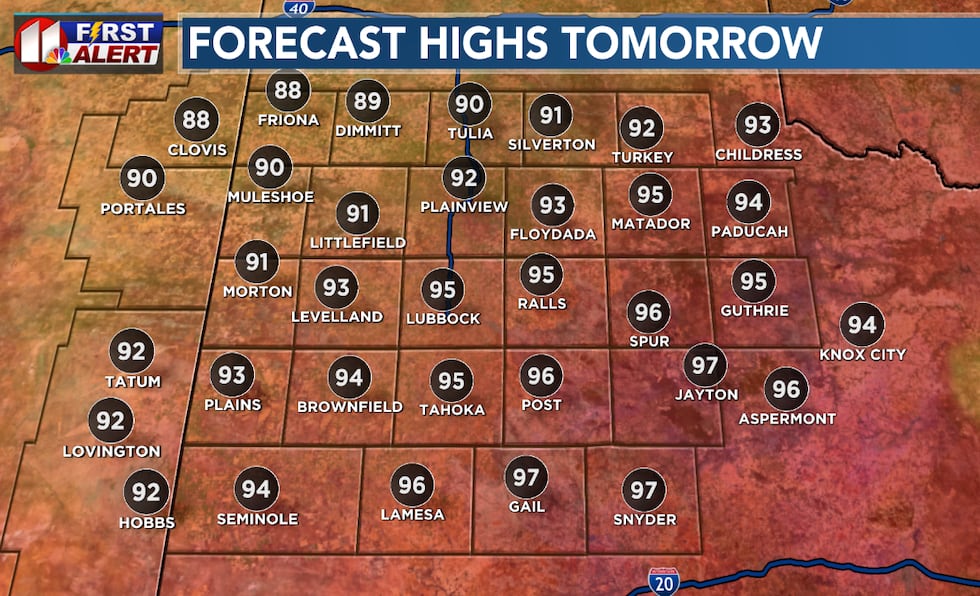 The humid air mass will shift east today, replaced by dry air. It's going to be another hot afternoon under a generally sunny sky. If you will be outside don't forget sunscreen, water, and to limit physical exertion in the heat.
There is a slight chance of a stray storm or two over the far eastern viewing area late today. If they develop, these storms may become severe and affect the Paducah and Guthrie areas (Cottle and King Counties).
Tuesday morning and afternoon will be much the same. The evening, however, may bring isolated storms back to the area. Once again, any storm in the area may become severe. The main risk will be strong winds but large hail and heavy rain also will be possible.
A slightly greater chance of storms, and rain, is expected Wednesday evening and possibly through Wednesday night. Once again, any storm may become severe.
Storm and rain chances will be low Thursday and Friday, but changes are anticipated beginning Friday evening. Based on today's data, we expect the rain potential to increase through the weekend.
The Mothers' Day Weekend is shaping up cloudy, seasonably cool, and wet. Any outdoor plans you may have for the weekend should include an inside option.
Watch for updates!
LUBBOCK CLIMATOLOGY
Lubbock's temperatures yesterday ranged from a low of 54° to a high of 95°, the warmest of the year so far (recorded at the Lubbock airport). The low this morning was 65° (as of this posting).
For today, May 8, Lubbock's average low is 54° and the average high 82°. The record low is 31° (set in 1938) and the record high 102° (set in 1989).
Lubbock's precipitation total for the month of May is 0.59″. That is 0.13″ above the average. The total for the year is 1.45″, which is 2.74″ below the year-to-date average.
Sunrise today was at 6:52 AM CDT, sunset is at 8:36 PM CDT. Sunrise tomorrow is at 6:51 AM CDT.
Copyright 2023 KCBD. All rights reserved.