Flood Watch, Severe Thundertsorm Watch for South Plains
Published: May. 27, 2023 at 7:39 PM CDT
LUBBOCK, Texas (KCBD) - The National Weather Service has issued a Flood Watch and Severe Thunderstorm Watch for areas across the South Plains.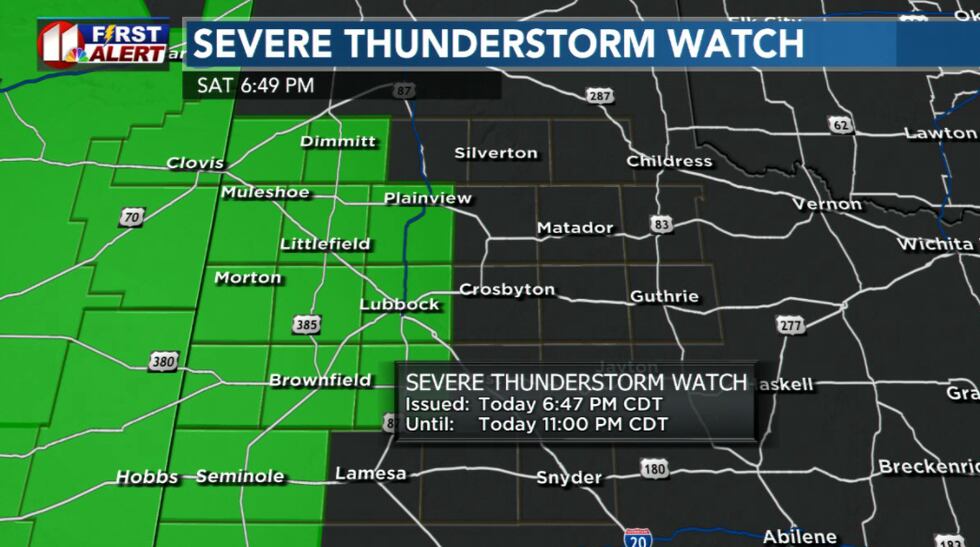 The Severe Thunderstorm Watch is for Bailey, Cochran, Hale, Hockley, Lamb, Lubbock, Lynn, Terry, Gaines, and Yoakum Counties until 11 p.m. Saturday night.
This includes the cities of Amherst, Boniva, Brownfield, Denver City, Dimmitt, Farwell, Friona, Hart, Levelland, Littlefield, Meadow, Morton, Muleshow, Olton, Plains, Sundown, Wellman, and Whiteface.
The primary threats with these storms include scattered large hail and damaging wind gusts. Wind speeds from 60 to 70 mph are possible.
Remember, a severe thunderstorm watch means conditions are favorable for severe thunderstorms in and close to the viewing area.
The Flood Watch is for Parmer, Castro, Swisher, Briscoe, Bailey, Lamb, Hale, Floyd, Cochran, Hockley, Lubbock, Crosby, Yoakum, Terry, Lynn, and Garza Counties until 4 a.m. Sunday morning.
This includes the cities of Silverton, Morton, Lake Alan Henry, Lockney, Brownfield, Floydada, Crosbyton, Littlefield, Friona, Farwell, Salton, Tahoka, Post, Denver City, Hart, Meadow, Amhert, Olton, Muleshoe, Plainview, Wolfforth, Sundown, Happy, Bovina, Tulia, Whiteface, Dimmitt, New Home, O'Donnell, Wellman, Quitaque, Ralls, Lubbock, Hale Center, Plains, and Levelland.
The possible flooding will be caused by excess rainfall. Flooding may occur in poor drainage and urban areas. Additional heavy rainfall of one to two inches is possible tonight, with localized amounts of 2 to 4 inches.
Stay up to date and be on the lookout for threatening weather conditions with the KCBD News Channel 11 Weather App. The app has radar, hour-by-hour forecasts, live updates, and more.
Copyright 2023 KCBD. All rights reserved.