Memorial for TTUHSC School of Medicine Dean Dr. Steven L. Berk announced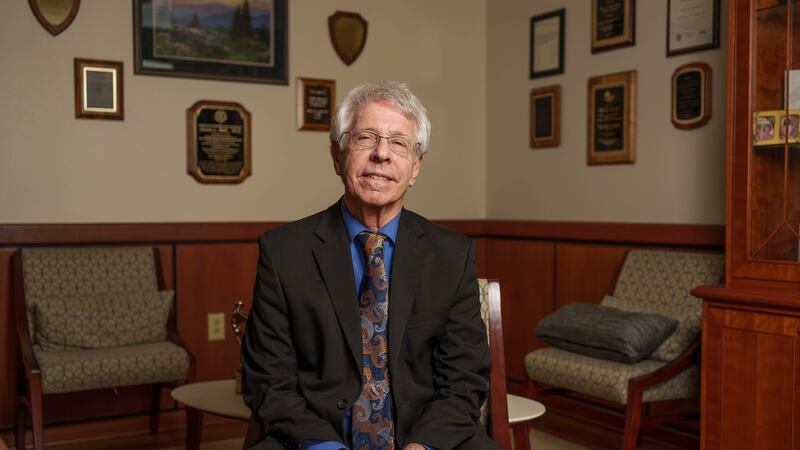 Published: May. 30, 2023 at 8:18 PM CDT
LUBBOCK, Texas (KCBD) - The memorial service for TTUHSC School of Medicine Dean Dr. Steven L. Berk has been scheduled for Monday.
Berk first joined the TTUHSC faculty in 1999 and was appointed dean of the School of Medicine in 2006. He died on May 26 from possible heart complications, according to a release.
His service has been scheduled for Monday, June 5 at 3 p.m. in the TTUHSC Academic Event Center at 3601 4th St. The service will also be viewable via Zoom: https://bit.ly/berkmemorial
The following obituary was published, detailing Berk's life and service to his family and community:
March 12, 1949 - May 26, 2023
Dr. Steven L. Berk, a dedicated physician, esteemed educator, and visionary leader, passed away peacefully in his home on May 26, 2023, from presumed heart complications. He was 74 years old. The loss of this exceptional individual leaves a void in the medical community and the hearts of all who had the privilege of knowing him.
Born on March 12, 1949, in New York City, NY, Steven was the beloved son of Sidney and Freida "Fritzie" (Blank) Berk. He grew up in a loving home in Bloomfield, New Jersey. On October 10, 1981, he married his life partner and forever-supporter Shirley Anne Holtsclaw.
Steven is survived by his devoted wife Shirley, his sons Jeremy Berk (Jen) and Dr. Justin Berk (Natalie) and his cherished granddaughters, Maya and Maggie. He is also survived by his brother Dr. Marc Berk (Helene). Steven was preceded in death by his parents.
Steven graduated from Brandeis University in 1971, Boston University School of Medicine in 1975 and completed his medical and infectious disease training at Boston City Hospital.
In 1979, Steven joined East Tennessee State University in Johnson City to help establish the Quillen College of Medicine. He played a crucial role in its creation, dedicating each year to working with students, residents, and fellows. Steven earned a respected reputation as a skilled clinician and educator, becoming a prominent authority in HIV/AIDS care and appointed Chair of the Department of Internal Medicine in 1988.
In 1999, he left the Tennessee mountains to join the faculty of Texas Tech University Health Sciences Center and immediately started wearing cowboy boots. He served as the Regional Dean for the Amarillo campus. Steven became the dean of the School of Medicine in 2006 in Lubbock, TX and then the executive vice president and provost in 2010. He "died with his boots on," giving his final graduation speech as Dean one week before his death.
Throughout his career, Steven made valuable contributions to the medical community including over 150 publications, 4 textbooks, 3 Board certifications, and several active society memberships (Phi Beta Kappa, Gold Humanism, Alpha Omega Alpha). His numerous accolades and teaching awards were a testament to his unwavering dedication to educating future generations of physicians, a role that brought him immense pride and satisfaction.
Dr. Berk's literary endeavors were equally noteworthy. He published his memoir, Anatomy of a Kidnapping, which recounts his 2012 abduction. Recently, he authored a historical fiction novel, In Search of the Animalcule, exploring the story of the discovery of bacteria.
Dr. Steven Berk was a revered figure in the community, known for his visionary leadership and lasting contributions at the medical school, creating the Family Medicine Accelerated Track (FMAT) program to address primary care shortages, as well as proudly supporting the Barbershop Hypertension Program, student-run Free Clinic and other organizations. For decades, he served as councilor for the Student National Medical Association (SNMA).
His legacy extends far beyond his professional achievements as a compassionate and caring mentor. Dr. Berk's unwavering support and guidance inspired the lives of countless aspiring physicians, leaving an indelible mark on their journeys.
---
A memorial service will take place on Monday, June 5 at 3pm in the TTUHSC Academic Event Center, 3601 4th Street and via Zoom: https://bit.ly/berkmemorial
In accordance with the wishes of the departed, those in the medical field are kindly asked to wear white coats as a symbol of unity and professional dedication.
In lieu of floral tributes, the family kindly requests that donations be made to either the Steven and Shirley Berk Scholarship Fund or the Dr. Fahmi Farah and Dr. Steven Berk SNMA Endowed Scholarship Fund at TTUHSC School of Medicine: https://connect.ttuhscalumni.org/Berk
To honor Dr. Berk's spirit and the profound impact he had on so many lives, the family kindly suggests writing a brief note expressing gratitude to a meaningful mentor. This simple gesture, reflecting the values and mentorship Dr. Berk held dear, would be deeply appreciated.
Copyright 2023 KCBD. All rights reserved.