Severe Thunderstorm Watch for western South Plains, Eastern New Mexico
Published: May. 31, 2023 at 4:29 PM CDT
|
Updated: May. 31, 2023 at 4:36 PM CDT
LUBBOCK, Texas (KCBD) - The Storm Prediction Center has issued a severe thunderstorm watch for the western South Plains and Eastern New Mexico, counties in green below. The watch is in effect until 10 p.m. Central Wednesday.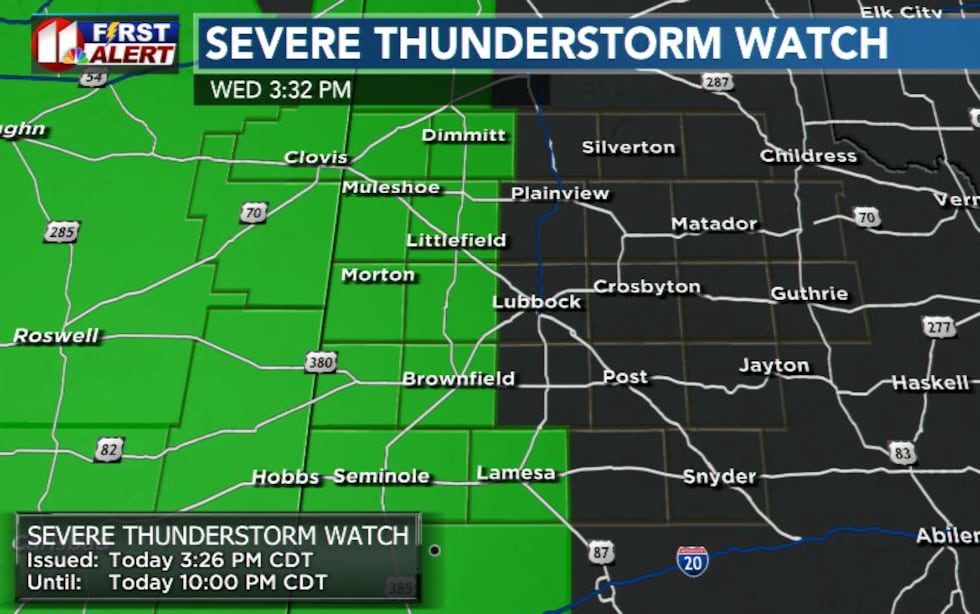 The watch includes Dimmitt, Muleshoe, Littlefield, Morton, Levelland, Plains, Brownfield, Lovington, Hobbs, Seminole and Lamesa. Thunderstorms that develop will be capable of producing hail of at least 1″ diameter and gusts to 60mph. The most intense storms will be capable of 75mph gusts and 3″-diameter hail. A tornado or two is possible in the watch.
Thunderstorms will move from southeast to northwest.
Additionally, a flood watch is in effect through Thursday morning for the NW South Plains and SW Panhandle, areas northwest of Lubbock. This is where the greatest risk for flooding is. But area-wide, localized flooding is possible, just like we've seen from storms last two weeks.
Thunderstorms at mid-afternoon are in Eastern New Mexico, lifting to the northeast. We expect these storms to spread east of the state line into this evening. Rain and thunderstorms will spread across the area tonight, possibly into the early morning hours. Then, another round of thunderstorms is likely through the early morning hours, possibly continuing to around sunrise.
These rounds of storms will have an influence on the set-up for tomorrow. Clouds could hang around long enough to limit the instability. But we've seen the past few weeks it doesn't take a lot for the atmosphere to recover. There is another chance for thunderstorms late tomorrow, again some severe. More severe storms are possible Friday, and we'll keep at least a low chance for storms each day through early next week.
In addition to the severe weather threat in the coming days, additional flooding is possible.
It'll be a little bit cooler next few days, though with all the humidity it will feel muggy. High in the upper 70s Thursday and Friday, and likely pretty close to that mark through early next week.
Be sure you have alerts enabled on the KCBD First Alert Weather App. This will send watches and warnings specific to your location or locations you save. We'll have updates as needed on KCBD NewsChannel 11.
Copyright 2023 KCBD. All rights reserved.