Celebration of Life service scheduled for longtime Lubbock broadcaster Dave King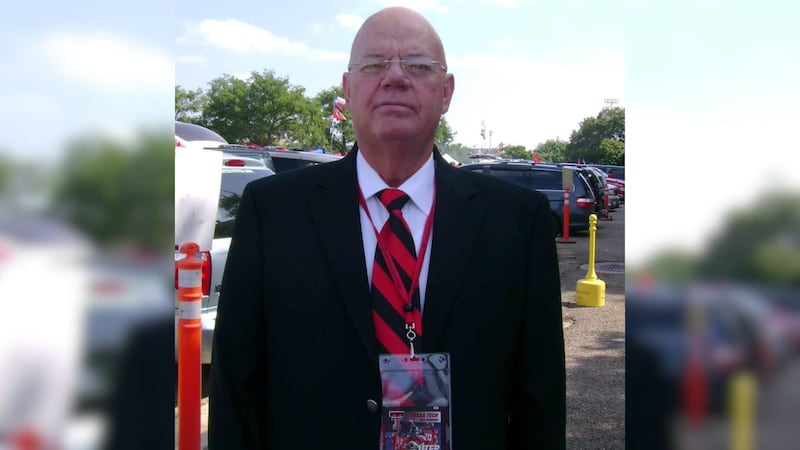 Published: Jun. 5, 2023 at 6:25 PM CDT
|
Updated: Jun. 13, 2023 at 1:22 PM CDT
UPDATE: The Texas South Plains Honor Flight released the details of Dave King's Celebration of Life service on Sunday:
Dave King's Celebration of Life service will be held on Tuesday, June 20 at 1 p.m. at LakeRidge Methodist Church - 4701 82nd Street, Lubbock, Texas 79424. Mr. King was the Chairman of the Inaugural Texas South Plains Honor Flight organization, helping to establish our local chapter. A part of his legacy lives on with each consecutive flight that we organize. Our chapter will be sending a wreath for the service, a fitting tribute to man who is responsible for so many wreaths of honor for our local veteran population.
For more information, please visit the Sanders Funeral Home page of remembrance by clicking here. We would encourage those that can attend, to please wear an Honor Flight polo as homage to Mr. King's legacy.
=====
LUBBOCK, Texas (KCBD) - Longtime Lubbock broadcaster Dave King died Monday, according to his son and fellow prominent radio personality Landon King.
The sad news came the same day the latest South Plains Honor Flight is returning to Lubbock. Dave King served as chairman of the inaugural South Plains Honor Flight, helping to launch the local chapter to take World War II veterans to memorials in their honor in the nation's capital. More than a decade later, this latest flight included Korean War and Vietnam War veterans.
In 2012, he spoke to KCBD about an upcoming opportunity for the public to ride and tour a historic B-17, as a fundraiser.
King started with the McAlister Family's KSEL broadcasting in 1968. His bio shows he quickly moved from on-air into sales. He later launched his own advertising agency in 1982.
While many likely heard his bass voice on various ads over the years, King returned to radio hosting duties first on Ramar Communications' AM 950. He later joined the morning crew at KFYO, where he was on the air until just weeks ago.
Dave King's voice also boomed from Jones Stadium and wherever the Goin' Band went, as the voice of Texas Tech's marching band from 2006 to 2016. King previously served as president of Lubbock Monterey AMBUCS.
His son's Facebook post stated a celebration of life will be announced soon, but King did not want a funeral. He is survived by his wife of 52 years Gail, two adult children and two grandchildren.
Landon wrote on Facebook: if you're looking to donate to a great cause, please consider Hospice of Lubbock.
Copyright 2023 KCBD. All rights reserved.