Dangerous Heat Continues: South Plains and Texas
Published: Jun. 20, 2023 at 7:25 AM CDT
|
Updated: Jun. 20, 2023 at 12:31 PM CDT
LUBBOCK, Texas (KCBD) - Yesterday was the hottest since last July with nearly the entire viewing area recording triple-digit temperatures. Today will be about the same.
Multiple days, compared to a single day, of extreme heat take more of a toll on our bodies, pets, livestock, plants, air-conditioners, and the electrical grid. Be Weather Aware, practice summer heat safety. The effects of heat are cumulative. While your body may have no problem shaking off one or two very hot days, it becomes more difficult as the number of days increases.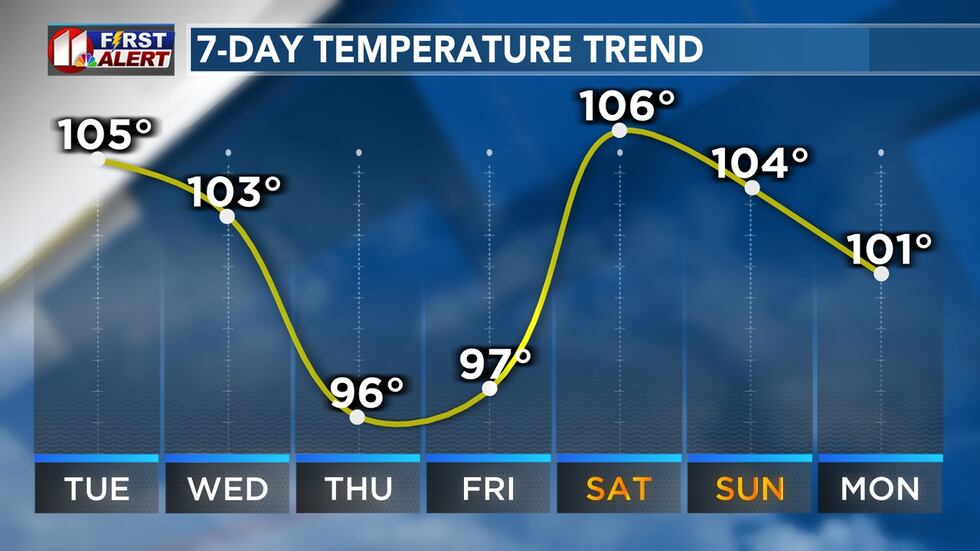 Drink plenty of fluids - water remains the best choice, stay out of the direct sun and stay in air-conditioned spaces as much as possible. If you will be outside, wear a hat, light-weight, light-colored, loose-fitting clothing, use sunscreen, and limit strenuous activity to morning or late evening.
NEVER LEAVE A CHILD (OR PERSON OR PET) UNATTENDED IN A VEHICLE. EVEN FOR A MOMENT. In this heat it can become dangerously hot - even fatal - in minutes. Eight children have died so far this year after being left in vehicles.
A Heat Advisory, issued by the National Weather Service, is in effect until 9 PM tomorrow, Wednesday, for the southern viewing area. It covers Gaines, Dawson, Borden, and Scurry counties as well as Lea County in New Mexico. Temperatures and/or heat indexes of 105° to 110° are expected.
With the heat there is an increased risk of heat-related illnesses. Heat exhaustion and heat stroke are serious medical issues.
It's not just about heat - it's about heat AND humidity. The body cools itself by moving heat to the skin where it can be removed by transfer to the adjacent air, and by perspiration and evaporation. The lower the humidity of the air surrounding the body, the more efficient is this process. Higher humidity hampers the process.
This process is also why we recommend you wear light clothes that are made of moisture-wicking material. Cotton is not a good choice, because once it absorbs sweat it blocks further cooling, and it is heavy when saturated.
Heat Index (HI)
aka the "Apparent Temperature", is a measure of how hot it feels when the Relative Humidity (RH) is considered in addition to the actual air temperature.
Heat Wave
A period of abnormally and uncomfortably hot and humid weather, typically lasting at least two days. Hot expressive days with little relief at night.
Heat Exhaustion
A mild form of heat stroke, characterized by faintness, dizziness, and heavy sweating.
Heat Stroke
A condition resulting from excessive exposure to intense heat, characterized by high fever, collapse, and sometimes convulsions or coma. Heat Stroke is a life-threatening medical emergency - call 9-1-1.
Heat Advisory
Issued when a heat index of 105° to 115° may be reached, or nighttime lows of at least 75° (in some areas of the country, above 80°), for 2 consecutive days and nights are expected.
Excessive Heat Outlook
May be issued when a combination of temperature and humidity over a period of days may put stress on people and animals.
Excessive Heat Watch
Issued when a heat index in excess of 105º combined with nighttime low temperatures of at least 75° (in some areas of the country, at least 80º) are forecast for two consecutive days.
Excessive Heat Warning
Issued when a heat index of at least 105° for more than 3 hours per day for 2 consecutive days, or a heat index more than 115° any period of time, is expected.
Copyright 2023 KCBD. All rights reserved.