High temperatures continue with slight relief
Published: Jun. 20, 2023 at 6:41 PM CDT
|
Updated: Jun. 20, 2023 at 10:44 PM CDT
LUBBOCK, Texas (KCBD) - A few clouds this afternoon, but it was still hot with temperatures across the region topping the century mark with some of the southern South Plains recording highs near 110 degrees.
The heat will continue tomorrow, but may be a few degrees lower in the central and northern South Plains. However, afternoon highs will still be well above normal and above 100 degrees for a large part of the region. With humidity levels expected to be higher in the south and eastern counties, it will feel hotter and additional heat advisories may be needed.
A slight chance tomorrow will bring the chance of some isolated strong to severe storms, mainly in the eastern and northeast communities. These storms will have the potential for large hail and very high winds, but tornado threat will be low.
Storms will likely develop in the afternoon and track to the southeast.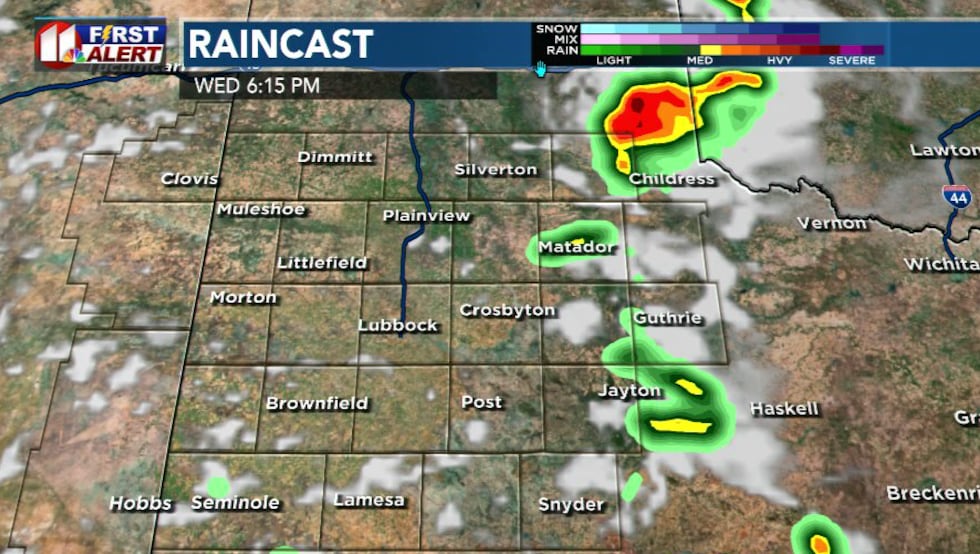 Thursday afternoon will bring two changes, it will be slightly cooler with daytime temps in the 90s.
Also, there is a better chance of isolated to scattered showers and storms in the afternoon and evening. Storms will develop along the Texas/New Mexico state line and move east with the potential of hail and high winds.
Temperatures may remain in the mid to upper 90s Friday with a slim chance of additional showers or storms.
The weekend will bring a return of temps above 100 degrees for the region.
Copyright 2023 KCBD. All rights reserved.