Scorching Start to Summer
Published: Jun. 21, 2023 at 7:08 AM CDT
|
Updated: Jun. 21, 2023 at 12:34 PM CDT
LUBBOCK, Texas (KCBD) - Dangerous heat returns to the South Plains and Texas today. Temperatures will soar into the triple-digits across nearly all areas of the state and the viewing area.
107° was the high in Lubbock yesterday (recorded at the airport). It was the hottest since last July and matched the hottest temperature reached during 2022. It also was one degree shy of the record high for June 20: 108° in 1935. Lubbock's weather record goes back to 1911.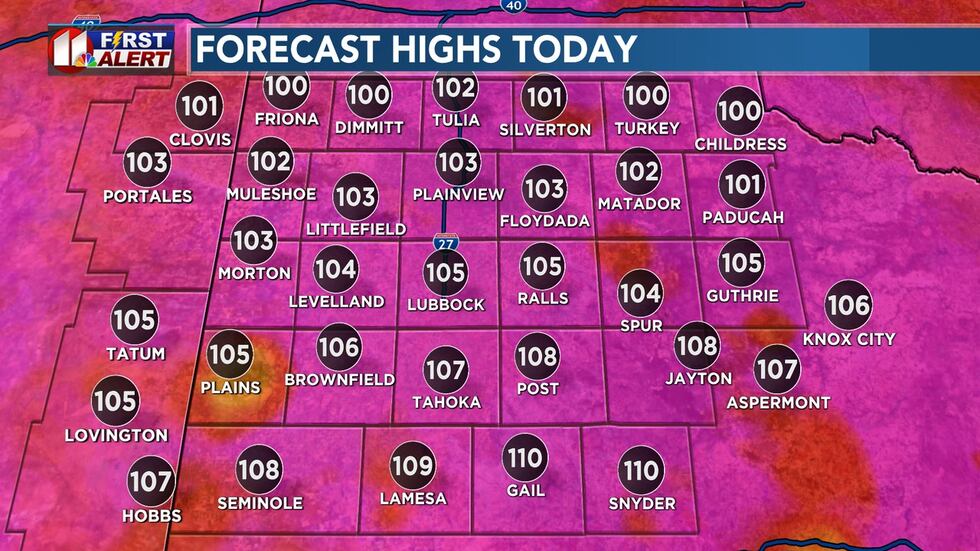 Temperatures this afternoon, the first of summer, will peak from about 100 to 110 degrees in the viewing area. It is the first day of summer because it is the Summer Solstice, occurring at 9:57 AM CDT.
There is a slight chance of storms, a slight chance of rain, late today. The area most likely to see storms is generally east of the I27-Hwy 87 corridor. Storms that develop may become severe. Large hail and damaging wind gusts are the main threats.
The next two days, Thursday and Friday, won't be as hot. But still hot. We also may see a few storms late each day. So a slight chance of rain late both Thursday and Friday.
Dangerous heat again will envelop the area this weekend. My current forecast high for Saturday is 106° and Sunday 105°. Heat illness can develop in a short time in people engaged in outdoor physical activity, especially in direct sunshine. The effects of heat are cumulative. While your body may have no problem shaking off one or two very hot days, it becomes more difficult as the number of days increases.
Be weather aware, practice heat safety.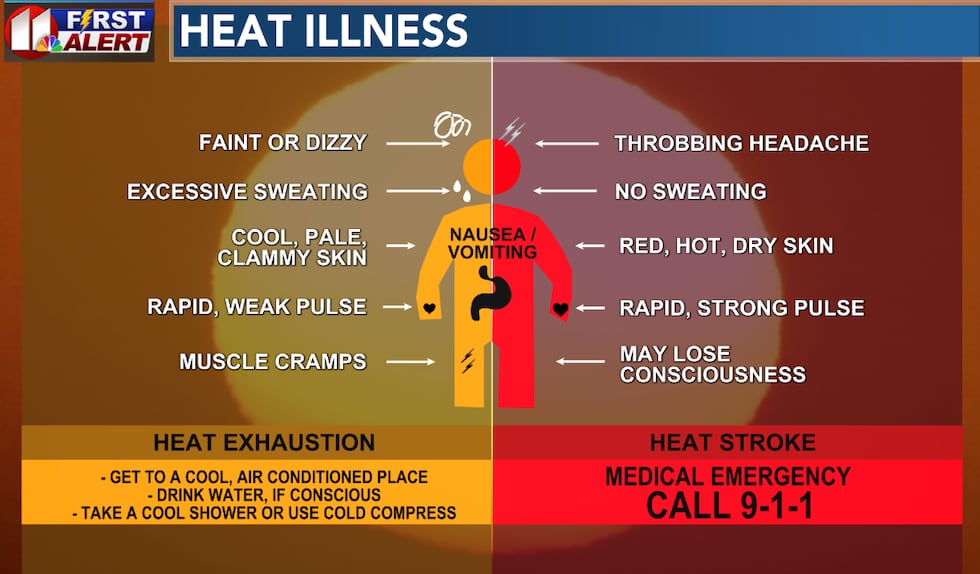 As of this post, an EXCESSIVE HEAT WARNING is in effect until 9 CDT this evening for Scurry, Borden, and Dawson counties. Temperatures and/or Heat Indexes around 110 to 112° are expected. This includes the Lamesa, Gail, and Snyder areas.
As of this post, a HEAT ADVISORY is in effect until 9 CDT this evening for Gaines and Lea counties. Temperatures of 105° and above are expected. This includes the Seminole, Hobbs, and Tatum areas.
Excessive Heat Warning
Issued when a heat index of at least 105° for more than 3 hours per day for 2 consecutive days, or a heat index more than 115° any period of time, is expected.
Heat Advisory
Issued when a heat index of 105° to 115° may be reached, or nighttime lows of at least 75° (in some areas of the country, above 80°), for 2 consecutive days and nights are expected.
Heat Index (HI)
aka the "Apparent Temperature", is a measure of how hot it feels when the Relative Humidity (RH) is considered in addition to the actual air temperature.
Heat Wave
A period of abnormally and uncomfortably hot and humid weather, typically lasting at least two days. Hot expressive days with little relief at night.
Heat Exhaustion
A mild form of heat stroke, characterized by faintness, dizziness, and heavy sweating.
Heat Stroke
A condition resulting from excessive exposure to intense heat, characterized by high fever, collapse, and sometimes convulsions or coma. Heat Stroke is a life-threatening medical emergency - call 9-1-1.
Excessive Heat Outlook
May be issued when a combination of temperature and humidity over a period of days may put stress on people and animals.
Excessive Heat Watch
Issued when a heat index in excess of 105º combined with nighttime low temperatures of at least 75° (in some areas of the country, at least 80º) are forecast for two consecutive days.
Copyright 2023 KCBD. All rights reserved.