Dangerous Heat Returns to the South Plains
Published: Jun. 26, 2023 at 7:36 AM CDT
|
Updated: Jun. 26, 2023 at 12:35 PM CDT
LUBBOCK, Texas (KCBD) - More triple-digit temperatures are in store for much of the viewing area this week. Some locations are likely to record their hottest temperatures of the year so far.
Lubbock Saturday peaked at 108°, two degrees shy of the June 24 record of 110° in 1990. It was the hottest of the year (so far), matching the 108° on the 21st.
Lubbock Sunday hit 101°, nine degrees short of the record for the date of 110° in 2011.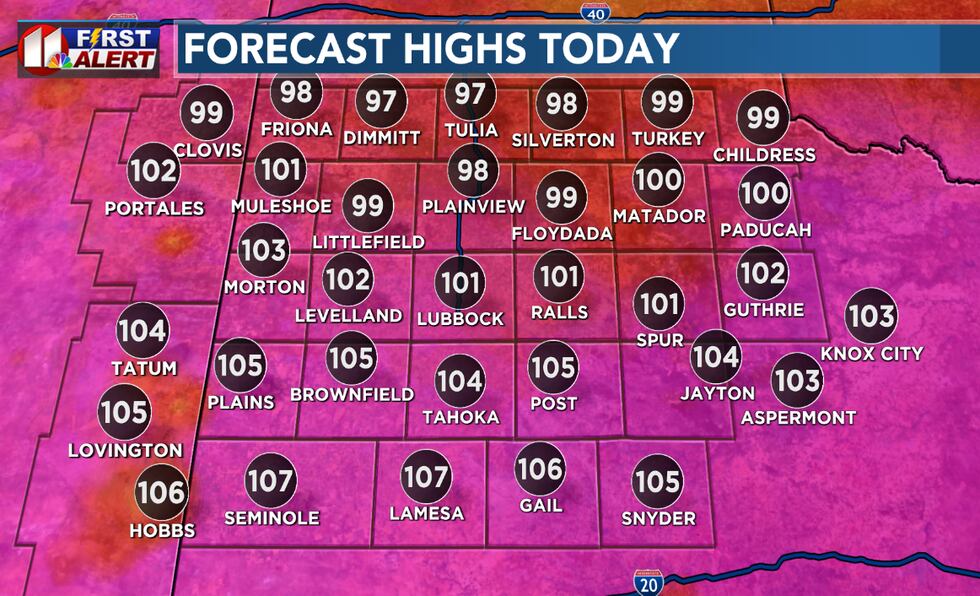 Highs today will generally be five to ten degrees above average for late June. Lubbock's June 26 record high is 112°, on the date in 2011.
Relative humidity, locally, will remain a little above average for the time of year. That limits your body's ability to cool itself, raising the risk of heat-related illness. Continue to practice summer heat safety.
In addition to very hot, this afternoon will be mostly sunny with a light breeze. Plus...
A few spotty storms may pop up in the late afternoon heat and humidity over the western viewing area. These storms, if they develop, will drift eastward this evening toward the central viewing area. If a storm survives long enough it may make it into the Lubbock and Plainview areas around mid-evening.
Initially, the main severe threats will be hail up to about an inch across and wind gusts around 60 mph. strong wind gusts. Then this evening, as storms begin to fall apart, the main threat will be damaging microburst wind gusts.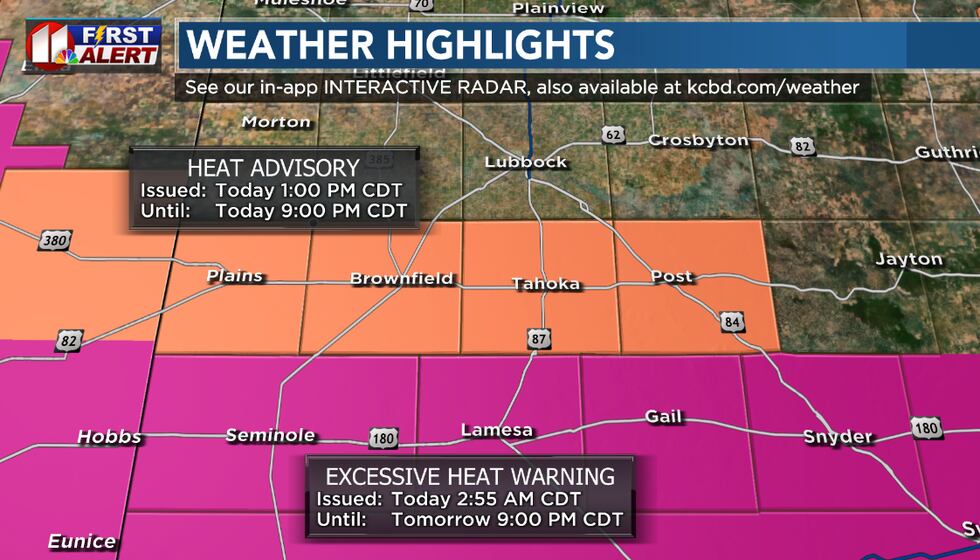 As of this post, an EXCESSIVE HEAT WARNING is in effect until 9 CDT Tuesday for Scurry, Borden, Dawson, Gaines and southern Lea counties. Temperatures and/or Heat Indexes around 110 to 112° are expected. This includes the Hobbs, Seminole, Lamesa, Gail, and Snyder areas.
As of this post, a HEAT ADVISORY is in effect until 9 CDT this Monday evening for Garza, Lynn, Terry, Yoakum, and northern Lea counties. Temperatures around 105° are expected. This includes the Tatum, Plains, Brownfield, Tahoka, and Post areas.
Dangerous heat returns to the South Plains the next several days. Temperatures will soar above the century mark across the viewing area tomorrow and Wednesday, and much of the area Thursday.
Copyright 2023 KCBD. All rights reserved.