FIRST ALERT: DANGEROUS EXTREME HEAT
Published: Jun. 27, 2023 at 6:48 AM CDT
|
Updated: Jun. 27, 2023 at 12:49 PM CDT
LUBBOCK, Texas (KCBD) - The First Alert weather team is designating today and tomorrow as First Alert Weather Days (FAWD) to highlight the extreme heat we anticipate across the KCBD and FOX34 viewing area. These conditions can be dangerous. Below I've included a chart showing the symptoms of heat illness and I'm repeating our list of tips for keeping cool in summer heat.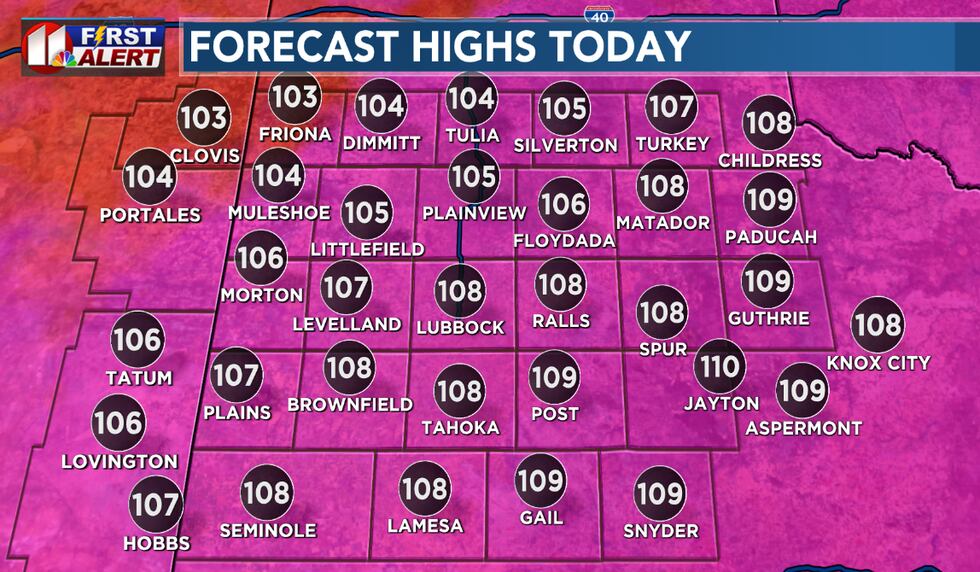 Highs today will range from 105 to 110°F across all but the far northwestern viewing area. Even there, however, temperatures will peak above 100°. Otherwise this afternoon will be mostly sunny and gusty. These are NO BURN weather conditions.
This is our seventh day overall, fourth consecutive, of triple-digit heat in the afternoon and early evening (and very muggy late nights and mornings). Multiple hot days and muggy nights place more of a strain on us (also pets, livestock, plants, and AC) than one or two hot days.
Practicing heat safety becomes more important. See my previous post for those tips. But if you (or a companion) begins exhibiting the below symptoms, you (or they) may be succumbing to Heat Exhaustion or, worse, Heat Stroke. Heat Stoke is a serious condition that requires immediate medical attention.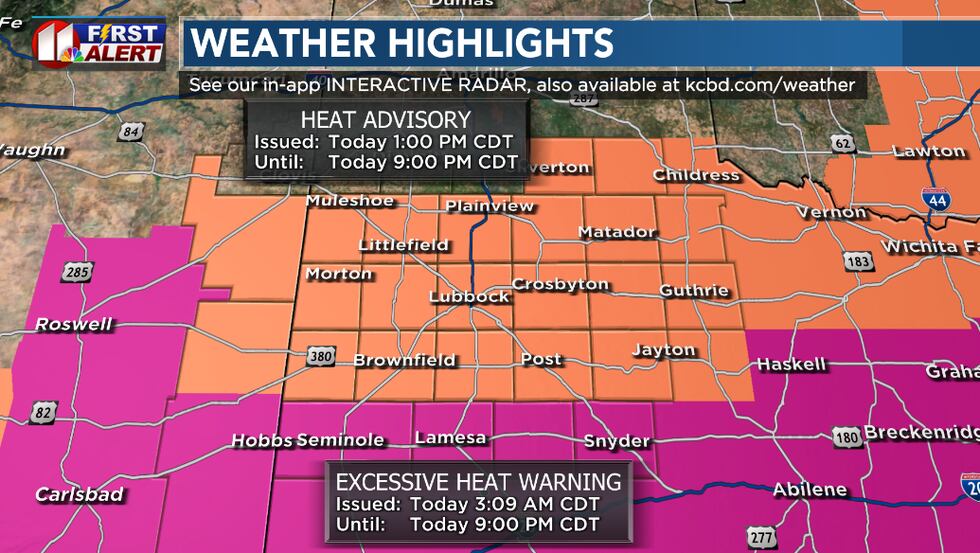 An EXCESSIVE HEAT WARNING is in effect until 9 PM CDT today for Scurry, Borden, Dawson, Gaines and southern Lea counties. Temperatures and/or Heat Indexes around 110° are expected. This includes the Hobbs, Seminole, Lamesa, Gail, and Snyder areas.
A HEAT ADVISORY is in effect until 9 PM CDT today for all the remainder of the viewing area except the far northwest (Swisher, Parmer, and Curry counties. Temperatures from 105 to 110° are expected. This includes the Lubbock, Plainview, Levelland, Post, and Brownfield areas.
Tomorrow highs will range from about 100 to 109°. The afternoon will be sunny and gusty. Another NO BURN DAY.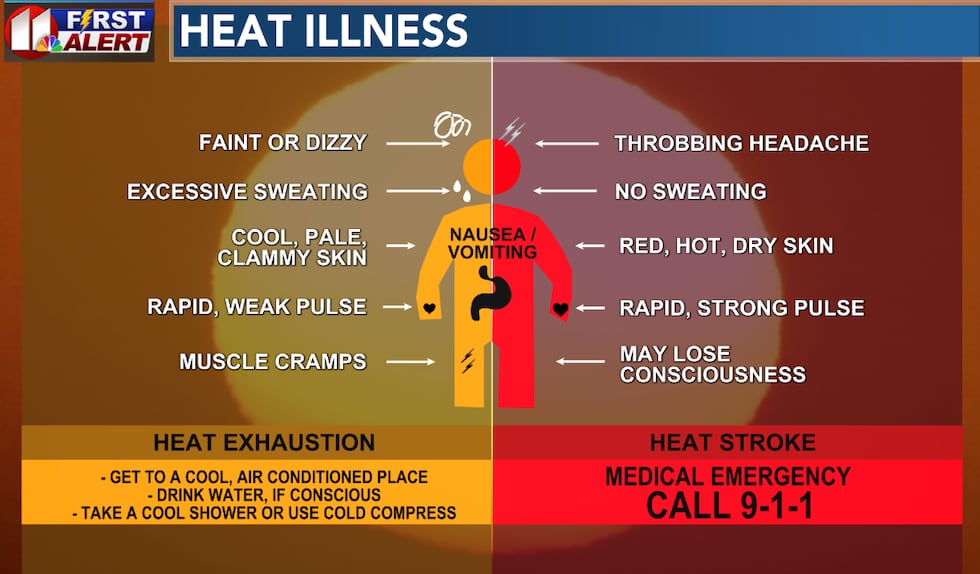 Both today and tomorrow there is a slight chance of thunderstorms near the far northwestern viewing area late in the afternoon and evening. This is primarily in the Parmer County area. Otherwise the pattern remains dry, and hot, the next few days.
A change in our weather pattern is expected at the end of the week. The high pressure area, some have called it a "heat dome", bringing the heat will gradually be drifting east. As it does, temperatures will gradually moderate and the chance of storms - and therefore rain - will increase.
Copyright 2023 KCBD. All rights reserved.