Communities near Possum Kingdom Lake evacuate as wildfire grows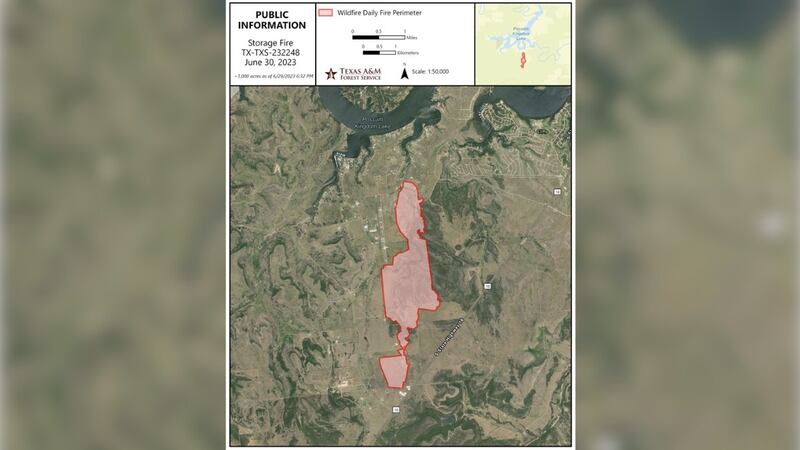 Published: Jun. 29, 2023 at 1:18 PM CDT
|
Updated: Jun. 30, 2023 at 12:19 PM CDT
PALO PINTO COUNTY, Texas (KCBD) - Mandatory evacuations have been issued for communities near Possum Kingdom Lake as the Storage Fire continues to grow.
Fire crews in Palo Pinto County are battling a wildfire that has burned about 1,000 acres near Possum Kingdom Lake. Communities near Gaines Bend, Sportsman's World and Hell's Gate have been ordered to evacuate the area. Authorities stated the blaze is currently threatening 150 homes.
The Storage Fire started Wednesday, with crews from the Texas A&M Forest Service, Texas Intrastate Fire Mutual Aid System and local fire departments working through the night to contain the blaze.
From Wednesday to Friday, the fire has nearly doubled in size. About 1,000 acres have been affected and the blaze has decreased from 40 percent to 30 percent containment.
The fire is growing "rapidly" to the north and west. Authorities are encouraging communities in the path of the fire to evacuate before the blaze reaches them.
"When people evacuate an area ahead of time, fire personnel can focus their efforts on protecting homes and values in a neighborhood," authorities with the Texas A&M Forest Service stated. "Residents should keep the 5 P's of evacuating in mind when leaving. These are People & Pets, Prescriptions, Important Papers, Personal and Priceless Items."
Hot temperatures, high winds and low humidity are all factors for wildfires to grow. Residents should expect to see smoke over the next few days while the fire continues to burn.
Daily updates on the Storge Fire can be found here.
The cause of the fire is under investigation.
Copyright 2023 KCBD. All rights reserved.