If you liked yesterday's weather...
Published: Jul. 6, 2023 at 7:32 AM CDT
|
Updated: Jul. 6, 2023 at 12:37 PM CDT
LUBBOCK, Texas (KCBD) - If you liked yesterday's weather, you likely will like what's coming our way. The pattern of the past few days will change little over the next week. As such, we can expect only minor changes from day to day.
I've added overnight rain totals, some significant, to the end of this post.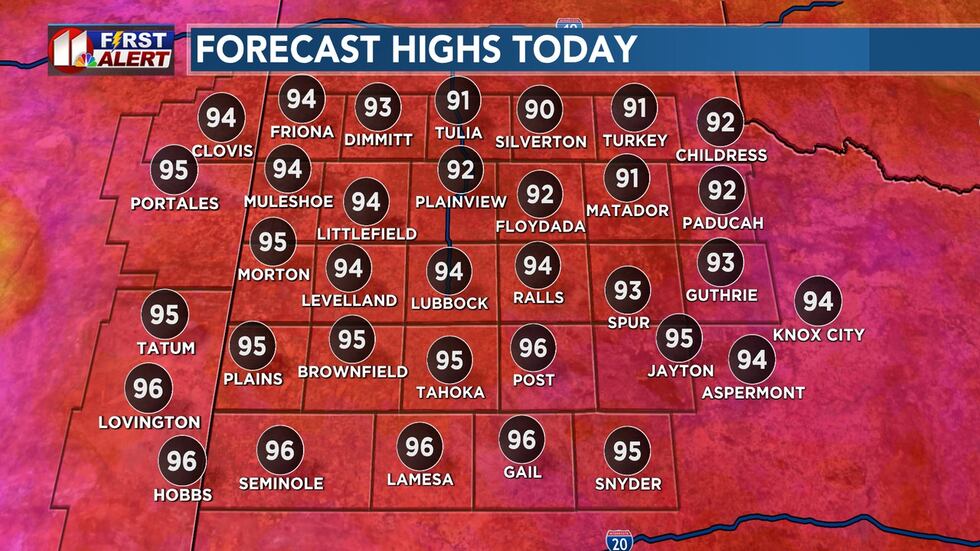 Spotty showers, with the occasional rumble of thunder, are drifting southeast across the viewing area this morning. Most areas will miss out on rain, but where it does rain it may briefly may be heavy.
As the showers end this morning skies will gradually clear. This afternoon will be mostly sunny with a slight breeze, and hot. Highs will be within a few degrees of average.
This evening isolated thunderstorms again are possible. Some storms may continue through the night and into early Friday morning.
A similar pattern is likely through Saturday night. Storms may produce strong wind gusts, perhaps as high as 70 mph, and damaging hail, perhaps up to around an inch. Locally heavy rainfall also is possible.
One notable change will be in our temperatures. Highs will climb to the upper 90s Friday and Saturday, then triple-digits Sunday through most of the work week.
This pattern, which typically results in hot days locally, also is not conducive to widespread rain. Spotty storms will remain a possibility.
Rainfall Totals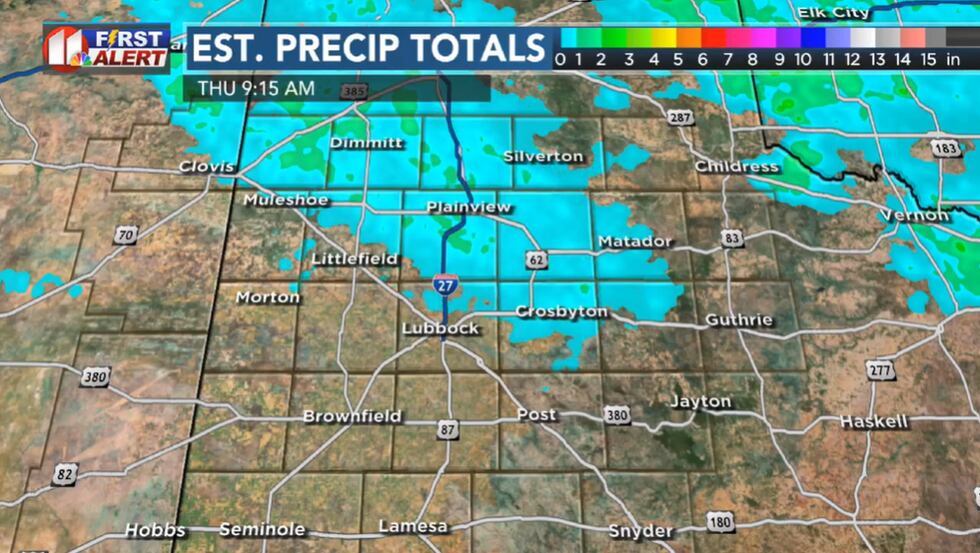 Rainfall totals for the 24 hours ending at 9:30 Thursday morning:
1.17 Friona
0.90 Tulia
0.65 Plainview
0.63 Ralls
0.53 Aiken
0.51 Dimmitt
0.50 South Plains 3ENE
0.42 Happy
0.41 Floydada
0.38 Hart
0.35 Olton
0.33 Abernathy
0.14 Shallowater
0.13 McAdoo
0.10 Roaring Springs
0.08 Vigo Park
0.04 New Deal
0.04 Silverton
0.02 Lubbock Airport
0.01 Earth
Source: Lubbock National Weather Service and the TT West Texas Mesonet
Copyright 2023 KCBD. All rights reserved.