Severe Thunderstorm Watch for Bailey, Cochran, Hale, Hockley, Lamb
Published: Jul. 7, 2023 at 7:06 AM CDT
|
Updated: Jul. 7, 2023 at 12:37 PM CDT
=====
LUBBOCK, Texas (KCBD) - More hot days are on the way. Scattered late-day storms also are on the way. Rather typical for July.
Lubbock-area temperatures will peak in the mid to upper 90s through the weekend. It will remain quite humid, by West Texas standards, well into next week. Late each afternoon into the evening there will be isolated to scattered thunderstorms. A least a slight chance of rain at your location.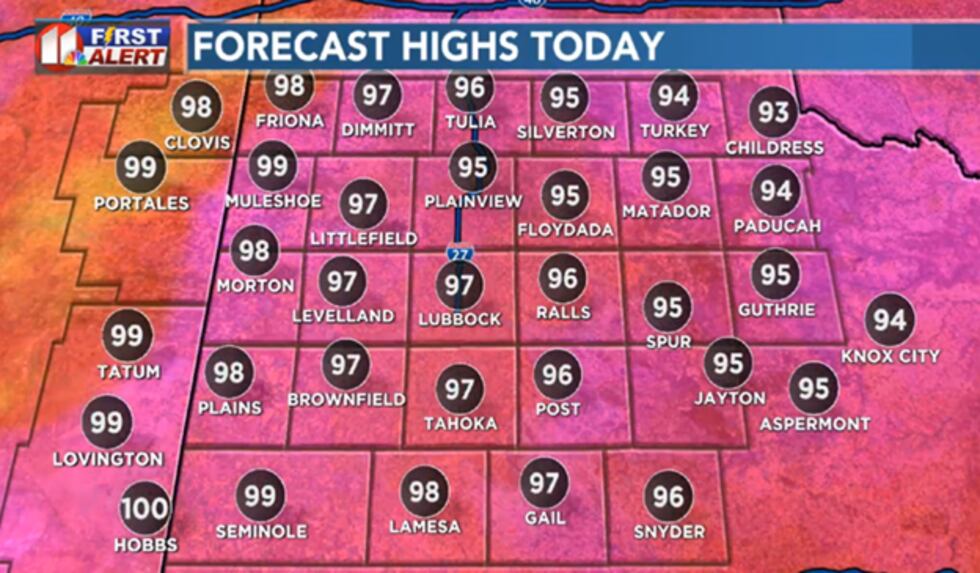 Some storms may produce strong wind gusts, perhaps as high as 70 mph, and damaging hail, perhaps up to around the size of quarters. Locally heavy rainfall also is possible.
Please remain weather aware. Watch and listen for watches and warnings which may be issued later today and tomorrow. Take advantage of our free KCBD Weather App. Download or update it in your app or play store.
You can view any severe weather watches and warnings (local or anywhere in Texas or the U.S.), which may be issued, plotted on the Interactive Radar. Access the radar with the bottom right icon. Under the radar menu (three vertical dots in the circle, lower right) activate the Tornado/Severe and Flood icons (under Alerts). Activate Storm Tracks (under Overlays).
Turn on app notifications. If a watch or warning* is issued for your location the app will alert you. Even if it is not running (if you give it permission). Notifications are under Settings in the app menu (three horizontal bars in the upper left).
Otherwise, this afternoon will be partly cloudy, breezy, and hot. Temperatures will peak a few degrees within average for the date.
Some showers may linger well into Saturday morning.
Saturday afternoon will be partly cloudy, slightly breezy, and hot. Lows will run from the mid-60s to mid-70s and highs from the low to upper 90s.
Sunday's storm, and rain, chances will be lower. Still, a stray storm or two is possible. Sunday afternoon otherwise will be sunny and hot. Highs will range from the low 90s to near 100 degrees.
The first few days of next week will be very hot. Lubbock area temperatures Monday will peak near 100 degrees and a bit above 100 after that.
Low storm and rain chances will return most days.
*Watches and Warnings
In advance of anticipated severe weather, the National Weather Service (NWS) may issue a WATCH. In the case of a severe thunderstorm or tornado watch, this will cover a large area, many counties and perhaps portions of multiple states, and a long time, generally from one to six hours.
A WATCH is your heads up that the type of weather noted is possible during the watch time. Make a plan for you and your loved ones. Plan what you can do to prepare for the possible weather and what will you do if it heads your way.
Once severe weather is imminent or occurring, the NWS typically issues a WARNING. In the case of a severe thunderstorm or tornado, it will cover a small area, a portion of one or several counties* for a short amount of time, generally from 20 to 60 minutes.
A WARNING is your call to action. Put your plan into action. You need to have that plan before the weather turns severe. There likely won't be time to make a plan and execute it once severe weather is on your doorstep.
*This is why you need to know what county you are in and the counties around you, and in what direction.
Copyright 2023 KCBD. All rights reserved.