South Plains dangerous heat continues
Published: Jul. 13, 2023 at 7:13 AM CDT
|
Updated: Jul. 13, 2023 at 12:38 PM CDT
LUBBOCK, Texas (KCBD) - More hot days are on the way, but also a bit of heat relief this weekend.
Lubbock yesterday recorded peak temperatures of 106 to 108 degrees in the city. The airport, Lubbock's site of weather record, hit 110°F. It was the hottest of the year, just one degree short of the record for July, and it was a record for the date.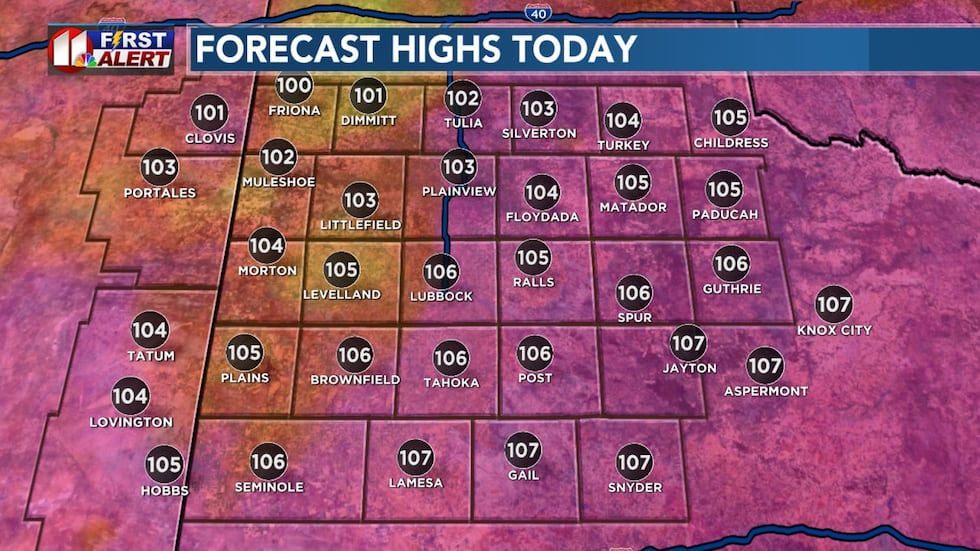 This will be another scorcher of a day. Triple-digit temperatures return to the viewing area today and tomorrow. It will remain humid with a chance of spotty storms and showers late each afternoon into the evening. These storms and showers will be isolated, so the chance of rain at any given location is low.
Some storms may produce strong wind gusts, perhaps as high as 70 mph, and brief downpours. Otherwise, it will be partly cloudy with a slight breeze. Please remain weather aware.
A HEAT ADVISORY (the orange highlight on the map below) is in effect for much of the KCBD viewing area, including Lubbock, until 9 PM CDT. An EXCESSIVE HEAT WARNING (magenta highlight) covers much of North, Central, and East Texas.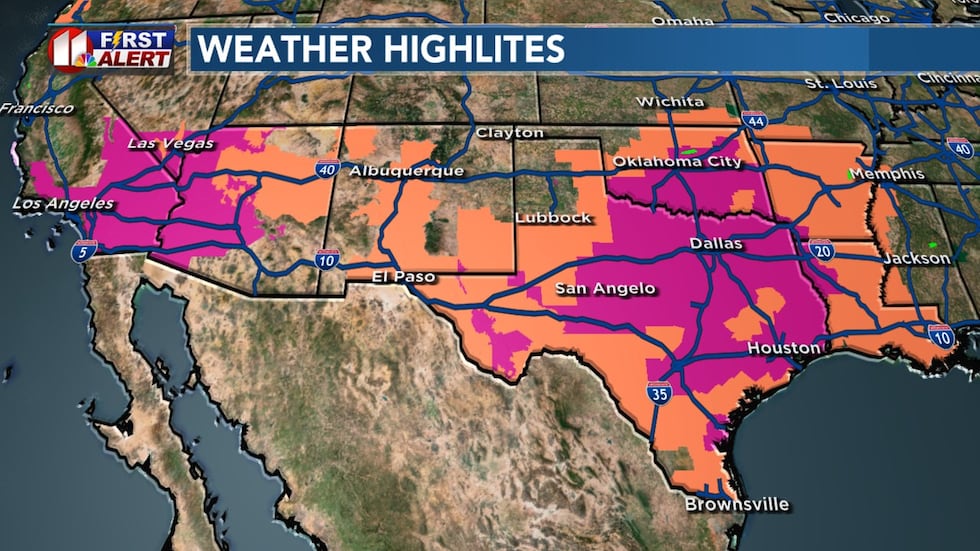 The heat is not done with us. Tomorrow highs will range from about 100 to 105 degrees. And next week? Highs will range from about 100 to 105 degrees. Notice I skipped the weekend.
Some relief from the heat arrives this weekend. Temperatures Saturday will peak from near 90 to the upper 90s. Sunday from the upper 80s to the mid-90s.
Anytime of year, the inside of a vehicle parked in the sun will be warmer than the outside. The heat can result in permanent damage to a human or animal body. It can even be fatal. Most at risk are small children (as well as pets) because their smaller bodies are less efficient at cooling themselves. Never leave anyone unattended in a vehicle. By the way, leaving the windows cracked has been shown to make NO significant difference in the temperature or the rate of warming inside the vehicle.
Yesterday high in Lubbock of 110° was the hottest day in the City since 111° was recorded on July 14, 2020. Today's record high is 110°, recorded on this date in 2020.another
Copyright 2023 KCBD. All rights reserved.