Some brief heat relief on the way
Published: Jul. 14, 2023 at 7:23 AM CDT
|
Updated: Jul. 14, 2023 at 12:33 PM CDT
LUBBOCK, Texas (KCBD) - Most of the area will peak at or above 100 degrees this afternoon. Another scorcher. Plus, spotty showers and thunderstorms will linger this morning, and then return late today and linger through the night.
Some storms and showers may be accompanied by intense lightning and strong wind gusts, perhaps as high as 70 mph. Brief moderate to heavy rain is possible. Otherwise, it will be partly to mostly cloudy with a slight breeze.
Continue to be weather aware and continue to practice heat safety.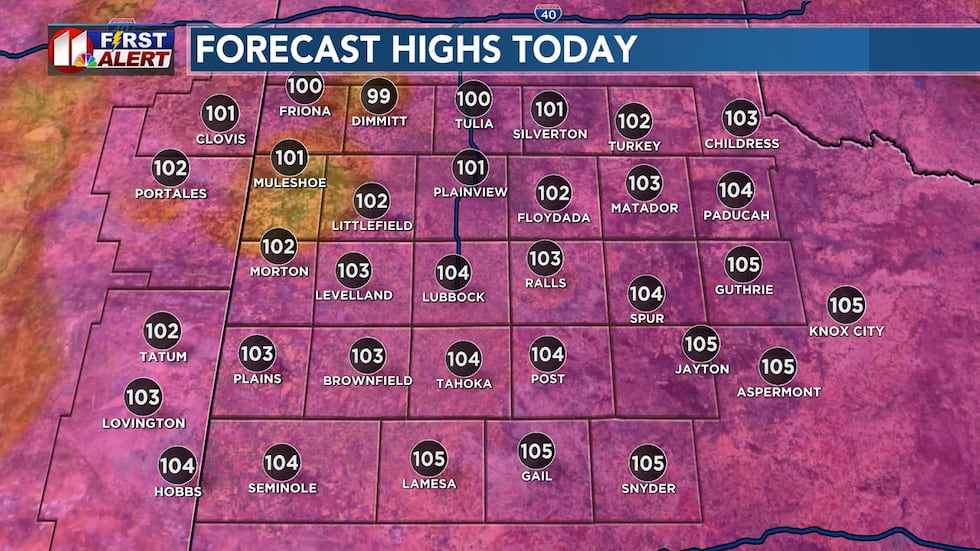 A bit of a break from the extreme heat comes our way this weekend. Instead of highs above 100, temperatures will peak in the 90s. The not-as-hot pattern (I'm avoiding using "cooler" here) also should support spotty showers and thunderstorms Saturday morning and again late Saturday and Saturday night.
Lubbock's high temperature yesterday was 106°. The record for July 13 is 110° (2020). The record high for today, July 14, is 111° (also in 2020). 111° also is the record high for July in Lubbock.
The searing heat will return next week. Highs at 100 and above are likely Monday through Thursday. Rain chances will be slim to none during that time.
Copyright 2023 KCBD. All rights reserved.