EXCESSIVE HEAT WATCH for the South Plains
Published: Jul. 17, 2023 at 8:28 AM CDT
|
Updated: Jul. 17, 2023 at 12:31 PM CDT
LUBBOCK, Texas (KCBD) - After a break from 100-degree temperatures this weekend, triple-digits return today. Tomorrow will be notably hotter. I expect at least one high temperature record in the next few afternoons.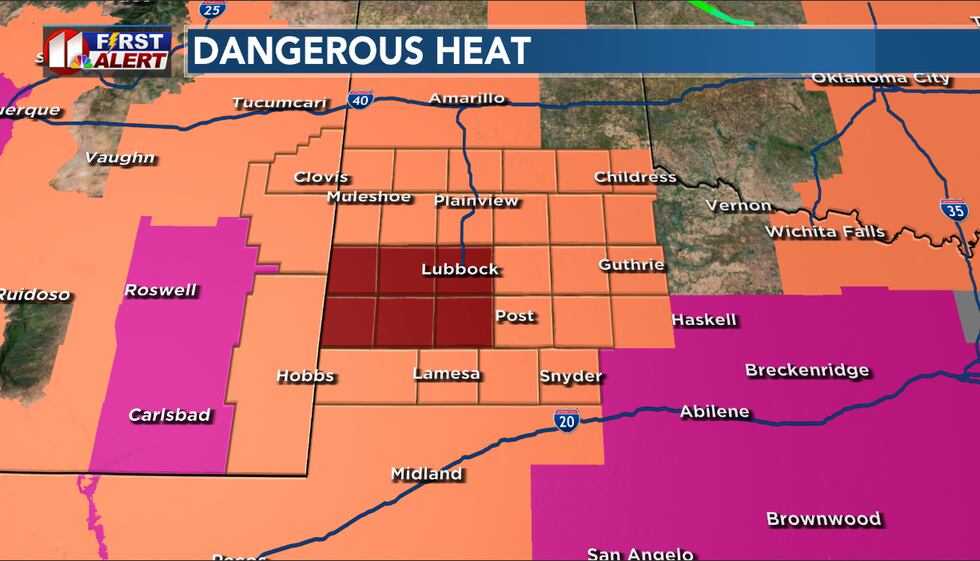 A HEAT ADVISORY (the orange highlight on the map above) is in effect for the southern row of counties in the KCBD viewing area until 9 PM CDT today. A HEAT ADVISORY has been issued for the viewing area for 1 to 9 PM CDT tomorrow, Tuesday.
An EXCESSIVE HEAT WATCH (deep red highlight) also has been issued for 1 to 9 PM CDT tomorrow for Lubbock, Hockley, Cochran, Yoakum, Terry, and Lynn counties. This includes Wolfforth, Denver City, Morton, Plains, New Home, Lubbock, O'Donnell, Slaton, Sundown, Levelland, Whiteface, Tahoka, Brownfield, Wellman, and Meadow.
Dangerously hot conditions with temperatures near 110 degrees are possible. Heat related illnesses increase significantly during extreme heat events. Avoid work and other activity outside of air-conditioned spaces during peak heating, considered 2 to 8 PM.
This afternoon will be VERY HOT with highs about ten degrees above average for the date. It will be sunny with a slight breeze.
Tomorrow, in addition to the EXCESSIVE HEAT, also will be sunny but quite breezy. I'm forecasting a record high of 108° for Lubbock. I wouldn't be surprised if the City hits 110°. Lubbock's July 18 record high is 104°, set just last year.
The South Plains area will remain dangerously hot Wednesday with near-record highs, and ten to 15 degrees above average, for the date.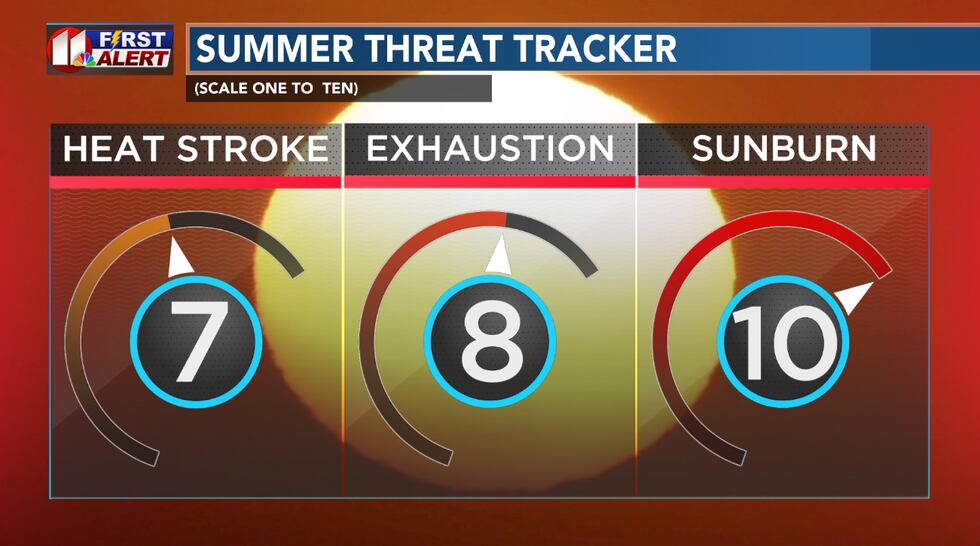 Continue to be weather aware and continue to practice heat safety.
A slight dip in the extreme heat is expected Friday and this weekend. Instead of highs above 100, temperatures will peak in the 90s. The not-as-hot pattern (I'm avoiding using "cooler" here) also should support spotty showers and thunderstorms Saturday morning and again late Saturday and Saturday night.
Copyright 2023 KCBD. All rights reserved.