FIRST ALERT: Extreme South Plains Heat
Published: Jul. 18, 2023 at 8:06 AM CDT
|
Updated: Jul. 18, 2023 at 1:24 PM CDT
LUBBOCK, Texas (KCBD) - Today will be hotter than yesterday. Highs at most locations will be about five degrees greater than yesterday. I expect Lubbock to set a record for the date.
Today and tomorrow are designated as First Alert Weather Days (FAWD) due to the dangerous heat. In the afternoon and early evening heat there is an increased risk of heat-related illness. Below I've included a graphic with the symptoms of Heat Exhaustion and Heat Stroke (a serious condition requiring immediate medical attention).
Lubbock already has set temperature record. The low at the Lubbock Airport this morning, still unofficial at this point, was 80°. That would be the warmest low temperature for any July 18 in Lubbock's weather record. The previous record for the date was 78° in 1978.
Dangerously hot conditions with temperatures from 104 to 109 degrees are expected across the South Plains and West Texas. Otherwise this afternoon will be sunny and somewhat windy. Lubbock's July 18 record high is 104°, set just last year.
A HEAT ADVISORY (orange highlight on map) is in effect for the entire KCBD viewing area until 9 PM CDT today.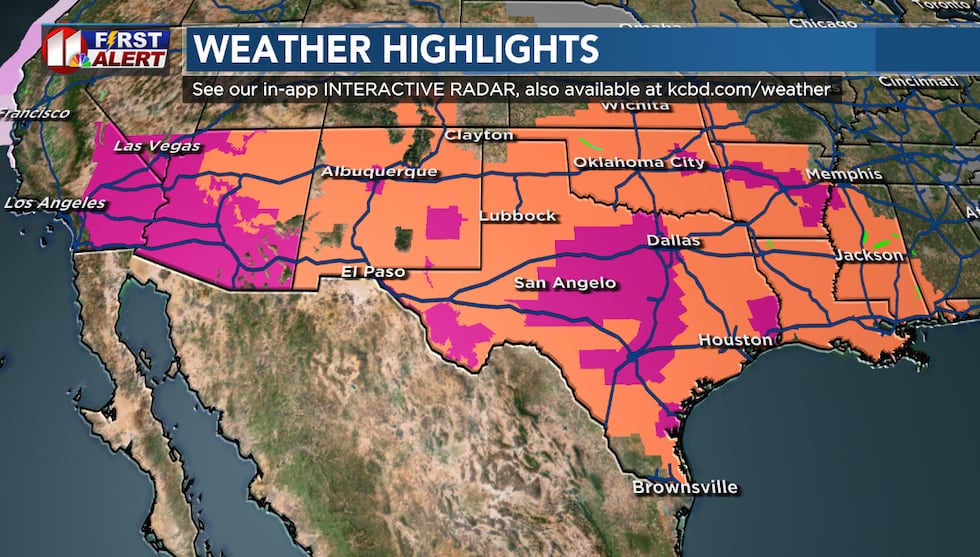 Tomorrow, too, will be extremely hot. Also sunny and quite breezy. My forecast high for Lubbock is 106°. Lubbock's July 19 record high is 108°, set in 1936.
The South Plains area will remain dangerously hot Thursday with triple-digit highs across much of the viewing area.
Data continues to indicate a slight dip in temperatures Friday and this weekend. Instead of highs above 100, temperatures will peak in the 90s. The not-as-hot pattern may be accompanied by spotty showers and thunderstorms Friday night into Saturday morning and again late Saturday into early Sunday morning.
The searing heat will return next week. Highs at 100 and above are likely Monday through Thursday. Rain chances will be slim to none during that time.
Continue to be weather aware and continue to practice heat safety.
Copyright 2023 KCBD. All rights reserved.