Triple-Digit Heat Returns
Published: Jul. 24, 2023 at 7:37 AM CDT
|
Updated: Jul. 24, 2023 at 12:37 PM CDT
LUBBOCK, Texas (KCBD) - Triple-digit high temperatures return to the viewing area today. Then, once again, you can expect even more heat in the days ahead.
This will be another scorcher of a day. Temperatures will peak from about 100 to 105 degrees across the viewing area. It will remain humid - by West Texas norms - limiting your body's ability to cool itself. Continue to practice heat safety.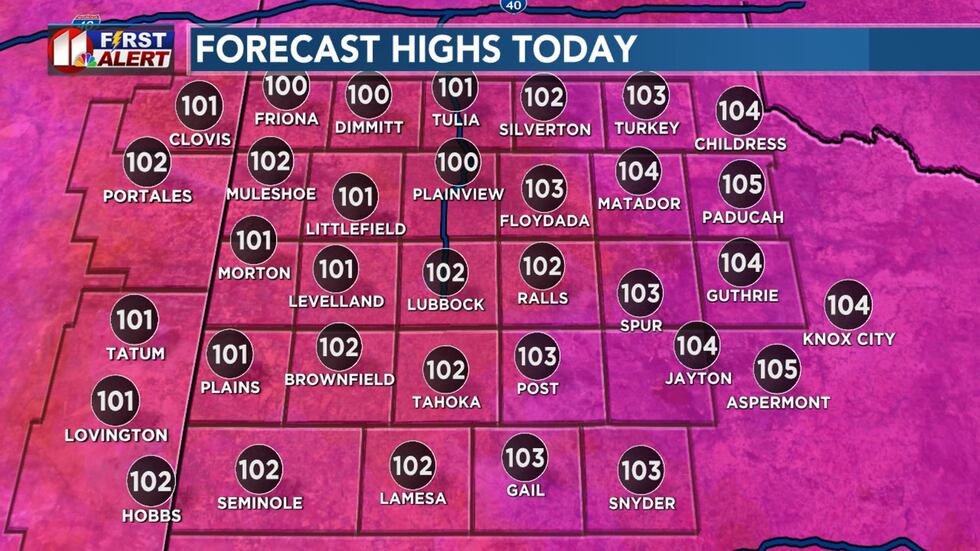 Then more heat tomorrow and Wednesday with highs from about 102 to 107 degrees. Highs the rest of the week will continue to peak near or a bit above 100 degrees.
There isn't much relief in sight, though this weekend Lubbock-area temperatures are expected to peak just under the century mark. Not much relief, but anything less than 100 sounds better to most of us!
The weather pattern bringing the heat also limits storm and rain chances. The chance is not zero but, as of now, my forecast remains dry through the weekend. The high pressure responsible will hold wind speeds down, though occasional breezes are likely.
Copyright 2023 KCBD. All rights reserved.