South Plains Heat Wave Persists
Published: Jul. 25, 2023 at 7:45 AM CDT
LUBBOCK, Texas (KCBD) - Our triple-digit heat wave will persist through the week. Though temperatures will dip this weekend, it won't be by much.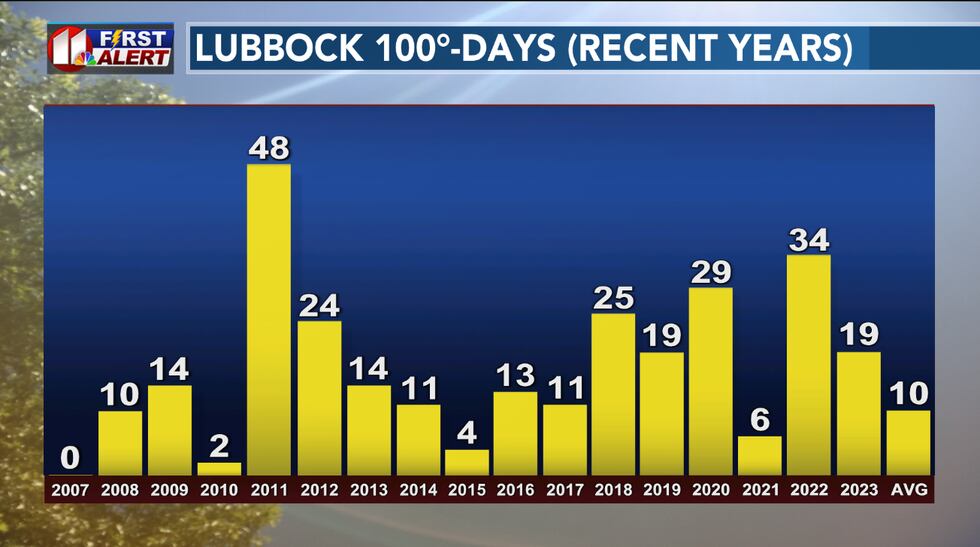 Monday's high of 103° was Lubbock's 19th 100-degree-day of the year. So far. Today will be number 20. My forecast for Lubbock is 103°. That is one degree shy of the record for the date (104° on 25 July 1940).
In addition to sizzling, Tuesday afternoon will be mostly sunny and breezy. Viewing area highs will range from about 100 to 105 degrees today.
There's more of the same ahead. Highs near to just above 100 are likely through the work week. Each day will feature a few clodus and a bit of a breeze.
I don't expect much change through the weekend, other than temperatures peaking a bit below 100 Saturday and Sunday.
Rain chances remain slim to none. There is a slim chance brief showers of sprinkles may dot the area in the late night and early morning hours. Measurable rain, however, is unlikely. Not impossible. Unlikely.
Anytime of year, the inside of a vehicle parked in the sun will be warmer than the outside. The heat can result in permanent damage to a human or animal body. It can even be fatal. Most at risk are small children (as well as pets) because their smaller bodies are less efficient at cooling themselves. Never leave anyone unattended in a vehicle. By the way, leaving the windows cracked has been shown to make NO significant difference in the temperature or the rate of warming inside the vehicle.
Copyright 2023 KCBD. All rights reserved.