Get ready for back-to-school with these upcoming events across Lubbock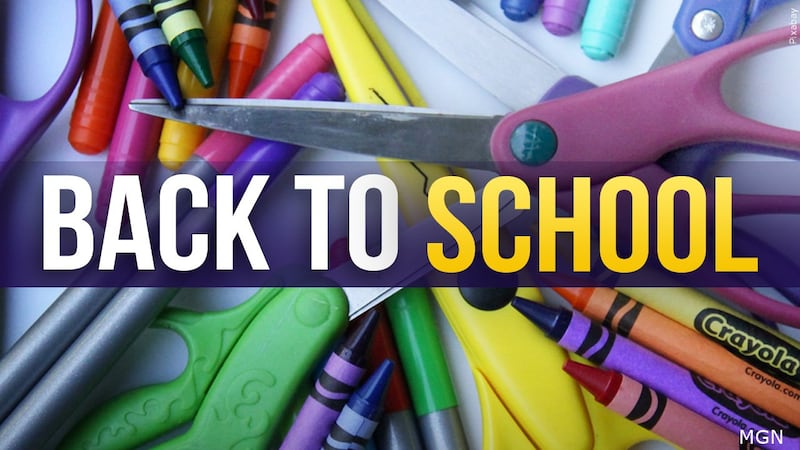 Published: Jul. 28, 2023 at 10:57 AM CDT
|
Updated: Aug. 11, 2023 at 1:10 PM CDT
LUBBOCK, Texas (KCBD) - Organizations throughout Lubbock and surrounding communities are hosting back-to-school events to help students get ready for the new school year.
Many of these events offer cheaper alternatives for school supplies. Some events offer just a fun celebration of the new year.
From July 19 to August 1, The United Family will again partner with Lubbock-area school districts to host a school supply fundraiser for local students in need. The United Family kicked off the fundraiser by providing the superintendents from each participating school district with a gift card for $150 to get a head start on the school supplies shopping for the students in their district. School districts benefiting from the supply drive will include Lubbock ISD, Lubbock-Cooper ISD, Frenship ISD, Roosevelt ISD, Slaton ISD, and Shallowater ISD. School district personnel will use the donated funds to purchase supplies and distribute to their students with the greatest need.
Additionally, below are district calendars for the 2023-24 school year for Lubbock, Lubbock-Cooper, Frenship and Shallowater school districts:
Here are some of the upcoming events around Lubbock:
Monday, August 7
Wade Gordon Hairdressing Academy free back-to-school haircuts - Walk-ins only at 7615 University Ave. from 9 a.m. to 3 p.m.
Tuesday, August 8
Abernathy Ministerial Alliance Back-to-School supply giveaway - Abernathy Ministerial Alliance will host a back-to-school supply giveaway Tuesday, August 8 starting at 7 p.m. until supplies run out. The giveaway will be held at Abernathy Elementary open to pre-k through grade 12.
Friday, August 11
Mahon Library Back-to-School Bash - Join us at the Mahon Library for a back to school bash! We'll have vendor booths as well as school supplies and hygiene items to give away! Everything is first come, first served. Event will be from 4 to 6 p.m. WATCH: Noon Notebook: City-wide Back-2-School Bash
Back-to-School Backpack Giveaways - Hub City Outreach Center is partnering with Lubbock's city-wide Back2School Bash. RSVP & meet us at the Mahon Public Library on Friday, August 11 from 4 to 6 p.m. All supplies are first come first serve.
Saturday, August 12
YWCA of Lubbock Back-to-School Bash - Wrap up the summer with us at the YWCA! YWCA on University | 6501 University Ave. Free backpacks to students living or attending school in the 79403, 79404, 79412, or 79415 zip codes. Students must be present.
Lubbock Dream Center - Before the start of a new school year, the Lubbock Dream Center gives away over 1,200 backpacks filled with age-appropriate school supplies for families in need to ensure that children start off their year with confidence.
Our 2023 Back To School Bash will be held on Saturday, August 12th! The registration link will be open soon. Once it's open, click below to register your child grades Kindergarten through 8th to receive a backpack full of supplies to help them start school in a prepared and positive way. Children must be present the day of the event.
Kids Swim Party at HillCrest Swimming Pool - Back-To-School Swim Party on Saturday, August 12 (All kids must be accompanied by an adult) Free entry for everyone. 7 p.m. to 10 p.m. at the HillCrest Swimming Pool (4011 North Boston) Free hot dogs, chips, and drinks will be provided. Bring your own towels, floaties, and chairs. Lifeguards will be on-site. Kid friendly vendors welcomed. Music by Brandy Upshaw.
Back 2 School Vaccine Clinic - The City of Lubbock Public Health Department will have its last Back-to-School vaccine clinic at Estacado High School from 10 a.m. to 2 p.m. Clinic is free for those with no insurance or those with Medicaid and Chip. For students K-12. *14 & older with private insurance may also receive vaccines.
Monday, August 14
Wade Gordon Hairdressing Academy free back-to-school haircuts - Walk-ins only at 7615 University Ave. from 9 a.m. to 3 p.m.
Telemundo Lubbock and Maximum Power Back-to-School Supply Drive - Join us at 608 Broadway Monday, August 14, from 1 p.m. to 4 p.m. First 150 students will receive a Telemundo Lubbock backpack with school supplies provided by Maximum Power.
If you'd like to promote an upcoming back-to-school event visit https://www.kcbd.com/community/notebook/ and submit a request to be featured on our noon newscast.
Copyright 2023 KCBD. All rights reserved.