West Texas Roller Derby hosting double header for school supply donations
Published: Aug. 2, 2023 at 8:13 PM CDT
LUBBOCK, Texas (KCBD) - People skate for many different reasons. Some people start the hobby very young, including Heather Hook, who began roller skating as soon as she could stand. Others get a later start, like Suzanne Patton, who began her skating journey in 2012.
Skaters have come from different walks of life.
"My kids were pretty grown, and I had time, it was a bucket list thing, so I was out one night and got handed a recruitment flyer and that was it, I was hooked," Patton, a long-time West Texas Roller Derby skater, said.
Hook started skating for West Texas Roller Derby just over a month ago. She has been roller skating her entire life, but took a break when she went to college. She then transitioned to playing roller hockey before moving to Lubbock.
"I stopped, I started playing roller hockey more, then I moved here a couple months ago, and they had an event, so I went to bootcamp," Hook said.
The team defends each other like family, and have the competitiveness of siblings.
"We can all have different walks of life and interests outside of derby, but when we get out there, we're all the same," Patton said.
During the pandemic, many members across the nation left their leagues, so teams are still rebuilding.
"So because we couldn't get another team, we're doing a double header mash-up, which means skaters from all over divide them into two teams and they'll go at it," Suzanna said. "We'll even be playing against some of our own teammates."
Even though their funding comes mainly from sponsors and ticket sales, the team still finds ways to give back to their community.
"Being part of the community and giving back in that aspect is really rewarding," Hook said.
The West Texas Roller Derby double header will be hosted on Aug. 5. Doors will open at 6 p.m. and the first whistle will blow at 6:30 p.m.
The event will be at the Prima Vista Events Center located at 402 N. Inler Ave. Children under 10 years old get in free with the purchase of an adult ticket. Tickets are $20, but those who bring three school supply items will get $5 off a ticket at the door.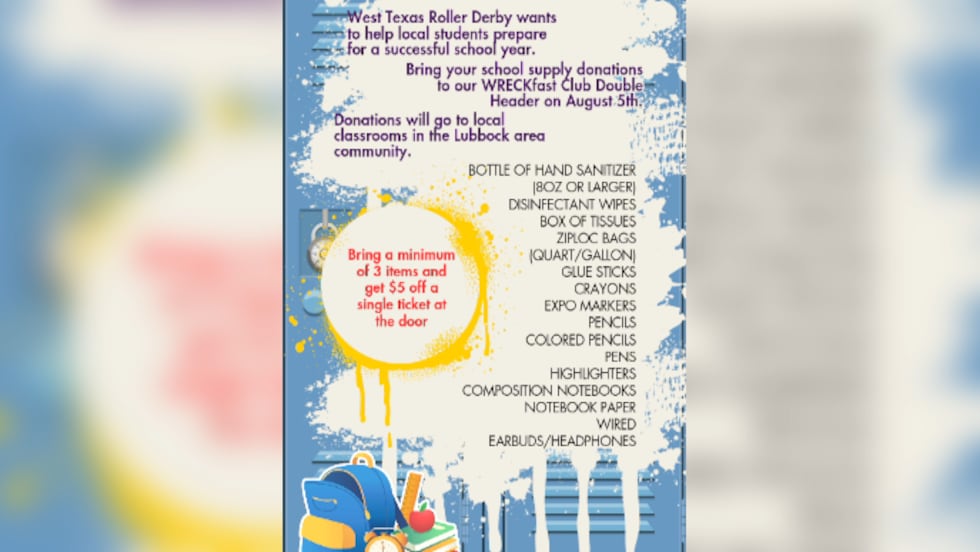 Copyright 2023 KCBD. All rights reserved.