Lubbock businesses seeing an increase in shoplifters
LPD encourages the public to not engage with shoplifters, to alert an employee, or call 911
Published: Aug. 23, 2023 at 4:22 PM CDT
LUBBOCK, Texas (KCBD) - Businesses in Lubbock are seeing an increase in shoplifters stealing from their stores.
Between the months of May and July the number of reports filed for shoplifting has increased from 336 in 2022 to 434 in 2023.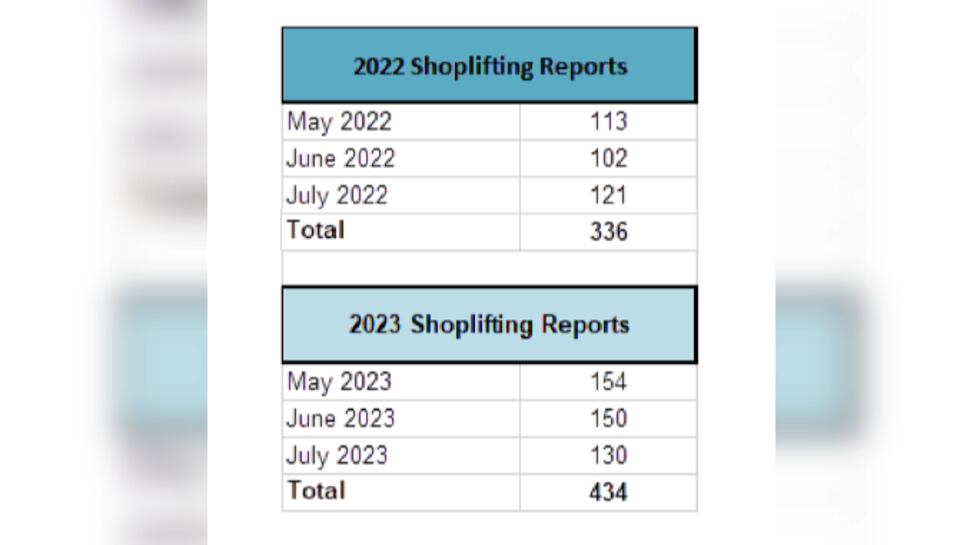 "This is devastating. That's something that costs us a lot of money. We don't realize that sale, we bought that product and it walks out the door," Steve Massengale, owner of the Matador, said.
The Matador, a local Texas Tech clothing store, has been dealing with shoplifting for a long time.
"In the past week we have had a couple of terrible shoplifting incidents, luckily we have a good video system that lets us catch one and hopefully develop leads to catch the rest," Massengale said.
Massengale said, some of these incidents are not detected by the employees before the shoplifter leaves the store but employees are trained to stay safe in these situations.
"You can't train your employees enough, train for their safety, train them to be vigilant, see something say something," Massengale said.
Some corporations have asset protection departments, typically used to watch shoplifters. Their policy is to not intervene with shoplifters until they have stolen above a certain threshold, something most small businesses can't afford to do.
"If I ever got an audience with these big box stores...they've got to prosecute these people, they have to hold these people accountable and it is that tolerance that is hurting everybody," he said.
In a small town, these small businesses may be able to bring shoplifters to justice faster.
"That's the beauty of being in a community in West Texas and Lubbock; we work closely with law enforcement on these types of things because these people need to be brought to justice," he said.
The Lubbock Police Department encourages members of the public that witness shoplifting to not approach. Instead, alert an employee, or call LPD and try to get as much of a physical and vehicle description as possible.
Copyright 2023 KCBD. All rights reserved.