West Texas community gathers to support local first responders at Dove Hunt Classic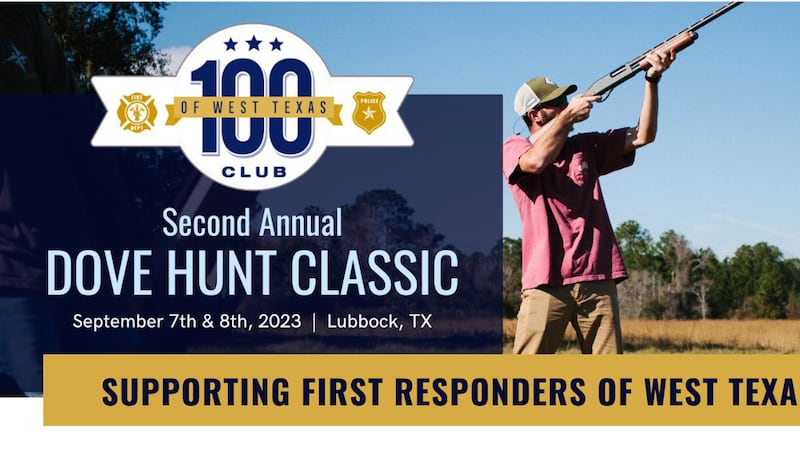 Published: Sep. 3, 2023 at 8:24 PM CDT
LUBBOCK, TX (NEWS RELEASE) - The 100 Club of West Texas is proud to announce the Second Annual Dove Hunt Classic, which will take place on September 7-8, 2023, in Lubbock, TX. This year's event aims to bring together the local community to honor and support our first who put their lives on the line daily to protect and serve us.
The Dove Hunt Classic is a two-day event that offers participants the chance to show their appreciation for first responders at the signature Double-Barrel Dinner, and also enjoy a fun-filled day of dove hunting, clay shooting, and camaraderie, all while raising funds for the 100 Club of West Texas. The organization provides financial support to the families of first responders who have been killed or critically injured in the line of duty, ensuring that their loved ones are taken care of in their time of need.
As a community, it is important to recognize the sacrifices that our first responders make every day to keep us safe. The Dove Hunt Classic is a great opportunity to show our appreciation and support for these brave men and women who put their lives on the line for us.
The event is open to hunters and shooters of all levels, and tickets include the Double-Barrel dinner, guided hunt, and clay shooting course with prizes for top shooters and teams. There will also be a silent auction, gun squares, live entertainment and more.
This event would not be possible without the support of our generous sponsors, including United Supermarkets. Their commitment to our first responders and the community is truly commendable.
Founded in 1953, the 100 Club has focused on supporting our public servants, and the newly-formed chapter dedicated to the Lubbock area continues that tradition. The 100 Club of West Texas would like to invite all members of the community to join us at the Dove Hunt Classic to show their support for our first responders and celebrate the strength and resilience of our community.
For more information on the Dove Hunt Classic and to purchase tickets, please visit https://www.100clubwesttexas.org/dove-hunt-classic.
Copyright 2023 KCBD. All rights reserved.