Increasing Risk of Heat-Illness
Published: Sep. 5, 2023 at 6:49 AM CDT
|
Updated: Sep. 5, 2023 at 12:41 PM CDT
LUBBOCK, Texas (KCBD) - More triple-digit heat is in store for much of the viewing area through this work week. I expect some record high temperatures. My forecast highs for today are about 15 degrees above average for early September.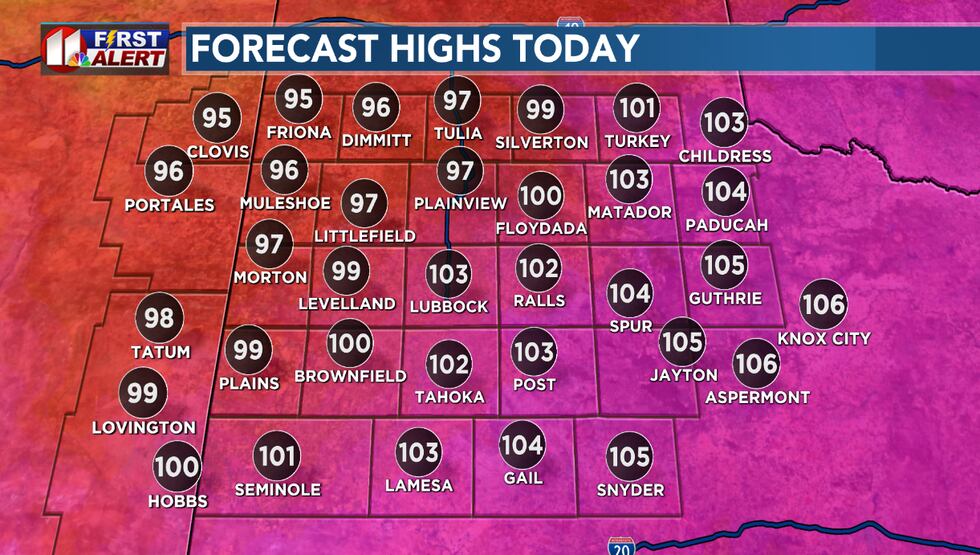 My forecast high for Lubbock is 103°. The current September 5 record is 102° (in 2000). The National Weather Service has issued a Heat Advisory for the southeastern viewing area where temperatures and/or the heat index may reach or exceed 105°.
Heat illness can develop in a short time in people engaged in physical activity, especially in direct sunshine. The effects of heat are cumulative. While your body may have no problem shaking off one or two very hot days, it becomes more difficult as the number of days increases. Lubbock Saturday and Sunday peaked at 100° and yesterday at 102°.
In addition to very hot, this afternoon will be mostly sunny with a light breeze.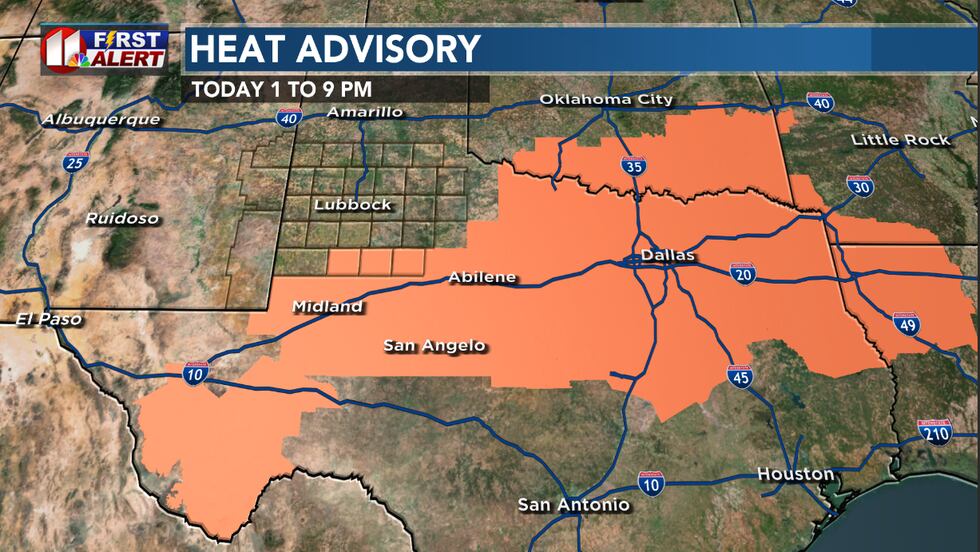 As of this post, a HEAT ADVISORY (orange highlight on map) is in effect until 9 PM CDT today for Dawson, Borden, and Scurry counties.
Tomorrow through at least Friday, too, will be extremely hot with triple-digit highs across much of the viewing area. Where temperatures fail to hit 100, primarily the northwestern viewing, expect highs in the 90s. Be weather aware, practice heat safety.
Here's some good news. Data is leaning toward less heat and a chance of rain late in the 7-Day Forecast. The chance of rain begins this weekend, though will be quite slim. Temperatures may not make it to triple-digits. Cooling, that you will notice, with an increasing chance of rain is anticipated Monday and Tuesday.
You can keep up with our latest forecast here on our Weather Page and in our KCBD Weather app - it's free in your app/play store.
Copyright 2023 KCBD. All rights reserved.