Lubbock sets all-time high for September with 107 on Friday afternoon
Published: Sep. 8, 2023 at 5:48 PM CDT
LUBBOCK, Texas (KCBD) - Lubbock set an all-time high for September on Friday with a temperature of 107 degrees. The 105-record temp occurred in 1930. The daily record of 105 was also broken from 1985.
Friday's high lifted the yearly total to 46 days of 100 degrees or higher in the city. 2023 remains in second place, fortunately, with 2011 recording 48 days of high temps at or above 100 degrees.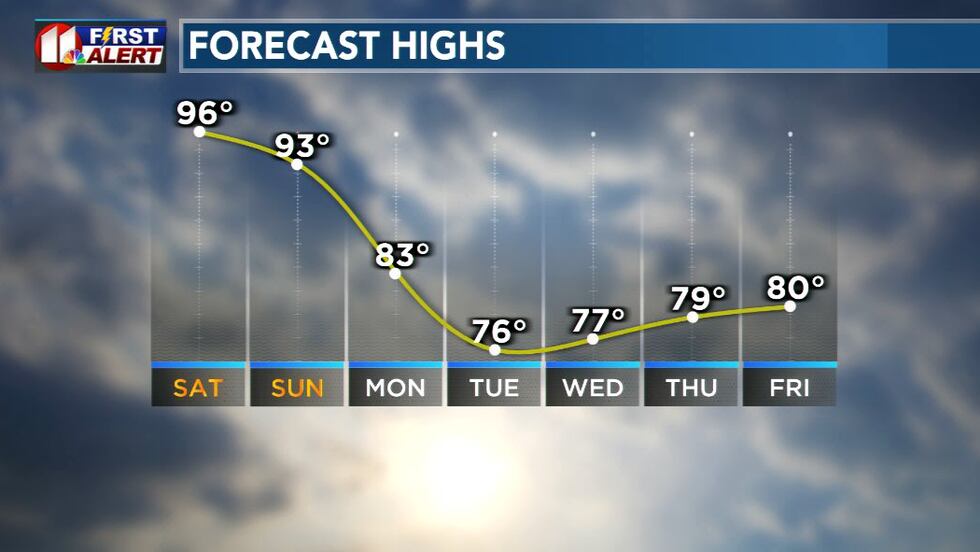 Going into the weekend it will start to cool over the region with afternoon highs only climbing to the 90s for all the South Plains. Slightly lower temps on the way for Sunday, ranging from the 80s northwest to the 90s in the south and southeast.
Much cooler air will arrive with the first strong cold front, compared to what we've seen recently, late Sunday into early next week. I expect the daytime highs to remain in the low to mid 80s on Monday and with plenty of clouds we may see the daily highs in the 70s through Thursday of next week.
The potential for showers returns for a few areas this Friday evening and there's a chance for some scattered showers and maybe a storm or two on Saturday afternoon and evening. If you're tail-gating, keep an eye on the sky for those random showers with gusty winds and possibly rain and lightning.
By Sunday, rain chances will increase for all area communities with some potential for rain through most of next week.
Copyright 2023 KCBD. All rights reserved.