G.O.A.T. of the Week: Pius Vokes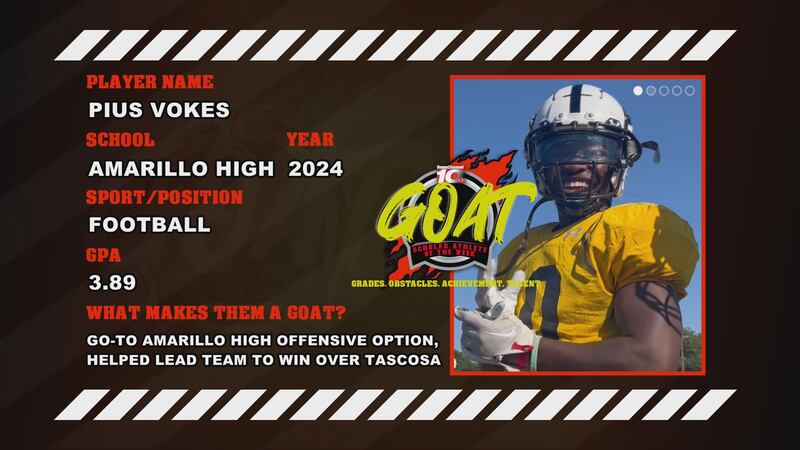 Published: Sep. 25, 2023 at 11:19 PM CDT
AMARILLO, Texas (KFDA) - For the past two seasons, Pius Vokes has been a consistent presence within the Amarillo High Sandies offense.
This year, he's taken the leap to being a centerpiece.
"We've been pleased with his progress over the past four, five ball games." Amarillo High Sandies football head coach Chad Dunnam said. "At an early age you could kind of see that. I mean, we always knew he was talented. We always knew he had a gift. More so than that, he has a gift of just being a good person."
Over the past two weeks, Vokes has totaled over 400 yards of offense.
This past Friday, he helped lead the Sandies to one of their biggest wins over rival Tascosa in school history.
"It felt really good because we haven't beat them in all my years of high school." Vokes said of how important and meaningful the win was to him. "It was a great feeling. The whole team was so excited afterwards. It just made us more confident for the district games. We're ready now."
His skill on the field stacks up with the best of the best in the Panhandle, but the star running back wants to be remembered for more than his play.
"I want them to remember me by my faith. Jesus Christ. How much I love god. I want them to know everything I do is for him. If somebody says [the name] 'Pius', I want them to say 'Oh that guy who really loved Jesus.' That's the one thing I want to leave here."
Vokes has already surpassed his rushing yardage total from his junior season in just five games and is poised to continue his stellar play, establishing himself as a player to remember around the halls of Amarillo High.
Copyright 2023 KFDA. All rights reserved.