Texas Tech beats Houston 49-28 in Big 12 home opener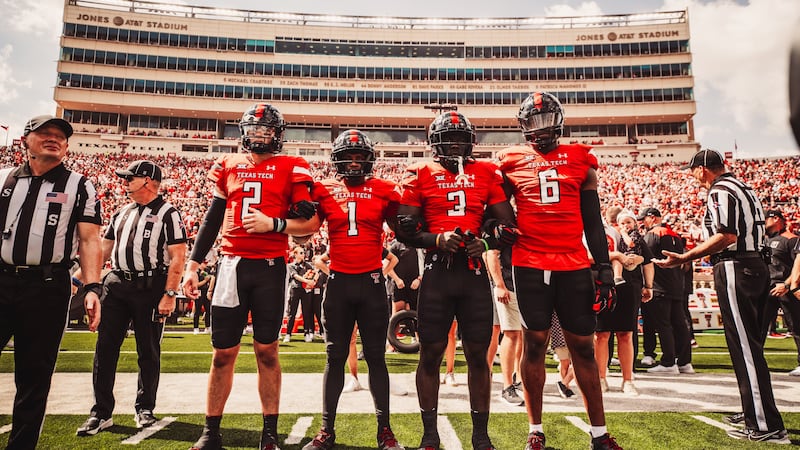 Published: Sep. 30, 2023 at 2:09 PM CDT
|
Updated: Sep. 30, 2023 at 6:16 PM CDT
LUBBOCK, Texas (KCBD) - Texas Tech defeated Houston 49-28 for their first Big 12 victory of the season on Saturday.
Behren Morton came in as a new starting quarterback as Tyler Shough is out for six to eight weeks with a broken fibula.
It was an offensive showdown in the first quarter. The Cougars broke the ice first when former Red Raider Donovan Smith's pass was complete to Bryan Henry for a 6-yard touchdown to take the 7-0 lead. The pattern remained consistent in the first quarter; back and forth. If you saw one team in the end zone, you saw the other. Junior wide receiver Drae McCray was the star of the first quarter with a 100-yard kickoff return to tie the game up at 7.
The second quarter's star was Loic Fouonji after he blocked the Cougars' punt, scooped and scored to give The Red Raiders their first lead of the game 28-21. The Cougars again fired back with Smith connecting with Dalton Carnes to tie the game back up now at 28. This was the last time Houston scored.
Tech came out firing in the second half. Tech extended their lead with a touchdown from Behren Morton connecting to Myles Price in the end zone making it 42-28. The fourth quarter remained the same as Cam'Ron Valdez ran 41 yards with 8:47 left in the game to ensure Tech's lead. From there, it would be defense finishing off the game.
Morton passed for 161 yards and rushed for 10.
Tahj Brooks had 22 carries for 106 yards. Cam'Ron Valdez totaled 5 carries for 106 yards.
Tech won 49-28 over Houston, putting the Red Raiders 2-3 overall and 1-1 in conference play.
Texas Tech will travel to Waco to take on Baylor next Saturday at 7 p.m.
Copyright 2023 KCBD. All rights reserved.