2nd annual ALS Gala to help area patients
Published: Nov. 1, 2023 at 9:55 PM CDT
|
Updated: Nov. 2, 2023 at 5:49 PM CDT
LUBBOCK, Texas (KCBD) - We have an important event coming up in Lubbock that will raise money to support the many families in this region facing ALS, a degenerative disease also known as Lou Gehrig's Disease.
Amanda Stephens is the Executive Director of the West Texas ALS Support group and Dr Jerry Koch, Ph.D., is a board member. They were on our news encouraging ticket sales to the 2nd Annual West Texas ALS Gala next week.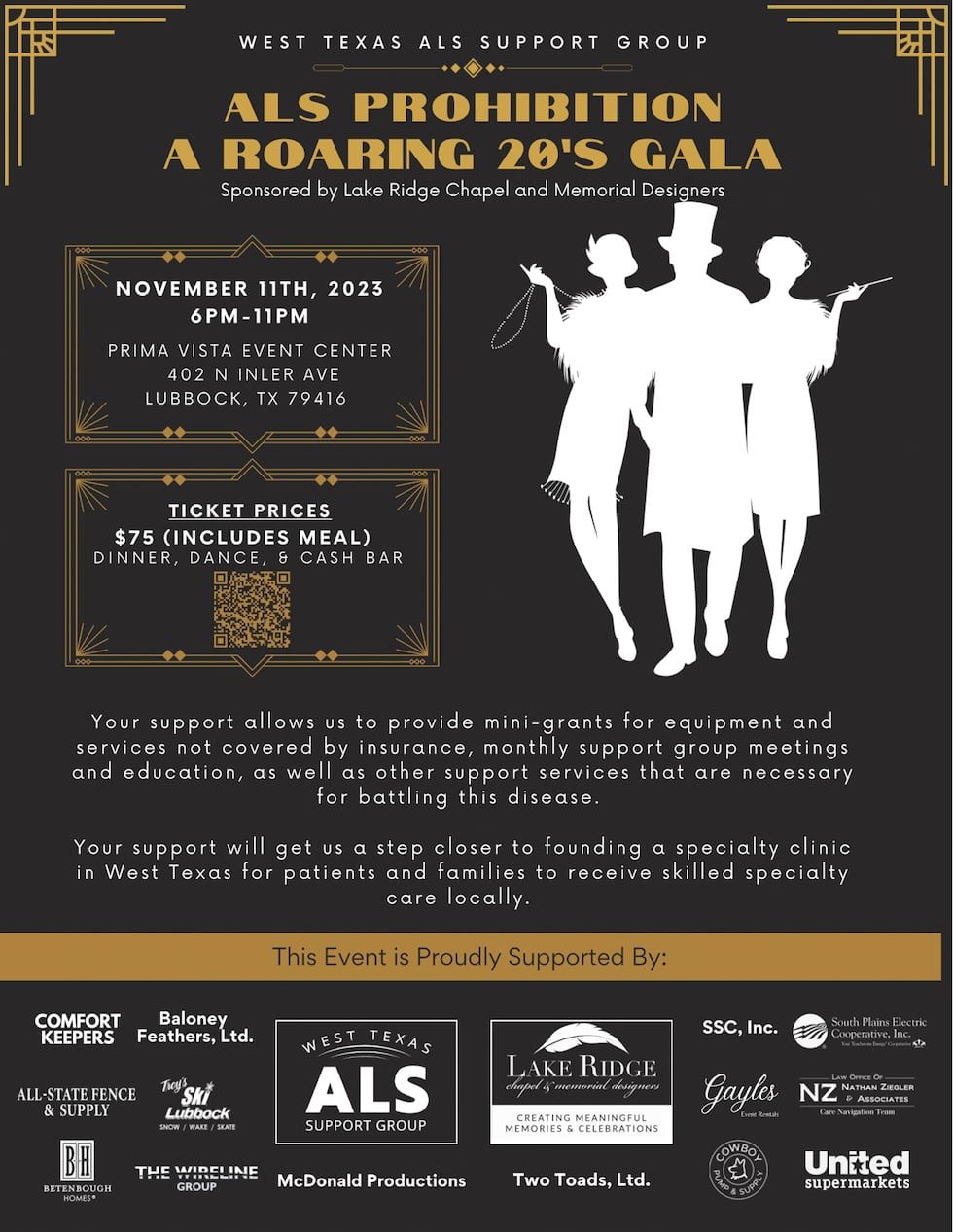 In the interview, Dr. Koch explained that the services of the Support Group became personal to him when his wife, Jeannie, suffered from ALS a few years ago. She was diagnosed in 2019 and died three years later.
He says her disease progressed quickly. When she could not speak, he says they were able to borrow from the 'ALS Loaner closet" which stores equipment for the next patient who needs it.
He says, "And within two days, I had a loaner eye gaze, which is a $20,000 souped up iPad with a camera that tracks eye movement that you can use as a cursor, to begin to speak again and we could continue to text. And I think more important than that, it gave us a way to cope with what's the 'uncopable'. It gave us a resource of people with heart and gave us a way to continue to show and express our love for each other."
The West Texas ALS Gala is planned for Saturday, November 11th at the Prima Vista Center with a dinner and dance and raffle tickets, many silent auction items and a live auction that includes a seven-day stay at a condo in Hawaii. Cocktail hour includes a cash bar from 6 p.m. to 7 p.m. with dinner served at 7 p.m.
Tickets are $75 a person. You can buy tickets at the door or online at westtexasalsgala.eventbrite.com.
More information can be found below from Wednesday's Noon Notebook.
Copyright 2023 KCBD. All rights reserved.