2nd annual gala helps area ALS patients
Published: Nov. 6, 2023 at 10:27 PM CST
|
Updated: Nov. 6, 2023 at 10:46 PM CST
LUBBOCK, Texas (KCBD) - The 2nd Annual West Texas ALS gala is coming up this Saturday, Nov. 11.
It is an important fundraiser to help the estimated 80 families in this region facing that diagnosis.
One of those families stole the hearts of everyone attending the gala last year. Tim and Rebecca Talley met at Lubbock Christian University. For Tim, it was love at first sight.
He says he told his roommate he was going to marry that girl.
They did get married and became missionaries in Kenya and Tanzania, raising their three daughters in East Africa.
When they returned to Lubbock, Rebecca began to develop symptoms.
"We had doctors that were testing her for tropical diseases because we lived overseas and nothing checked out," Tim said. "Finally, it's like, ALS is really the only possibility it could be."
ALS, also called Lou Gehrig's disease, is a progressive illness that attacks and shuts down the nerve cells in the brain and spinal cord, nerves that control the ability to move, speak, eat and eventually breathe.
Tim said Rebecca first began to notice that she could not exercise. That was unlike her, since she had always been very athletic.
Today, Rebecca is in a wheelchair and can speak only through an app on her phone. Tim lovingly takes care of her, even putting on her makeup every day.
"No one knows how difficult it is for a man to do everything for his wife," Rebecca said through her phone. "It's a full time job. But Tim does it with humor and love."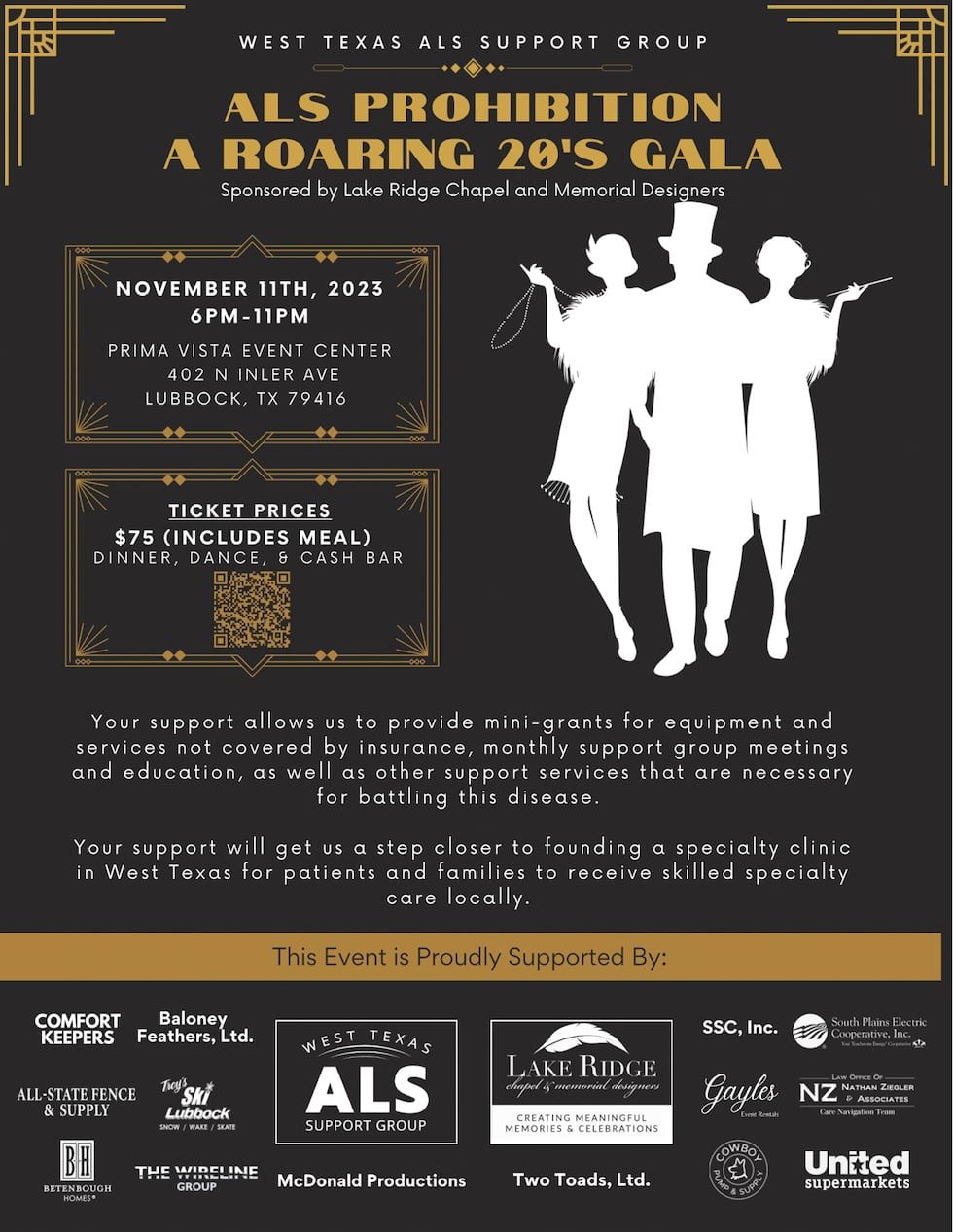 Coincidentally, the West Texas ALS Support Group was launched soon after Rebecca's diagnosis. She said the first time she went to an ALS meeting, she was immediately encouraged. Since then, the ALS Walk has also brought many of these families together.
"The ALS support group provided something that nothing else could," Tim said. "And that well in, in that camaraderie, and community of people that are traveling the very same journey that you're on."
A common problem among ALS families is that the disease is so expensive. Sadly, the disease is always fatal and since the equipment needs are temporary, the West Texas ALS Support group also collects costly equipment and moves it from one patient to another as needed. Tim says that has been a blessing.
"We know many, many people who benefited with free equipment, walkers and wheelchairs," Tim said.
The upcoming ALS gala is very important to the families in this region. The money raised will support them through the "loaner closet" and other needs. But the event itself will give everyone, including Tim and Rebecca, a chance to simply enjoy a night of dancing again.
Rebecca had a big smile when her phone played out these words for her: "Outwardly, I am wasting away. Yet inwardly, I am being renewed day-by-day. It is amazing. That it's not how you look. Not what you do. Not what you know, but your true self that is eternal that can have joy and faith through difficult times."
The 2nd Annual West Texas ALS Gala is planned for Saturday at Prima Vista Event Center. The evening begins with a cash bar at 6 p.m. The dinner is planned for 7 p.m. Tickets are $75 per person and available online or at the door. There will be dinner and dancing, a live auction and silent auction with raffle tickets. The live auction will include a 7-day condo in Hawaii and baseballs signed by Josh and Jase Jung.
For more information on the support group, go to https://www.westtexasals.com.
For more information and a link to purchase tickets, go to westtexasalsgala.eventbrite.com.
Copyright 2023 KCBD. All rights reserved.