Two Thanksgiving-Week Cold Fronts
Published: Nov. 20, 2023 at 7:48 AM CST
|
Updated: Nov. 20, 2023 at 10:33 PM CST
LUBBOCK, Texas (KCBD) - Two cold fronts play significant roles in our weather this week. Both fronts bring just a slight chance of precipitation.
The first cold front brings a few light rain showers to the South Plains this morning. By late morning the showers will end but the wind will ramp up. The north wind likely will increase to around 15 to 25 mph, with gusts near 35 mph, across much of the area. Somewhat stronger winds are expected over the northwestern viewing area, where a Wind Advisory is in effect from 10 AM to 6 PM CST.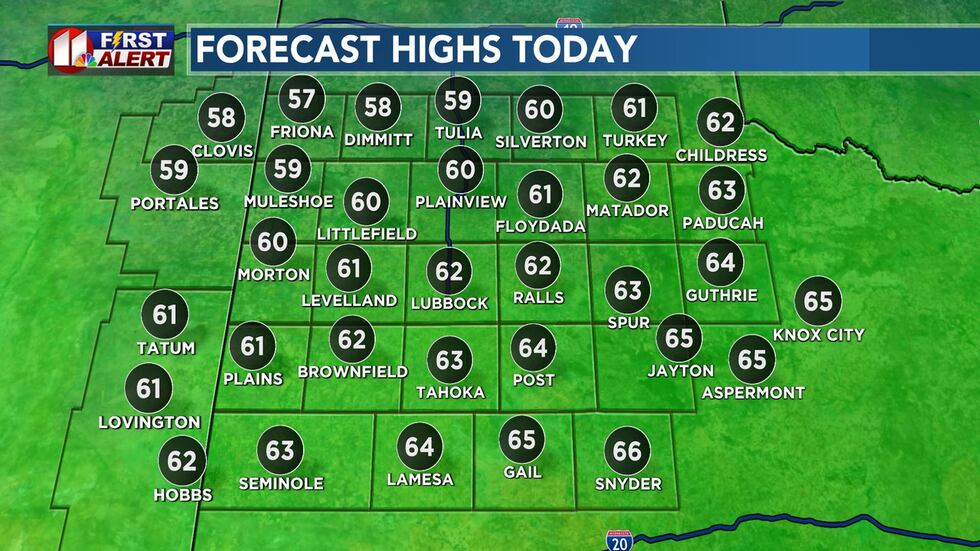 The morning clouds will give way to a mostly sunny and cool afternoon - chilly if you are in the wind. Though notably cooler than yesterday, temperatures today will peak near average for late November.
Partly cloudy, windy, and cold tonight. Low temperatures will range from the mid-30s in the northwestern viewing area to the mid-40s in the southeast.
Tomorrow, too, will be windy. It also will be cooler, with highs mostly in the 50s. Tuesday will be mostly sunny and dry.
Wednesday, Thanksgiving Eve if you will, may be the mildest day of the week. It will, however, begin cold with lows generally below freezing. The day will be sunny, winds light, temperatures will peak near average for the time of year.
Thanksgiving temperatures in the Lubbock area will range from near freezing in the morning to the low 60s in the afternoon. It will be mostly sunny with just a bit of an afternoon breeze. Not bad for the time of year.
The next cold front is likely to blow through West Texas Friday. Winds will pick up, clouds will roll in, and temperatures will drop. But not significantly. At least at first. Black Friday temperatures will range from the mid-30s in the early morning to the mid-50s in the early afternoon.
The weekend will feature wintry temperatures and, possibly, wintry precipitation. My current forecast calls for lows in the 20s and highs in the mid-40s. While the precip chance is slight, in addition to light rain there may be some light wintry showers at times.
Copyright 2023 KCBD. All rights reserved.