Saturday storms bring hail, high winds, flooding to South Plains
Published: Jun. 8, 2014 at 2:13 PM CDT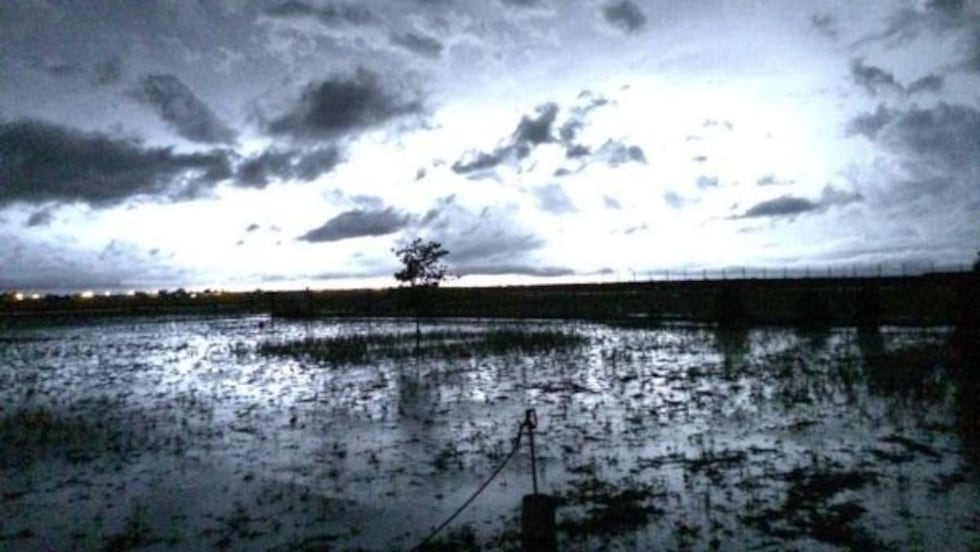 LUBBOCK, TX (KCBD) - A widespread severe weather event brought confirmed tornadoes, softball-sized hail, destructive straight-line winds, and flooding to a large portion of the KCBD viewing area Saturday afternoon, through early Sunday morning.
The first severe thunderstorm developed over Floyd County around 7 p.m. and pushed into Motley County thereafter; producing up to baseball-sized hail and severe wind gusts in Matador. The more widespread severe weather event unfolded later Saturday evening.
A cluster of severe thunderstorms moved southeastward, out of New Mexico, and into the western South Plains with softball-sized hail, and several reports of tornadoes. A large and dangerous tornado touched down south of Muleshoe and tracked eastward, passing dangerously close to Sudan and Amherst. Another tornado was reported near Dimmitt, across central Castro County around the same time. These storms produced 60-80 mile per hour wind gusts in Bailey and Hale Counties.
An 81 mile per hour wind gust was recorded at the West Texas Mesonet site near Amherst at 10:30 p.m.
As storms continued to organize and push eastward, baseball-sized hail occurred across Hockley County and southwestern Lubbock County. Large hail resulted in property damage near Sundown, Levelland, Smyer, Ropesville, and Wolfforth. Destructive winds accompanied the hail and resulted in tree and property damage in localized areas across the central South Plains and Rolling Plains. The West Texas Mesonet site southwest of Wolfforth recorded a wind gust of 96 miles per hour.
While wind, hail, and tornadoes were unwelcome, storms dumped beneficial rainfall across most of the KCBD viewing area. Many communities received between more than an inch of rain. Over the coming days, National Weather Service survey crews will be investigating damage to determine where tornadoes touched down, and how severe these tornadoes actually were.
In response to the confirmed tornado that occurred last night across rural Bailey and Lamb Counties - initial calls into both Bailey and Lamb County Sheriff Department's yielded no official reports of damage, or injuries, directly associated with this tornado, or possible tornadoes. The Lubbock National Weather Service Office will likely be investigating this area over the coming days to determine exact path, duration, and strength of this tornado.

South Plains Electric Cooperative is responding to outage reports and has sent crews to Smyer, Acuff, Frenship and Abernathy. You can follow the latest reports on their Facebook page.
We'll continue monitoring conditions through Sunday. Stay with KCBD NewsChannel 11 online and on the air for updates.
Click here to see photos from the storm or to send us your own.
=====
KCBD NewsChannel 11 provides a number of FREE resources to keep you up to date with the very latest from the First Alert Forecast Center.
You can see the most recent alerts, watches and warnings listed on our weather page here:http://www.kcbd.com/weather.
Text Message Weather Alerts: Sign up by texting "Your County Name" to 80611. (Example: send a text to the number 80611 with Lubbock as the message)
ThunderCall: Sign up to receive a phone call when a Severe Thunderstorm or Tornado Warning is issued for your area (http://www.thundercall.net/kcbd.aspx), or call (806) 744-1414 and we would be glad to help sign you up.
First Alert Weather Mobile App: Download the Weather App for iPhone/iTouch, iPad (https://itunes.apple.com/us/app/kcbdweather/id420484440?mt=8) and Android (https://play.google.com/store/apps/details?id=com.kcbd.android.weather&hl=en).
Follow us on Facebook at www.facebook.com/KCBDNewsChannel11 or on Twitter at @KCBD11.
Copyright 2014 KCBD. All rights reserved.