Introducing Rachel McLelland, Texas Tech's new Masked Rider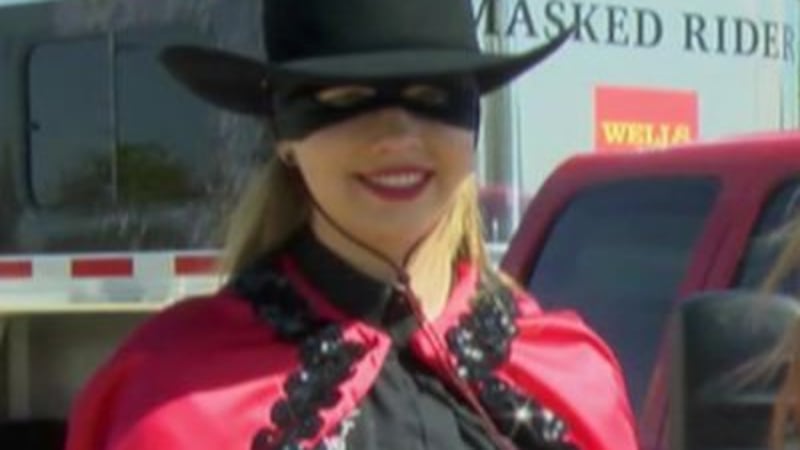 Published: Apr. 17, 2015 at 9:09 PM CDT
|
Updated: Oct. 16, 2015 at 9:09 PM CDT
Provided by Texas Tech Athletics
It is both a nostalgic and exciting day in Raiderland as the Texas Tech University mascots transfer their roles to three new students for the upcoming academic year.
At the Transfer of Reins and Passing of the Guns ceremonies on Friday (April 17) at the McKenzie-Merket Alumni Center, three Raider Reds revealed their identities and the 53rd Masked Rider, Mackenzie White, transferred the reins of Fearless Champion to Rachel McLelland, a junior from Tijeras, New Mexico.
Texas Tech's Spirit Program director Stephanie Rhode said this is always a bittersweet time of year.
"We are saying goodbye to four mascots – three Raider Reds and the Masked Rider – who have served selflessly and tirelessly as symbols of this wonderful university," Rhode said. "But at the same time, we are excited to begin a new chapter with three new students who will, with no doubt, bring honor, pride and fearlessness to their roles as Raider Red and the Masked Rider."
At the Transfer of Reins ceremony, White donned the Masked Rider uniform for the last time before handing the role over to McLelland.
During her time as the Masked Rider, White logged 180 appearances at athletic events, rodeos, hospitals, parades, school and civic events, traveling 21,000 miles total – the same amount of miles logged by the 2013-2014 Masked Rider Corey Waggoner, who broke the record for the most appearances and miles recorded.
"Spending a year as the Masked Rider has been a life-changing experience for me," White said. "I've grown in so many aspects and I see things a little differently now. Not only have I grown as a horse person, but I have a new love for meeting new people and promoting Texas Tech. I am forever grateful to Texas Tech University and the Masked Rider program for allowing me the honor of serving as the 53rd Masked Rider."
McLelland is a pre-med student also majoring in anthropology. After serving as the 54th Masked Rider, she plans to study abroad in London for a medical internship in the summer of 2016 and attend medical school for orthopedic surgery after she graduates in May 2017.
She served as one of White's assistants this past year for the Masked Rider program.
"I am so honored and humbled to represent Texas Tech in the most exciting way possible," McLelland said. "The Masked Rider is the most recognizable symbol of Texas Tech and has a long, illustrious history. I hope to carry on the legacy through hard work and commitment, representing not only the Masked Rider, but also Texas Tech and all they stand for."
Three Raider Reds also revealed their identities as they passed their guns to two new students who will serve as Raider Red for the upcoming academic year. The three Raider Reds are Cody Lancaster, a senior from May, Carson Roye, a senior from Waxahachie, and Zachary Fisher, a senior from Sunnyvale.
Lancaster and Roye served as Raider Red from 2013-2015 and Fisher served as Raider Red from 2014-2015.
Just within the past year, the three Raiders Reds made 150 appearances, including athletic, Texas Tech and civic events.
Raider Red was created as an additional mascot to the Masked Rider before the 1971 football season when the Southwest Conference passed a rule restricting universities from bringing live animal mascots to out-of-town games. Members from Texas Tech's Saddle Tramps and High Riders spirit organizations serve as Raider Red.
Roye said being Raider Red is something he can't put into words.
"Having the opportunity to step into the boots of Raider Red and look through his eyes for the last two years is an indescribable feeling," he said. "To make so many people laugh and represent Texas Tech is one of the greatest feelings in the world."
The two new Raider Reds will serve the Texas Tech community during the 2015-2016 year and will be revealed at the end of their term.